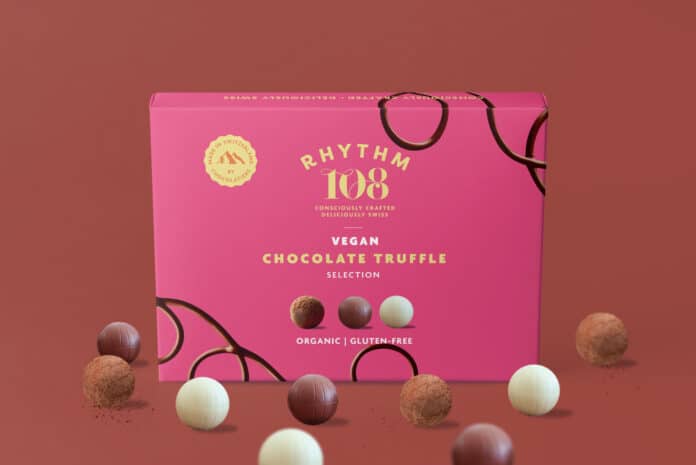 Bite-size pieces of news from Natural Products News
Rhythm 108's new Vegan Chocolate Truffle Selection gift box contains a mix of M'lk, Dark and White Swiss Vegan Chocolate Truffles handcrafted by chocolatiers in the foothills of the Alps and made with vegan, organic and gluten-free ingredients.
On 27 October teapigs will be celebrating its 15th birthday by holding its ninth Free Tea Day. Over 350 stockists worldwide will be taking part and giving away free tea at their cafés and delis.
Start-up Tios Drinks' range of low-calorie and low-sugar RTD sparkling hard teas are made with organic white tea, alcohol (4.4% abv) and natural ingredients and come in White Tea Mojito, White Tea Margarita and White Tea Light & Stormy.
PÄRLA has expanded its toothcare range with PÄRLA PRO toothpaste tabs, boasting 'supercharged' teeth whitening, sensitivity-reducing and immunity-boosting powers. Each tablet contains at least 50% of your RDA of vitamin E, B12 and selenium.
We Love the Planet has introduced a Limited Edition Golden Giftset ahead of Christmas, featuring the brand's Golden Glow Deodorant Tin and Golden Care Lip Balm. The products are made using all-natural formulations.
After exceeding its original £400,000 target to reach over £1 million via a crowdfunding campaign on Seedrs, Perkier is investing in marketing, instore activation, innovation and recruitment to accelerate its growth and expand market share.
Freshly's Infinite Eyelash Mascara's non-clumping waterproof formula is enriched with vegan candelilla wax, castor oil, Abyssinian oil and olive oil.
Bambino Mio's three new earthy designs – Get Growing, Little Leaves and Sunflower Power – take inspiration from nature and will be available across the brand's product line which includes reusable nappies, wet bags, change mats and muslin squares.
Rebelicious has created the first CBD-infused Cream Soda on the UK market, alongside a CBD-infused Real Cola, both of which have launched into Sainsbury's. The ingredients are ethically sourced and organically grown.
SOS Cleanse is a gentle and lightweight soothing cleanser that flushes the pores and dissolves make-up while removing daily pollutants without the use of alcohol, acids or aggressive surface-agents.
London cookie brand Doughlicious has launched two new products into Ocado: a vegan and gluten free ready-to-bake Savoury Biscuit range in four flavours; and Dough-chi, a frozen snack of cookie covered ice cream (similar to Japanese mochi).
The Protein Ball Co has announced an extended listing with Morrisons which will see its 100% natural Cacao + Orange and Peanut Butter High Protein Balls on sale at till points in 494 stores nationwide.
Munchy Seeds has switched its pouches to fully recyclable soft plastic that can be recycled with carrier bags at shops and supermarkets. The new packaging will be rolled out across its larger Mega Packs before moving to other sizes.
Only Curls Cleansing Shampoo Bar is a gentle foaming, sulphate-free solid shampoo that cleanses hair without stripping it of its natural oils.