Whole Earth's new outdoor and digital advertising campaign is set to kick off next week in a bid to highlight the versatility of peanut butter.
The brand's biggest campaign ever, 'One Jar, Endless Possibilities' is expected to reach more than 15 million commuters with eye-catching artwork situated on train platforms and concourses, underground stations and escalators across London and the South East.
Launching on 26 August, the campaign utilizes eye-catching kaleidoscope-effect artwork – in both static and animated formats – featuring the different foods that complement peanut butter, such as apples, bananas and berries.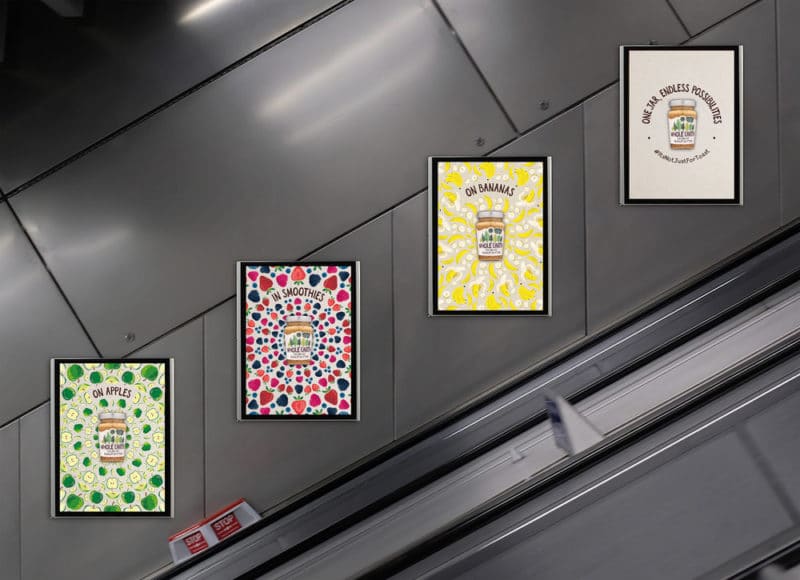 The campaign was designed in collaboration with the creative agency Isobel and will run for six weeks. It will be supported by a digital marketing push and paid social media activity using the hashtag #ItsNotJustForToast.
"Many people only consume peanut butter on toast, but it can be used in so many other ways; in curries, smoothies, soups, paired with fruit – the possibilities really are endless," says Bryan Martins, marketing director at brand owner Wessanen UK. "If we can inspire consumers to broaden their peanut butter usage, we have a significant opportunity to drive category growth.
"Our vibrant and visually arresting campaign strives to capture people's attention on their daily commutes when they have more time to think about meal and snack preparation. We think the campaign beautifully captures the brand's personality and are confident it will make people think differently about peanut butter."