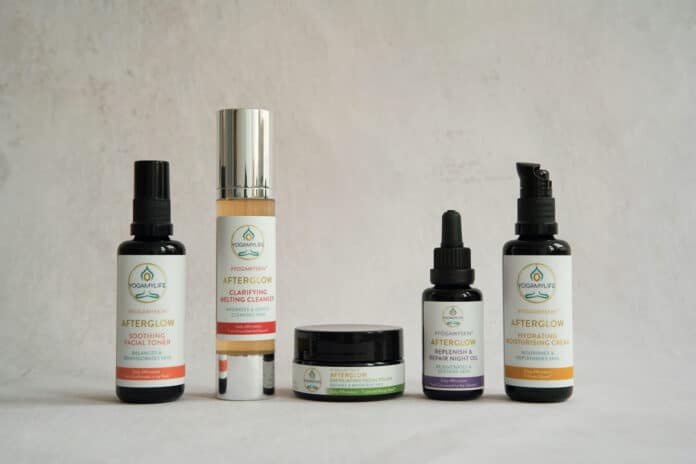 Yoga My Life has introduced its Afterglow range of natural, cruelty-free vegan skincare and wellness products to promote healthy glowing skin and empower users to actively practice self-care.
The Afterglow skincare products, each of which comes complete with a positive affirmation, include:
Clarifying Melting Cleanser to protect, hydrate and gently cleanse with nutrient-rich oryzanol (rice bran oil) coupled with extracts of vanilla and white flower
Soothing Facial Toner – a gentle toner suitable for all skin types that balances and reinvigorates skin with rice bran, rice water and delicate botanical notes to help promote circulation for a brighter complexion
Hydrating Moisturising Cream – an ultra-light moisturizer designed to hydrate, nourish and replenish skin with oryzanol, vitamin E and jojoba oil, leaving skin radiant and 'smelling divine'
Exfoliating Facial Polish – a creamy rich exfoliating products which gently refines and brightens skin; micro particles of rice buff away the build-up of daily dirt and grime to reveal a smooth and radiant complexion
Replenish & Repair Night Oil rejuvenates and softens with rosewood, neroli and sweet orange blended with sweet almond, wheatgerm, palma rosa, ho wood, star flower and mandarin peel oils to boost the skin-repairing process and aid relaxation.
"Our skin is truly an amazing organ, what you put on it, how you treat it and the way in which you apply products really does matter," explains Yoga My Life founder Farah Khan. "I am delighted to share my new yoga inspired, all-natural skincare and wellness range. Yoga My Life empowers you to feel confident and assured about what you put on your skin.
"Not only do our products nourish and rejuvenate the skin, but they also provide a wonderful sensory experience (breathe deeply, decompress and benefit from the unique combinations of plant oils, botanicals and aromatics), as well as helping to achieve the elusive 'dewy natural glow' attributed to fans of yoga, meditation, mindful eating and connecting to nature."