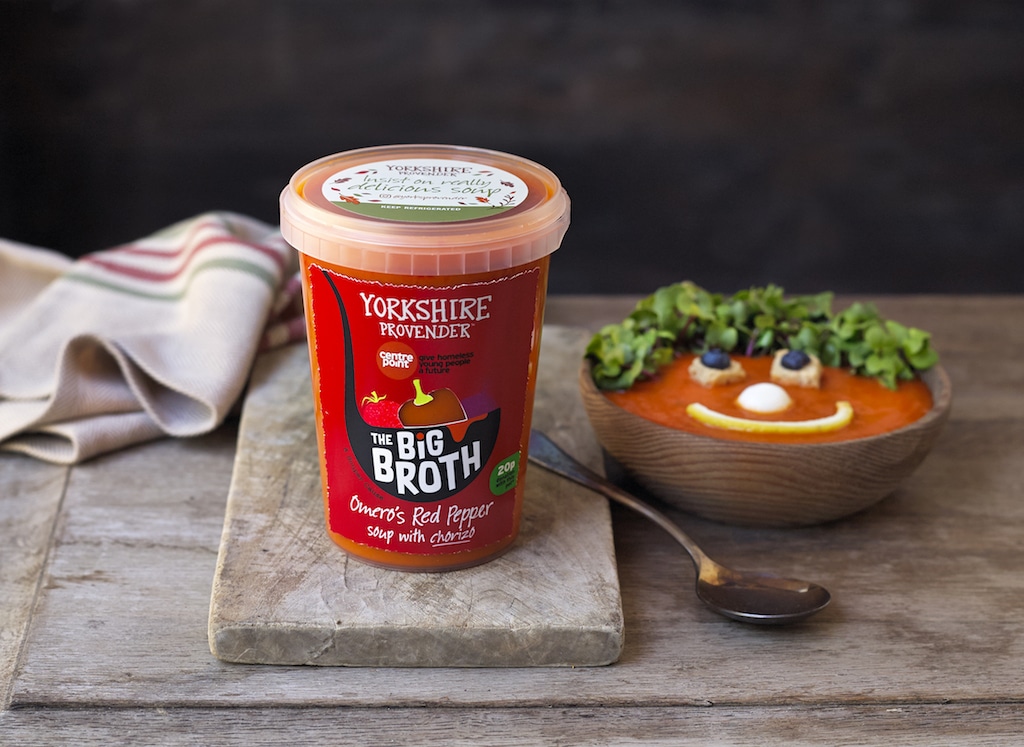 Yorkshire Provender has created three new soup recipes to warm consumers in the winter months.
Super Broccoli Soup with Yorkshire Cheddar is a warming vegetarian soup packed with comforting flavours. Using tender broccoli to create a smooth base, high in vitamin C, A and E, the soup is finished with crumbly mature Yorkshire Cheddar cheese, typically aged 15 months for extra strength and character, sourced locally from the award-winning, Wensleydale Creamery.
Aromatic Thai Carrot Soup is an infusion of vibrant Thai flavours, with sweet carrots, packed with antioxidants, gentle spices and fragrant lemongrass. The soup is finished with coconut cream, a squeeze of lime and finished with fresh coriander. The soup suitable for vegetarians and vegans.
Omero's Red Pepper Soup with Chorizo combines a base of fresh vegetables, including red peppers, tomatoes and onions cooked through with chorizo to give depth and a smoky flavour. The soup has been launched a new in partnership with Centrepoint, with 20p from each pot going directly towards the charity's work with young homeless people across the country. The soup was created by Omero Gallucci from Guildford who won the 2018 Centrepoint Big Broth cook-off competition to find the tastiest home-made soup recipe.
"When summer falls, it's not all doom and gloom as rich, warming flavours come onto the food radar and coming home to a bowl of something bursting with healthy autumnal ingredients is just what the nip in the air demands," says Maria Townsend, marketing & NPD manager at Yorkshire Provender. "Like all of our soups, these soups are as close as possible to home-made in style, using regional ingredients, created by people with a real passion for food."
The soups are all coeliac friendly, naturally low in fat and contain no added sugar. They are also free from any preservatives or additives.