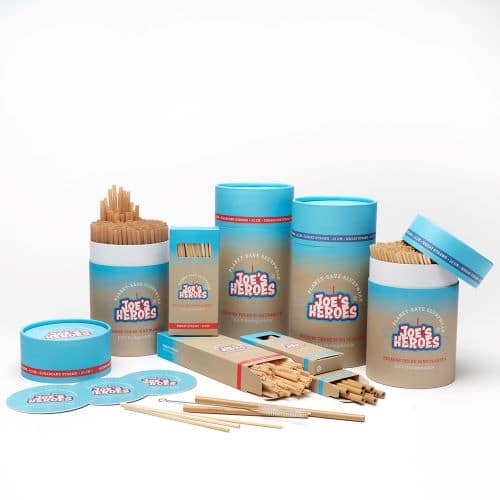 A REVOLUTION in SLURPWEAR Joe's Heroes are 100% biodegradable and environmentally friendly drinking straws. This planet saving collection of heroes are made of bamboo, wheat or sugarcane and are simply the best alternative to plastic straws. Available in two sizes and a range of packs, there is a product for every consumer.
Every year billions of plastic straws end up in landfill or our oceans and recent legislation introduced by the UK Government has now outlawed single use plastic straws.  Customers are now looking for a natural, compostable alternative and Joe's Heroes are here to make sure that you never have to use plastic again.
Joe's Heroes never get soggy, like paper straws and when you are done, just pop them in your food or garden waste, safe in knowledge that they won't harm the planet.  Made from 100% plant based materials that are naturally cleaned and prepared for use.
Available direct, from The Health Store or from your Thyme Marketing sales contact.
Company: Kablamo Limited
Tel No: 07866 771627
E-mail:  [email protected]