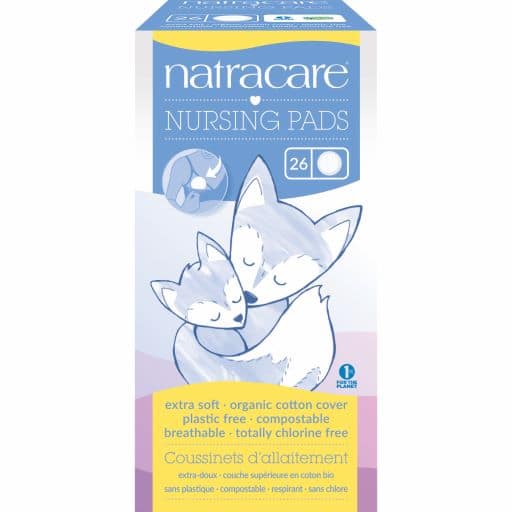 Soft, breathable, and kind to sensitive skin, Natracare nursing pads keep skin and clothing dry between breastfeeds. The round, cushioned pads fit neatly into nursing bras, helping to absorb any excess milk. Made from high-quality natural materials, Natracare nursing pads are gentle on delicate skin by avoiding synthetic materials, perfumes and dyes. The cover is made from certified organic cotton and sits next to the skin, acting as a soft cover to wick away breast milk.
Natracare only uses cotton that's certified organic to the Global Organic Textile Standard. This means the cotton they use is grown without the use of pesticides, making it healthier for you, workers and the planet.
Natracare use fluffed wood pulp in the absorbent core of their nursing pads. This acts as a natural, renewal and more sustainable alternative to the cores made from superabsorbent polymers found in many conventional nursing pads. Natracare nursing pads are also biodegradable and compostable, so you can throw them in a compost bin or your regular bin after use.
A kind choice for after birth and baby skin – Natracare nursing pads, along with their maternity pads and organic cotton baby wipes, are the perfect trio for new parents.
Look out for the 1% for the Planet logo on Natracare's packaging. As members of 1% for the Planet, Natracare proudly donate 1% of their total turnover, not just profit, to environmental organisations around the world every year.
Natracare
Tel: 01454 613347
www.natracare.com