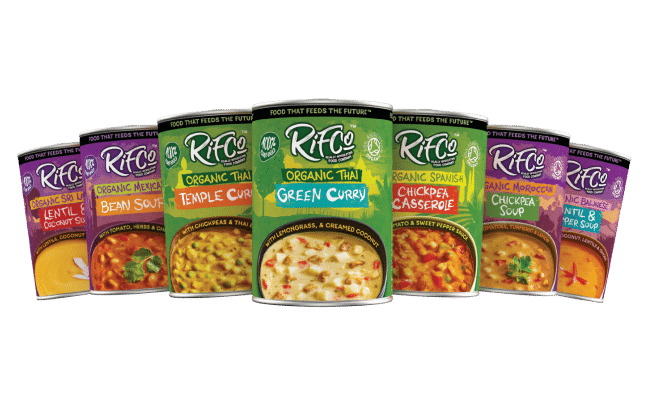 RIFCo has been creating vibrant, vegan, free from dishes for over 20 years.
The brand has given its range of soups and ready meals a complete brand and packaging redesign which captures the bright, vibrant and diverse cuisines that inspired these dishes. Along with a packaging revamp, the complete RIFCo range is now certified organic, with improved ingredients for delicious full-on flavour.
RIFCo takes its inspiration from cuisines around the world, from creamy curries in Thailand to Moorish soups in Morocco, ideal for those in search of convenient dishes that are free-from many major allergens, but still tingles the taste buds. The full range is naturally 100% plant based, vegan, gluten-free and dairy free, and has been since 2001.
The products are all packaging in 100% recyclable and BPA-free cans, and as a brand, RIFCO is committed to reducing the carbon footprint wherever possible. Manufactured in the UK, the products are made in small batches to ensure the highest quality finish.
The brand has a revolutionary commitment to eco-friendly farming that goes beyond 'organic'. RIFCo is committed to the principles associated with Regenerative Organic Certified™ (ROC), a new accreditation that meets the highest standards in the world for soil health, animal welfare and farmworker fairness. The commendable new certification exists to heal a broken system, repair a damaged planet, and empower farmers and consumers to create a better future.
RRP: from £1.95
Available from: Essential Trading, The Health Stores, Tree of Life, CLF Distribution, Infinity Foods, Queenswood Natural Foods
Healthy Food Brands Ltd
Tel: 01403 786460
www.healthyfoodbrands.co.uk