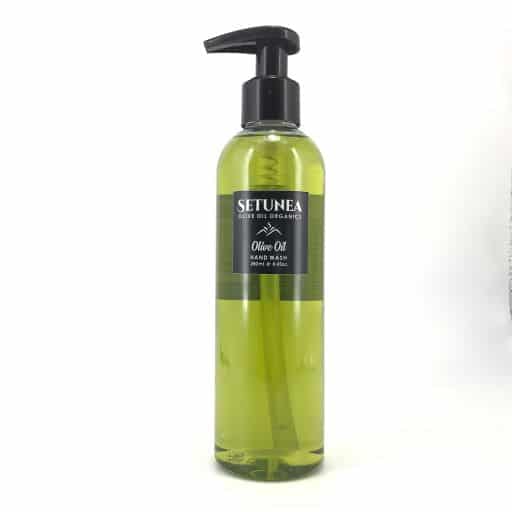 We love olive oil so much we even wash our hands in it! Unrefined olive oil feels remarkably soft and leaves your hands and face feeling suitably moisturised. Made with love by a family business using the finest cold-pressed organic olive oil, a highly sustainable and hypoallergenic ingredient, Setunea's new organic hand wash is exceptionally gentle and works very well with all skin types. It won't dry out your hands or face no matter how many times a day you wash them.
With the goal of offering a beautiful and sustainably produced organic skincare range, all our products are rich in organic cold-pressed virgin olive oil, capturing all its nourishing goodness and benefits like antioxidants and polyphenols. Additionally, unrefined olive oil is one of nature's most effective moisturisers, capable of leaving the skin feeling incredibly hydrated. It works in harmony with your skin's natural oils, maintaining a balance and preventing dryness.
We do not use any foaming agents, palm oil or parabens, and when lathering up with the hand wash the result is a soft, smooth buttery feel.
Olive oil is a highly sustainable ingredient, as it is derived from the fruit of the tree, which typically bears annually or biannually. The farmers in most parts of the eastern Mediterranean where we source our olive oil are all deeply committed to producing the finest quality organic olive oil as to them it is an element of life itself.
Since our launch at a natural products exhibition in London in 2018 we have gone on to be stocked in a number of independent health shops in the UK and are keen to continue our growth. Our products are highly valued by consumers looking for all natural, organic skincare products that are sustainably produced and that won't cause any irritation or dryness.
Setunea Olive Oil Organics
email: [email protected]
www.setunea.com