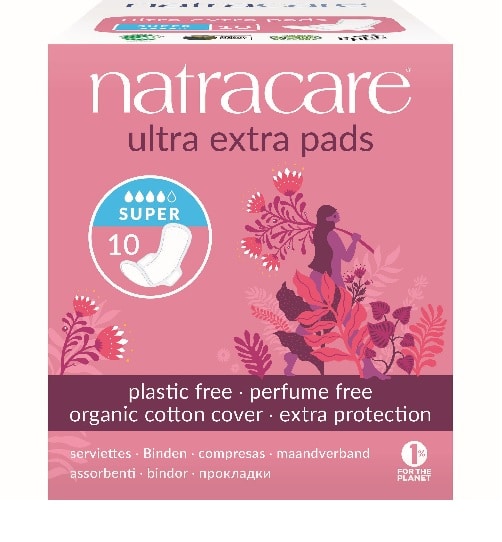 The same trusted organic and natural period care – with a brand-new look! For thirty years, Natracare has been the number one choice for plastic-free panty liners, pads, and organic cotton tampons. Using only the best natural materials like soft organic cotton and sustainable plant cellulose, Natracare offers reliable protection without the unnecessary plastic and harsh chemicals.
Did you know that the average pack of period pads contains the same amount of plastic as five plastic bags? And when you consider that the average person uses 11,000 period products in their lifetime – that's a whole heap of plastic waste! Natracare believes having a period shouldn't leave a lasting impact on our planet. That's why their range of pads is entirely plastic free and compostable, so you can rest assured that your period care will biodegrade naturally back into the Earth after use.
Choosing plastic free pads not only cuts out plastic pollution but it also lets intimate skin breathe. Unlike conventional, non-organic period pads, Natracare's Ultra Extra Pads are made from a certified organic cotton top sheet that acts as a soft, breathable barrier against the skin. Instead of plastic and other nasties, Natracare uses ecologically certified wood pulp as the absorbent core. With an extra layer of cushioning and wings to secure the pad in place, their Ultra Extra Pads protect against leaks whilst remaining gentle on intimate skin. Individually wrapped in a biodegradable wrapper, these pads are compact and easy to carry around when out and about.
This year, Natracare is relaunching its much-loved period care range with brand new packaging designed by Bristol-based artist Zoe Power. Available from winter 2020, the new designs reflect our connection with nature in a bold, fresh, and energetic way.
Contact: Bodywise (UK) Ltd
Tel: 01454 613347
E-mail: [email protected]