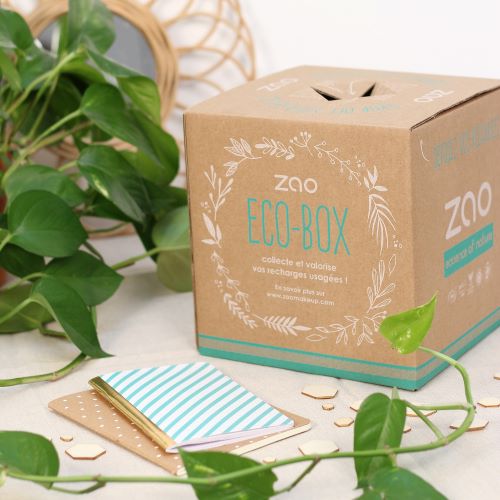 French makeup brand Zao is leading the way in refillable makeup thanks to its ingenious, reusable cases made from sustainably sourced bamboo. Renowned for its refreshing approach to beauty, Zao has launched yet another initiative to help retailers provide an enhanced sustainable shopping experience. Passionate about respecting the planet, EcoBox will allow customers the opportunity to recycle the small plastic parts used in their makeup packaging.
Although designed with recyclable materials, Zao recognises that recycling beauty packaging isn't always straightforward or convenient for the customer. To remove the hassle and reduce waste, EcoBox will enable retailers to provide a collection solution. All stockists simply need to do is return their EcoBox by post to Zao UK once it is full. Zao UK will work with a specialist recycling company to guarantee that the returned plastic parts are indeed recycled.
Minimising plastic wherever possible, Zao has also recently revealed must-have zero waste makeup removers. Passionate about providing vegan and cruelty-free cosmetics made from natural and organic ingredients, the new range comprises a Solid Makeup Remover Oil, Solid Makeup Remover Milk, and Detox Facial Cleanser. Each soap is expected to last 3-4 months with daily use.
Perfect for deploying alongside the new cleansers, Zao also boasts brand-new packs of organic cotton cloths. Available in packs of 5 to aid in gently removing makeup, these cloths are machine washable, so can be used time and again. With a sensitively soft finish on one side and a micro-sponge on the other, these cloths are the perfect solution to single-use cotton pads.
Going a shade greener, Zao is also removing single-use plastic wrap from all its accessory range. Proudly opting for biodegradable PLA bags instead, the new plastic-free packaging is already being used on select items and will imminently be applied to all Zao products as current stocks deplete.
Zao Essence of Nature UK Ltd
Tel: 0345 619 0999
E-mail: [email protected]
www.zaoessenceofnature.co.uk