Following a backlash against the whole concept of 'anti-ageing' in the beauty industry, this phrase – once never questioned – is being shunned as attitudes shift. Jane Wolfe talks to the natural brands celebrating ageless beauty
Once viewed as a useful marketing term, 'anti-ageing' now evokes a desperate battle to halt the inevitable effects of time, a fight against ageing itself and the rejection of anything less than youthful perfection, generating feelings of disconnection and invisibility. 
In 2017, Allure magazine banned the term, and in 2018 the Royal Society for Public Health called for an end to its use in the beauty sector, stating that 'many everyday conversations, informed by the media, are rife with examples of language that either trivialize, vilify, or catastrophize the ageing process. Chief among these is the persistent use of the term 'anti-ageing' within the cosmetics and beauty industry'.
"It's possible for the beauty industry to address skin concerns without using the 'knock you down to sell you better' method"
Berating the fact that youth has been 'the leading currency' in the industry, Avon's The Future of Beauty in a Post-Pandemic World report says that products claiming to preserve or recapture youth 'no longer speak to consumers'. "We appreciate now more than ever that ageing is a gift, and attitudes to ageing as a beauty concern have changed accordingly," it says.
The report also points to social media – dominated in the past by highly filtered ideas of beauty – as being instrumental in changing the narrative 'to one where no-filter authenticity is prized above apparent perfection'. "The end result for skincare and beauty is that the story is not about simply anti- or pro-ageing, but about authentic ageing," it says.
Anti-ageing is a term Jane Cunningham, founder of BritishBeautyBlogger.com, avoids. "It's a choice to keep my space clear of age-related negativity. It's also to show that it's possible for the beauty industry to address skin concerns without using the 'knock you down to sell you better' method. I tend to focus on healthy-looking skin; a complexion that's glowing with vitality looks amazing at all ages … I don't want my own daughter growing older thinking that her beauty is diminishing by the day, which is what the industry teaches us by suggesting that looking young is the only beauty, when in fact, beauty is many, many things, and not something that you 'lose'." 
Leading the way
As part of an industry that proactively leads reform, natural and organic brands are of course on hand to promote affirmative attitudes towards beauty and empower women, whatever their age.
"The current age narrative in beauty can inadvertently make women feel bad about their age, due to age-resistant wording combined with a need for more older women to be represented in beauty imagery," says Jenni Retourné, director of Willowberry. "As an industry, we have a responsibility to make age visible and normal in beauty. Rather than selling 'anti-ageing' claims, Willowberry aims to help women feel good in their skin with age, because healthy skin is beautiful, with or without wrinkles, and beauty is a state of mind."
Willowberry's natural skincare for 'grown-ups' aims to help women get their 'best skin' through formulations using nutritious and protective ingredients, with a focus on vitamins, antioxidants and essential fatty acids, including rosehip, chia seed, vitamin E and hyaluronic acid.
I would like to see the mature skincare market become less 'anti' and more celebratory of age, and I believe that the time for change is now
Citing stats from The Premium Market Report that before the end of the decade there will be 8.9% more women aged 45-59, 12.6% more aged 60-74 and 17.9% more aged 75 and over, she notes that this growing demographic needs to be catered to. "I would like to see the mature skincare market become less 'anti' and more celebratory of age, and I believe that the time for change is now; more than ever age truly is ageless – a 60 year-old can rock a red lip, blazer and trainers as well as anyone, and they have the mindset to do it. Women are becoming increasingly vocal about not fading into obscurity the moment they hit their 40s."
Following the brand's recent Age in Beauty survey, which found 97% of women aged 30-80 feel it's important to see better representation of real, older women by brands and the media, Willowberry launched its Age Without Apology Pledge. The initiative invites the industry to join forces in effecting real change by using better language around age and showing older ages within beauty imagery; and the brand is leading by example through its recent campaign featuring 'real' women aged from 37-76.
Synergistic blends
Charlotte Vøhtz, founder of Green People, agrees this is an increasingly relevant sector. "More of us are living for longer and we want skincare that's just right for every stage of life. A lot of skincare products are marketed simply as being suitable for skin above or below the age of 30. I think this could change, and as the enlightened consumer starts to demand more for their skin at every life stage, we may start to see skincare for your 60s and 70s become more prevalent in the market."
More of us are living for longer and we want skincare that's just right for every stage of life
Vøhtz began to formulate the brand's Age Defy+ range when she was 50. "I had been using our Green People skincare range and started to see that my skin was crying out for something more. It took over ten years to create the range we have today."
Where ingredients are concerned, Vøhtz firmly believes in the power of synergy: "A combination is needed to help the skin to synthesize collagen and hold onto hydration. Ingredients we love to use are hydrating actives like seaweeds and hyaluronic acid and elasticity-boosting actives like baicalin and slow-release vitamin C. Some of my Age Defy+ products already contain plant actives based on stem cell technology, but I am looking to expand this. Plant stem cells can offer remarkable benefits to older skin, and you will see these being a key feature in my future launches." 
She stresses that as women enter perimenopause and post-menopause, skin naturally changes. "It's important to recognize this and give your skin the tools it needs to stay healthy during these transitional stages so that you can maintain age confidence in your 40s, 50s and beyond," she says. "Skin becomes thinner with age. This makes it much more vulnerable to dryness, and when this happens, wrinkles become more pronounced. Avoiding astringent ingredients like SLS and ethanol alcohols can help to limit skin dryness."
Radiant ageing
"Whereas you can't change your chronological age, one can do something about your biological age," asserts Weleda skincare expert Elizabeth King. "Lifestyle factors including diet, exercise and sleeping habits all influence our biological age. In relation to the skin, it also means choosing skincare that strengthens the skin's self-regulating capacity, keeping it vital and its processes working optimally. Weleda refers to this as ageless beauty – radiant glowing skin, whatever your age."
Weleda has two collections designed for the specific needs of mature skin: Pomegranate Facial Firming for regeneration, firming and anti-pollution, formulated for those in their 40s; and Evening Primrose Revitalising for intense nourishment, cellular repair and revitalization for a little later in life, to support and protect mature skin after the menopause.
"A 60 year-old can rock a red lip, blazer and trainers as well as anyone, and they have the mindset to do it"
The formulations include antioxidant pomegranate seed oil, which has regenerative properties and is rich in vitamin C, B5 and potassium; and evening primrose oil, with high concentrations of linoleic acid and y-linolenic acid, which the body produces less of with age but which play an important role in the epidermis and are essential for skin barrier formation.
Sea buckthorn seeds and pulp are also incorporated for their linoleic and linolenic acid, palmitoleic acid and vitamin E content to protect skin, strengthen barrier function and soothe irritation, as skin can become more sensitive and more easily irritated with age. The carotenoids that give the sea buckthorn oil its orange-red colour are useful for preventing sun damage and helping repair already damaged skin.
Other antioxidant-rich plant oils like avocado, argan and apricot kernel all play an important role in Weleda's regenerative skincare formulations, says King. "Plant oils not only protect the skin, they are also nutritive-rich. In addition, their own natural warmth, thanks to the sun-ripened seeds from which the oil is produced, mean that plant oils have an affinity with the skin, strengthening the skin and its capabilities."
Collagen connection
With increasing concerns around the safety of non-surgical cosmetic treatments – a recent Government report highlighted 'countless' instances of inadequate training in the sector – more consumers are seeking out safe, natural ways to firm and plump their skin. Enter collagen.
"Collagen is a major building block for our muscles, tendons, skin, bones, hair and ligaments," explains GP Dr Nisa Aslam, speaking at the UK launch of collagen brand Colnatur. "It holds all these things together in the body and makes up about 70% of the dry weight of our skin, so when we lose collagen our skin can become thinner and sag."
Aslam says that although the body makes collagen, our stores peak at around the age of 25. "After this, deterioration and loss of collagen occurs at a rate of around 1.5% a year. This accelerates after around the age of 45-50 years old. For women, the menopause can cause collagen levels to decline too. The decrease of the hormonal levels associated with menopause can cause collagen levels to deteriorate … our skin can show signs of ageing too and wrinkles may appear." 
As there aren't too many collagen-rich foods, Aslam says supplementation is useful to boost levels. Enriched with hyaluronic acid and vitamin C, Colnatur Complex hydrolyzed collagen powder has been clinically shown to stimulate skin regeneration and reduce signs of ageing in post-menopausal women, with a significant improvement in number of wrinkles, length and total surface, and a slight improvement in average depth. The brand says other studies show the continuous intake of hydrolyzed collagen improves the skin's hydration, elasticity, smoothness and density, adding that 10g daily is enough to start seeing improvements after three months.
Innovation is rife within the beauty-specific collagen arena, with brands experimenting with different formats and blends, such as newcomer FYX with its RTD collagen-infused spring water FYX BEAUTY with 2,500mg of marine collagen per 400ml bottle; and Monat's new berry flavoured Collagen Key powder, formulated with an easily absorbed 'unique vegan amino acid blend' incorporating glycine, l-proline and l-methionine.
For a topical collagen boost, Antipodes Culture Probiotic Night Recovery Water Cream combines probiotics, hyaluronic acid and New Zealand extracts, including mamaku black fern, meadowfoam and harakeke flax gel. It utilizes Kalibiome AGE Probiotic, a non-live bacteria that helps seal the skin's epidermal layers, enhancing the skin barrier, reducing water loss and helping protect against pollution. 
In clinical trials Kalibiome AGE Probiotic was found to reduce the effects of photo-ageing, reduce wrinkle depth and redness, while enhancing elasticity, increasing hydration and boosting type 1 collagen.
Menopause matters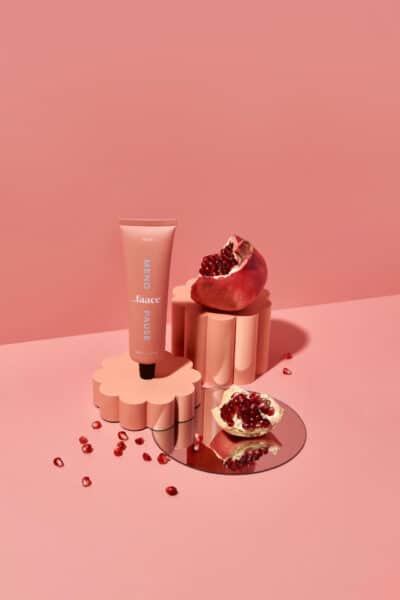 The skin faces multiple challenges before, during and after menopause,  so much so that this has finally become a skincare category in its own right within some retailers, such as Cult Beauty. Avon predicts that hormone-targeted products will only grow as a trend, with increasing launches targeted at perimenopausal and menopausal women, many of whom, it says, aren't sufficiently informed about the changes it can bring relating to the skin. 
Earlier this year, Faace celebrated the launch of its Menopause Faace product into Cult Beauty. Described as acting like 'temporary scaffolding', Menopause Faace is formulated to help tackle loss of elasticity and collagen and reboot the skin's circulation, which is likely to become sluggish during the menopause. It incorporates a host of natural ingredients including hyaluronic acid and glycerine for dryness and fine lines; vitamin A for itchy skin; kojic acid for melasma; zinc and geranium to fight against breakouts; and nourishing plant oils such as carrot seed, pomegranate, rosehip, sea buckthorn, immortelle flower and safflower seed. "It won't get rid of hot flushes, but it will support your skin through the roller coaster ride," says the brand.
True Collagen
Ancient + Brave
Tel: 01825 280188
E-mail:  [email protected]
www.ancientandbrave.earth
True Collagen is of the highest quality and beautifully pure – providing easily digestible, highly absorbable Type 1 hydrolysed collagen peptides. This grass-fed bovine collagen is both tasteless and odourless and easy to add to hot or cold drinks and workout smoothies. A real hero supplement for active lifestyles as it provides an excellent source of protein and nutritional sustenance to support fasting protocols. Collagen levels naturally decline from 30 onwards and hydrolysed collagen peptides play a key role in our cellular replenish and renewal process. Essential for anti-ageing beauty rituals to effortlessly nourish the body and skin from within. 
Seahorse Plankton+ Bright Eyes Probiotic Serum, 30ml
Beauty Kitchen
Tel: 07577 892673
E-mail:  [email protected]
www.beautykitchen.co.uk
An award-winning cruelty free and vegan, anti-aging serum. Harnessing the power of sustainably sourced and regenerative marine extracts including microalgae and hand harvested seaweed, B Corp certified Beauty Kitchen have created an advanced eye serum packed full of omega fatty acids, vitamins and antioxidants. Scientifically proven to increase collagen levels, this serum can help to reduce the appearance of fine lines, age spots and wrinkles.  Caffeine and probiotics infused in the serum lift the skin and lighten the appearance of dark circles. Providing gentle nourishment and hydration, this serum has been formulated without fragrance perfect for the delicate eye area. RRP: £20
Root + Fruit Control Switch Repair Serum
Wild Science Lab
Tel: 020 8879 4220
E-mail: [email protected]
www.wildsciencelab.com
Control Your irritable and stressed skin with NEW innovation Control Switch Repair Serum from Wild Science Lab. Inflammation, irritation, and frequent congestion and breakouts are all signs of skin that has been damaged by the stresses of everyday living. Control Switch Repair Serum, £35, is a 93.3% naturally derived daily serum that works to strengthen skin resilience, repairs the protective skin barrier, and restore optimal cellular regeneration. It helps skin feel calmer, balanced, and moisturised due to 1% CBD, collagen-boosting Moth Bean Seed, and eight calming essential oils.
Save 25% at wildsciencelab.com by using the code Get25 at wildsciencelab.com
NeoCell Super Collagen Powder
Kinetic Natural Products Distributor
Tel: 08450 725 825
E-mail:  [email protected]
www.kinetic4health.co.uk
NeoCell Super Collagen Powder C offers 6600mg of BioActive NeoCell Collagen Type 1 &3. The product is both non-GMO and gluten-free, and does not contain soy, wheat, lactose, starch, yeast or artificial flavourings. NeoCell is the world's leading collagen brand and also a pioneer in the field of nutritional science. They are committed to finding the most innovative and effective nutraceutical supplements and offer the most bioavailable and bio-active collagen peptides on the market. NeoCell's cGMP facility in Southern California houses state of the art manufacturing equipment. Same great formula, new look packaging! For more information or to place an order, visit www.kinetic4health.co.uk or email [email protected] 
Silicea Kollagen Plus
World foods  brand management
Tel: 01782 528611
E-mail:  [email protected]
www.wfbm.co.uk
Silicea Kollagen Plus combines the highest quality Verisol collagen with a whopping 150mg of Haplex hyaluronic acid and Silicea's famous Silica gel all of which have been subject to clinical studies covering, skin elasticity, wrinkles, hair & nail growth and skin moisture levels.
One of the challenges for any liquid supplement is creating a product which is palatable while avoiding the use of sweeteners, artificial flavouring or preservatives. Kollagen plus has achieved this by only flavouring and sweetening the product with mango and apple pulp, creating the best tasting product on the market.
Available in 15 day and 30-day packs containing 30 and 60 two a day sachets 
Weleda Pomegranate Firming Facial Skin Care
Weleda UK
Tel: 0115 944 8200
E-mail:  [email protected]
www.weleda.co.uk
Weleda's luxurious Pomegranate Firming Facial Care is made with antioxidant-rich organic pomegranate seed oil from long-term fair trade farming partners in Turkey. This powerful superfruit rejuvenates and restores radiance, enhancing the skin's natural vitality. The range promotes skin cell renewal while preserving elasticity and firmness. Pomegranate Firming Day Cream can be layered with the lightweight oil-free Face Serum to boost hydration and brighten lacklustre skin, or with the intensely nourishing Firming Facial Oil. Pomegranate Firming Night Cream and fragrance-free Firming Eye Cream complete this versatile collection, reducing the appearance of wrinkles and protecting against premature skin ageing. Suitable for vegans
Avalon Organics Vitamin C range
Kinetic Natural Products Distributor
Tel: 08450 725 825
E-mail:  [email protected]
www.kinetic4health.co.uk
Avalon Organics, the pioneering natural beauty brand that combines modern science with centuries of study into the rich botanical world, has formulated a new Vitamin C range based on their Triple C complex. Offering all the anti-aging benefits of traditional Vitamin C, this range also includes the Kakadu Plum, filled with the highest recorded level of Vitamin C: more than 100 times that of an orange. This new formula is packed with the natural antioxidant benefits of Olive Squalane, Turmeric, Liquorice root and more. Choose from Cleansing Gel, Renewal creme riche, Gel Creme Moisturiser and Radiance Serum: loaded with replenishing antioxidants which target cleansing, hydration, brightening and moisturising. For more information or to place an order, visit www.kinetic4health.co.uk or email [email protected]
AgeSWISSFORCE® WRINKLES SERUM
Tel: 078 780 678 36
Laboratoires Monteceuticals
www.wrinkles-serum.com
[email protected]
Established in 2013, Swissforce Pharma AG is a Swiss skincare laboratory specializing in targeted range of Swiss-made cosmeceuticals which has strong representation and reputation globally.
Our headquarters are located in Rotkreuz, Switzerland, right in the heart of the Swiss Alps. At Swissforce Pharma AG, nature is our source of inspiration and innovation.
Driven by the commitment to help people look and feel better, we work with a team of chemists, botanists, and skincare experts in Switzerland in discovering the best formula with the latest natural ingredients and methods to address specific skin concern.
Featuring our new Swissforce® Wrinkles Serum for an instantly firmer and supple skin with natural complexion.
Our ultra-hydrating serum reduces the appearance of wrinkles and fine lines, and loss of resilience by re-densifying and firming the skin.
This all-in-one serum has a unique combination of 2% Hyaluronic Acid of low molecular weight, collagen, collagen booster, retinol, and sweet Iris stem cells.
Additionally, Swissforce Wrinkles Serum has been formulated with Swiss glacier water encapsulated into liposomes for a deep and long-lasting hydration and snow algae powder which visibly improves skin structure, evens the skin tone and reinforces its barrier function.
• With refreshing premium fragrance
• Formulated with natural ingredients
• Free from PEGs, parabens, silicones and synthetic fragrance
• Made in Switzerland
Direction for use: we recommend to apply two drops on a clean face morning and evening.