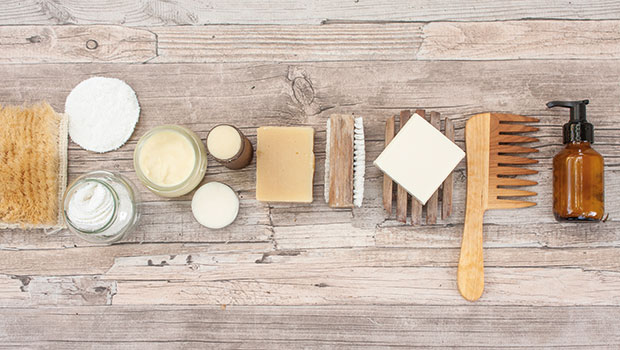 … packaging, water, excess ingredients, pollutants. There is a huge amount of interest in the 'zero waste' movement at the moment, but it's not a simple concept. Here Jane Wolfe poses the question: can zero waste really exist in the beauty industry?
As a retailer, what does the term 'zero waste' mean to you? When it comes to beauty, there's no doubt it signifies different things to different people and to varying degrees of intricacy – from the basic concept of no packaging through to the multiple impacts of production and transportation – factors often overlooked by consumers.
This complicated issue is one which a number of brands, particularly in the natural and organic sector, are striving to tackle. The simple definition of zero waste, according to Beauty Kitchen founder Jo Chidley is a product whereby nothing gets sent to landfill. The more complex and accurate description? "To completely redefine the system, to move to a circular economy using cradle to cradle principles and write waste out of existence," she says.
So does zero waste currently exist in the beauty and bodycare sector? "The answer is both yes and no," says Weleda UK MD Jayn Sterland. "There are some innovative, re-invented 'solid' soaps and packaging-free products hitting the market. In many ways we could say these are zero waste, but not if we take into account the amount of product that washes off and goes down the plughole, or the waste produced in making beauty products. Then, the answer is no, zero-waste products don't exist."
There is a risk that the term loses meaning when it is used to simply mean that a product is lower waste or more sustainable than conventional, and this is a 'slippery slope to losing consumer confidence', Chidley asserts. "The industry is in danger of using the climate emergency as short-term commercial opportunity, greenwashing consumers in the similar way to how other single-attribute measures or certifications have been used in the past to market products as 'more good', when in fact they are just slightly 'less bad'. Changing a piece of packaging from plastic to cardboard or changing a cloth to hemp but still using nylon stitching doesn't make a product zero waste."
Plastic passion
Although much has been made of plastic pollution in the media, this fixation may be misleading consumers as to what is and is not harmful to the environment. "Our experience tells us consumers want to do the right thing but … the media has made this a black and white issue – currently plastics are seen as bad, 100% recycled cardboard and glass as good," says Sterland. "Glass takes a huge amount of energy to recycle, which is okay if this energy is green. To recycle paper and card is good, unless you have to ship it to China to be de-inked and returned as pulp. Plastics are easy to recycle if only we had the right infrastructure, without it they are 'bad'. It's about trying to make the least bad choice for the consumer and for the planet."
The industry is in danger of using the climate emergency as short-term commercial opportunity, greenwashing consumers in the similar way to how other single-attribute measures or certifications have been used in the past to market products as 'more good', when in fact they are just slightly 'less bad'.
Taking packaging as a starting point, how complex is this issue for brands to untangle? "Finding a sustainable packaging solution is a really hard challenge, especially for products with a short shelf-life, or those that are liquid or contain a large percentage of water," explains Sterland. "At Weleda, packaging is super important because we don't use synthetic preservatives – the packaging is what keeps our product 'fresh'. For many of our tube-based creams we use aluminium tubes as these can be recycled and don't allow the product to oxidize. However, the mining of aluminium isn't a clean process – so even using recyclable aluminium is a compromise we make for the quality of our products. We are continually researching the best solutions."
Sterland believes brands need to take a 'wholistic' approach, looking way beyond the recyclability of packaging, to factors including biodegradability, ingredients, sourcing, the manufacturing process, energy and water use, and distribution.
"For me as a consumer, a zero waste product would take into account all of these parameters and yet today we see brands telling inspirational marketing stories about their use of 'beach plastic' in their bottles when the truth is only a small percentage of the plastic they use is from this source and the rest is virgin plastic. This is a problem facing every consumer beauty brand and even a small step should be rewarded, but we're a long way off solving consumer waste," she says. 
"We believe there is no such thing as waste, it is just something we have not found a use for yet," states Chidley. "The hot topic is packaging waste, and this single attribute is being used by companies and brands to market products to consumers as being 'zero waste', and as such this is becoming the definition. This is single attribute which is never enough to answer a complex problem – which sustainability and zero waste are.
This is a problem facing every consumer beauty brand and even a small step should be rewarded, but we're a long way off solving consumer waste
"Ingredients are not getting much of the focus in the conversation, but they are just as important. All ingredients and packaging materials used in a product need to be both safe and circular, whilst only using renewable energy and meeting UN goals on water stewardship. If ingredients are from non-renewable resources and cannot pass back through the environment to the oceans or soil and into our food chain, they are not technically zero waste. The risk with the focus on packaging is that we have 'zero-waste' products in reusable packaging still containing ingredients, such as microplastics, that pollute the planet."
'More citizen than consumer'
So what is the answer? "We all must start to learn how to consume less, and as brand owners we need to become more responsible about constantly inventing new products," advises Sterland. "Let us all buy fewer products, consume less of them, becoming more 'citizen' than 'consumer'. In this way we can afford to spend a bit more money on better quality organic formulations from ethical brands, which will be better for us and for the planet." 
For Karen MacDonald, founder of Blomma Beauty – a natural and organic beauty marketplace selling online and via pop-up stores – this is where multipurpose products can innovate. "Historically the beauty industry has always had a 'more is more' approach. You needed a cream for your eyes, cheeks, chin, earlobes, but now there are really effective formulations that can be used for many different purposes. Silvan Skincare is great at this – its balms can be cleansers, moisturizers, lip balms, dry skin ointments, face masks and more, so you're only buying one packaged item, not five."
In order for a major positive impact to occur, brands need to be held answerable, says Sterland. "Companies should be made to account for the 'true cost' of their business. This means accounting for the waste produced including packaging waste and any environmental damage done … We will change our behaviour if there are financial incentives both at an industry and at a consumer level, but this needs strong leadership, legislation and Government intervention."
"We should be designing products, businesses and supply chains to be like trees," Chidley maintains. "Why be sustainable or carbon neutral, when we should be aiming for regenerative and carbon positive? That's why we are so on board with the Cradle to Cradle Certification as it sets goals that are potentially unrealistic today but achievable in the future … Only with collaboration can we design and implement reuse models [such as Beauty Kitchen's circular Return • Refill • Repeat programme] that are convenient for consumers, move the planet to 100% renewable energy and most importantly clearly communicate to consumer what is good, what is just less bad and what we need them to do to help."
MacDonald believes the onus is on brands, retailers and companies to be as transparent as possible. "I don't mean by being the perfect finished eco-friendly article, but documenting their journey, where they're at now and where they want to be. By being honest about this, you and your customers will be able to see progress. We share the eco credentials of our brands but we need to delve even deeper into the ingredient supply chain and document this for our customers. One of our brands, cut.le.crap., has a covenant on its sustainability mission and updates its progress regularly. It's not hiding behind false claims or marketing lingo but is actually chipping away at its own processes over time. We as consumers should be asking this of every company."
Why be sustainable or carbon neutral, when we should be aiming for regenerative and carbon positive? That's why we are so on board with the Cradle to Cradle Certification as it sets goals that are potentially unrealistic today but achievable in the future …
"It's very much a balancing act between being as sustainably minded as possible without compromising on the efficacy of the product," she adds. "We're a beauty and wellbeing retailer at the end of the day, but we try to be as sustainably minded as possible."  
From A to B
After ingredients are sourced and the product made and packaged (or not), comes the issue of transportation. How much does this figure in the zero waste equation? "This is something I find fascinating with online shopping being such a big part of our culture now, because I don't think people really realize the amount of waste and emissions created by the logistics process," says MacDonald. 
Blomma Beauty operates a model whereby the brands dispatch products to customers directly. "This way the item is as fresh as possible; we're not having products shipped to us first – creating carbon footprint – before sending them out again, effectively shipping twice. There's also less production for our brands so they're only making what is needed and we're not risking storing an out-of-date product that would have to be thrown away if it's not sold." 
MacDonald hopes to offer more refillable options, introduce a recycling scheme and be as transparent as possible about packaging decisions. "It's not just about new initiatives but making sure your current ones are the best they can be," she says.
"Transport is an important factor, but shouldn't be an excuse to avoid progress," says Chidley. "One of the greatest excuses we hear is that 'we should keep using plastic instead of heavier aluminium or glass and avoid reuse models because the impact of transport CO2 emissions would be huge'. The reality is that the sun produces more energy in a day than the human race has ever used, and that within the foreseeable future 100% of transport will be powered by renewable energy with zero emissions. So, we need to get on designing the right products with the right reuse models and getting consumers engaged in the knowledge that the transport industry will catch up, rather than using transport costs and emissions as a reason to stay in our comfort zones."
The Sustainables Organic Vegan Body Wash
Beauty Kitchen
Tel: 01698 372727
E-mail:  [email protected]
www.beautykitchen.co.uk
Beauty Kitchen have launched 'The Sustainables', an award-winning range of natural, organic, vegan and cruelty free everyday toiletries in sustainable packaging.  The range is part of the ground-breaking Return • Refill • Repeat scheme where Beauty Kitchen wash and reuse their packaging.
• The range includes natural body wash, hand wash, bar soap, body lotion, shampoo and conditioner.
• Made with natural essential oils in three mood-boosting fragrances, including Citrus Burst, Minty Fresh and Botanic Bliss.
• Also available in fragrance-free for sensitive skin
• The range also includes seasonal, limited edition products and fragrances
Conditioner Bar – Lavender & Geranium
Friendly Soap
www.friendlysoap.co.uk
This handy little conditioner bar is kind to the planet, gentle on your scalp, and leaves your hair super soft and marvellously manageable. Friendly use a special blend of cocoa butter and castor oil to give you fabulous, frizz-free results with every wash. Essential oils of Lavender and Rose Geranium to add calming and anti-bacterial to its long list of benefits. It comes in a natty little card box, not a nasty plastic bottle. Friendly are registered with The Vegan Society and Cruelty-Free International.
We Love the Planet Deodorant Stick
Kinetic Natural Products Distributor
Tel: 08450 725 825
E-mail:  [email protected]
www.kinetic4health.co.uk
We Love the Planet is a wonderfully soft and very effective deo cream. Very creamy formulas available in five different fragrances, packaged in either a snaplock tin or a wide-opening compostable and biodegradable cardboard tube, which makes it very easy to use and apply the cream. 100% of the ingredients are from natural origin – certified. It is nourishing to the skin, antibacterial and ensures that you feel fresh all day without clogging your pores- aluminium-free. Sodium bicarbonate offers maximum protection against odour development, whilst coconut oil, beeswax, caprylic acid and St John's Wort Oil nourish the skin and have a calming, anti-inflammatory effect.
milly&sissy Zero Waste Shower Crème
milly&sissy
E-mail:  [email protected]
www.millyandsissy.co.uk
Our brand new milly&sissy zero waste shower crème has incredible eco credentials (even we do say so ourselves!): it's vegan & cruelty free; Contains 99% natural ingredients; the bottle is refilled after every use, the sachets are recyclable leaving no waste AND you add the water so we don't need to transport it, giving huge savings in transport carbon emissions – genius! Easy to use – add the water to the bottle, pour in the powder, give it a good shake and leave it overnight for all ingredients to make friends. Then wash away to your heart's content!
Ben & Anna Natural Soda Deodorant
Pravera Ltd
Tel: 01557 870203
E-mail: [email protected]
www.benandanna.uk
The natural deodorant that works for you and the environment! Ben & Anna Natural Soda Deodorants effectively tackle perspiration and neutralise odour to keep you feeling fresh all day long and the eco-friendly plastic free packaging is made from FSC certified recyclable paper. Made with 100% natural ingredients, these multi award winning deodorants are suitable for vegans and free from aluminium, alcohol, parabens, synthetic aromas and of course no animal testing, plus every sale supports ocean cleaning. With a choice of 7 soda deodorants and 3 soda free for sensitive skin, there is a scent to suit everyone. Trade prices from £5.53 / RRP from £9.95.
Fair Squared Zero Waste Range
Pravera
Tel: 01557 870 203
E-mail:  [email protected]
www.fair-squared.co.uk 
Not just Fairtrade, FAIR SQUARED have re-packaged their ethical Fairtrade, natural, vegan and carbon neutral products to create a new resourceful Zero-Waste range. The eco-conscious products are now packaged in zero waste packaging, which consists of glass bottles and jars with aluminium lids with a new innovative Fairtrade biodegradable rubber seal – truly 100% plastic free. FAIR SQUARED products aren't just an 'alternative', the high-quality body care products also hold the NaTrue Natural and Organic certification, are registered with The Vegan Society, certified cruelty-free by animal rights organisation PeTA, are HALAL and the packaging is FSC certified.