For the first time the UK's organic market has broken the £3 billion mark, 'significantly outperforming non-organic sales' and demonstrating 'exceptional resilience'.
The news comes via Soil Association Certification's annual Organic Market Report 2022 – published with support from Triodos Bank – which shows that in 2021 organic saw 5.2% growth, with almost £60 million being spend weekly on organic food and drink.
It also marks the tenth consecutive year of growth, despite a second year of uncertainty, disruption and unprecedented challenges in the context of Brexit and COVID-19.
With the UK's organic market now worth a record £3.05 billion, the Organic Market Report confirms continued strong performance across all areas of retail, including supermarket home delivery services (+2.4%), independent retailers (+9%) and foodservice (+3.3%).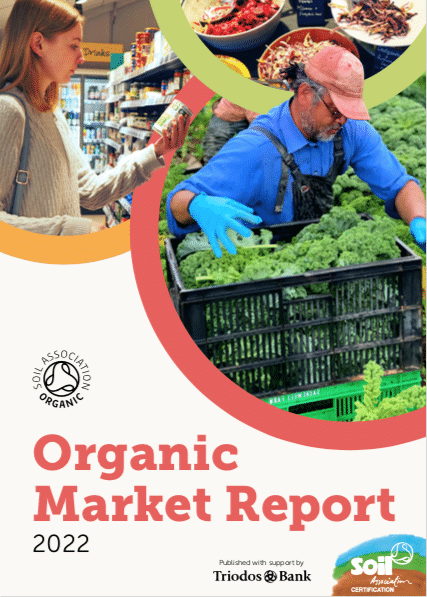 Online shopping and box schemes together, the report notes, delivered a 'particularly strong performance' in 2021, growing by 13% to reach a worth of £558 million. E-commerce and veg box schemes which consumers turned to during lockdowns have translated as ongoing retail trends, with new habits holding strong. "Online has enabled retailers to offer a wider range and choice of products which is attributed with attracting more customers to organic and its strong growth. Amazon is now the largest online retailer of organic in the UK with over 8,500 Soil Association Certification products," comments the certifier.
After 2020's boost, sales or organic in supermarkets levelled out in 2021, but still saw growth of 2.4%. The dominant multiples were Waitrose & Partners, Sainsbury's and Tesco, with a combined market share of 65%. These big three, along with Ocado and Marks & Spencer, 'got behind Organic September', resulting in a boost to organic sales of 1.7% in that month alone. Throughout the year, these multiples 'gave greater prominence and marketing support to organic categories and products across stores and online'.
The overall top four organic categories for supermarkets – dairy, produce, ambient grocery and meat, fish and poultry – make up 74% of sales.
From 2020 to 2021, these leading organic categories saw the following sales shifts: dairy up by 0.7%, reaching almost £500 million; produce up 1.8%, sitting at £437 million; ambient grocery down 6.2%, at £315 million; and meat, fish and poultry now at £202 million after a rise of 5.5%.
Demand is outstripping supply of certified organic cotton
Hero products in the supermarkets include tea and coffee (£1 in every £10 spent on organic) and beers, wines and spirits which were also up 16.9% in 2021.
The report acknowledges 'another mixed year' for independent retailers, but says the sector 'has come back into growth as more store have been able to open'. "Some city centre retailers have been negatively affected by more people working from home but many local stores have benefited from this change. Overall, the sector has seen an increase in sales of 9% in 2021."
Outside of food and drink, in textiles, beauty and wellbeing the numbers remain strong: sales of organic and natural beauty products grew by 15% in 2021 to reach £135 million. Soil Association Certification certified organic textiles grew by 39%, reaching a worth of over £68 million.
"Demand is outstripping supply of certified organic cotton, as more brands and retailers commit to sourcing organic cotton as part of their sustainability strategies," says Soil Association Certification, which will publish a separate Organic Beauty and Wellbeing Market Report in March.
Wider organic choice available online is bringing new shoppers to the category
Clare McDermott, Soil Association Certification business development director, comments: "Despite challenges across all aspects of production, supply and the market, organic businesses have shown phenomenal resilience and responded to (continually increasing) shopper demand for products that support both health and the environment. Shoppers are increasingly looking for products that reflect their values and organic is meeting that need.
"The wider organic choice available online is bringing new shoppers to the category. Box scheme sales continue to be strong as shoppers look for provenance and traceability in their choices and over a fifth of organic food and drink sold through supermarkets is now online.
"With shoppers in the UK now spending £60 million a week on organic, there is a huge opportunity for organic businesses to innovate both in channel and product and continue growing the market."
Soil Association Certification notes that 'the trend for sustainable and healthy options has clearly stuck, with more and more consumers seeking climate and nature friendly options'. And the industry is more than ready to meet the demand: during 2021 over 4,000 innovations were registered with the certifier – spanning brand-new products and reformulations, to new plant-based additions to traditional categories such as dairy.