Aiming to get cannabinoids into the kitchens of mainstream health-conscious consumers, CBD Brand Mee has formulated a line of accessible and affordable water-soluble formats.
The UK-made vegan powders and liquids can be simply added to food and drinks and are produced using organically grown US hemp to provide 'plant-science for everyday wellbeing'.
With packaging designed by The Space Creative, the branding agency behind Pukka Teas and Faith in Nature, the Organic CBD line comprises: 'ultra mild-tasting' powder that can be used in smoothies, soups, coffee and shakes, available in daily sachets (packs of three and 30) – each containing 20mg of CBD; and drops that provide 20mg of CBD in a single pipette and can be consumed direct into the mouth or added to drinks.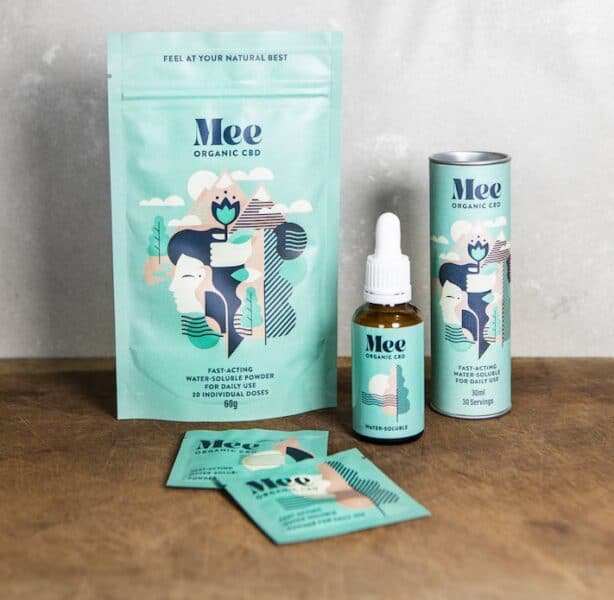 "We believe CBD is fundamental to our diets but is often misunderstood and misused," says CEO Oli Osgood. "With this new design and formats, we hope that Mee CBD can integrate into anyone's existing daily routines easily and enjoyably. We have extensive experience developing CBD products, but Mee CBD is easily the simplest, most functional and definitely the most beautiful."
Named after pioneering conservationist and artist Margaret Mee, the brand uses broad spectrum hemp extract to deliver the benefits of cannabinoids in an easily digestible and user-friendly format. It says by using a pioneering encapsulation technique to encase the cannabinoids in a plant-based coating, the body absorbs them more efficiently and provides significantly higher bioavailability compared to standard CBD oils.