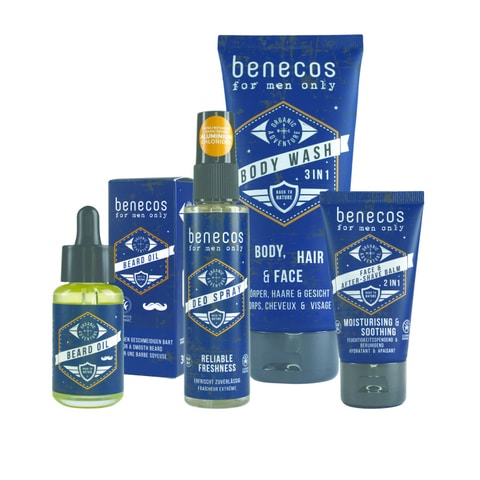 A new male grooming line, For Men Only, has been created by natural skincare brand benecos, featuring four vegan-friendly products.
The multi-purpose benecos For Men Only Body Wash gently cleanses the hair, face and body, and is packed full of natural and organic ingredients, including benecos mix of seven organic extracts – burdock, lime blossom, nettle, rosehip, marigold, elderberry and St John's wort – to keep skin soft, smooth and hydrated.
The benecos Deo Spray For Men Only is formulated with no aluminium or other potentially harmful chemicals and contains alpine water combined with seven organic extracts to provide reliable freshness.
For Men Only Beard Oil is designed to improve the appearance of beards as well as nourish the skin. Containing a blend of argan oil, sunflower oil and sweet almond oil mixed with essential oils of lavender and rosemary, it has been created to nourish and soften the beard and the skin underneath. Lavender essential oil helps prevent infections and promotes rapid healing, soothing and calming the skin, while rosemary essential oil helps with hair growth and prevents dandruff.
The Face and After Shave Balm is a gentle aftershave balm with calming aloe vera and bisabolol, which has natural anti-inflammatory properties to help soothe the skin after shaving.
"As sales for the male grooming category are booming, benecos has created a standalone range of products solely targeted at men," says Graeme Hume, MD of Pravera, which distributes the brand in the UK. "The tag line For Men Only is a bold move, but as men are getting more knowledgeable about skincare, they are seeking out products that focus on natural ingredients, stylish packaging and an affordable price point, and the new benecos range ticks all of those boxes."
The For Men Only range is BDIH-certified organic and natural, and the products are also free from paraffins, parabens, silicones, PEGs, synthetic colours, artificial fragrances, chemical preservatives.