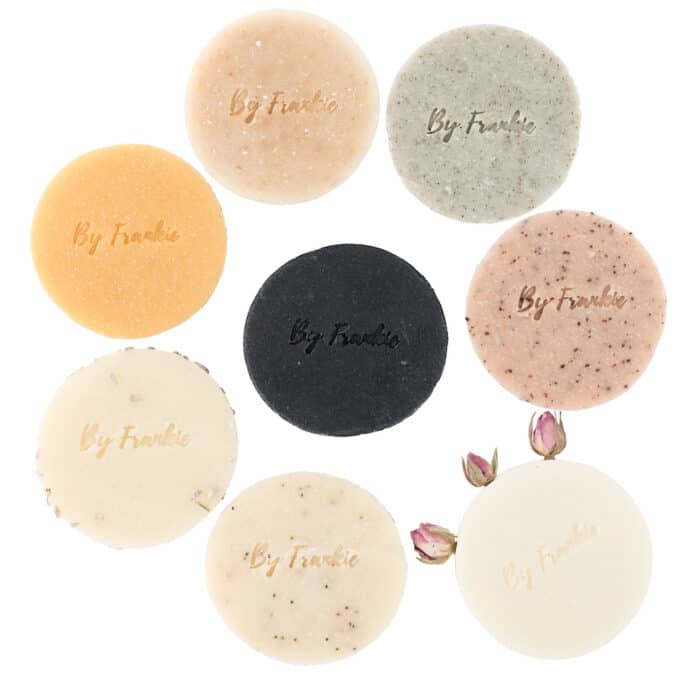 Start-up By Frankie has launched with a range of soap rounds made using natural butters, botanical infusions and essential oils to help nourish frequently washed hands.
Created in a cottage kitchen to make the current handwashing routine less clinical and more of a sensory experience to be enjoyed, the initial By Frankie range comprises eight soaps (seven of them vegan): Pink Clay & Rosehip; Lemon & Poppy; Carrot & Ginger; Tea Tree & Charcoal; Green Clay & Mint; Rose Garden; Patchouli & Lavender; and Goats Milk & Honey.
Each cold-pressed soap bar is handmade using traditional methods using moisturizing oils and butters – including virgin olive oil, organic castor oil, avocado oil, shea butter, coconut butter and sustainable palm oil – to keep skin soft.
The sight, smell and feel of soap on my skin means something special to me
"There is something nostalgic for me about soap," explains founder Frankie Campbell. "It takes me back to my childhood. Soap was used in the bath to remove dust from long days playing outside. There was always a bar of lavender scented soap in my nan's bathroom. The sight, smell and feel of soap on my skin means something special to me.
"By Frankie Soap was created with body, wellbeing and environment in mind," she adds. "I wanted to turn the routine of handwashing in to something to be enjoyed using natural ingredients with pure essential oils and botanicals. All the packaging can be home composted. Kind to your skin, your soul and the environment."
By Frankie Soaps are cured and dried for three to five weeks after they come out of the mould and have a shelf life of over 2 years. The brand also offers 'soap in the post' as well as a range of gift sets.