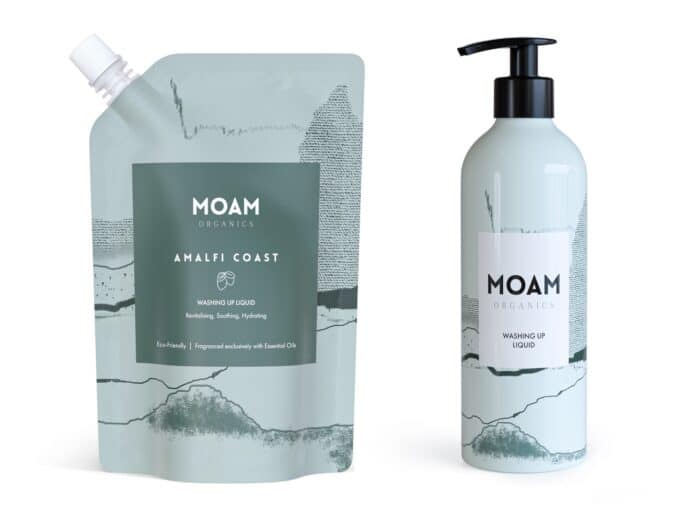 UK brand MOAM Organics has launched with a range of refillable and recyclable aromatherapy-led home, laundry and skincare products.
The vegan collection includes non-bio Laundry Detergent and Fabric Conditioner fragranced with the Monte Carlo scent, a blend of lavender, cedarwood and bergamot oils with organic rosewater to comfort, balance and calm – ideal for washing bedding and sleepwear to create a tranquil sleeping space. Both products are highly concentrated, delivering up to 65 washes per litre and are free from harsh chemicals.
MOAM's eco Washing Up Liquid is fragranced with the Amalfi Coast scent, a blend of bergamot, lavender and peppermint oil with organic rose water to hydrate the skin when washing the dishes. Suitable for those with sensitive skin, it's still tough on dirt, says the brand, and is free from parabens and SLS.
The brand's organic Body Wash and Body Lotion aims to capture a trip to Greece, with the Santorini aromatherapy blend featuring geranium, bergamot and frankincense to refresh and re-energize.
Handy for first-time buyers, the brand also offers an Eco Laundry Starter Kit, Washing Up Starter Kit and Organic Body Wash and Lotion Set which contain the products along with empty refillable aluminium bottles (also available separately).
"We are delighted to launch our award-winning, eco-friendly cleaning, laundry and skincare products," comments founder Louise Davidson. "MOAM stands for Mum On A Mission and that is exactly what we are about; we are on a mission to eliminate harmful chemicals from your home and beauty routines by using the finest quality ingredients that still deliver remarkable results.
"We use aromatherapy techniques to curate varied, well-balanced blends of the finest quality essential oils that support wellness. Essential oils not only smell great, but when blended correctly they can offer a boost to cleaning ingredients and encourage healthy skin and minds. In fact, we use science to drive the full extent of plant power to create mood-evoking, eco-friendly products that deliver results."
All products are between 99-100% natural, non-toxic, biodegradable and made in the UK.
Consumers can send their empty pouches back in the freepost envelope provided and the brand's recycling partners will recycle 100% of the packaging.