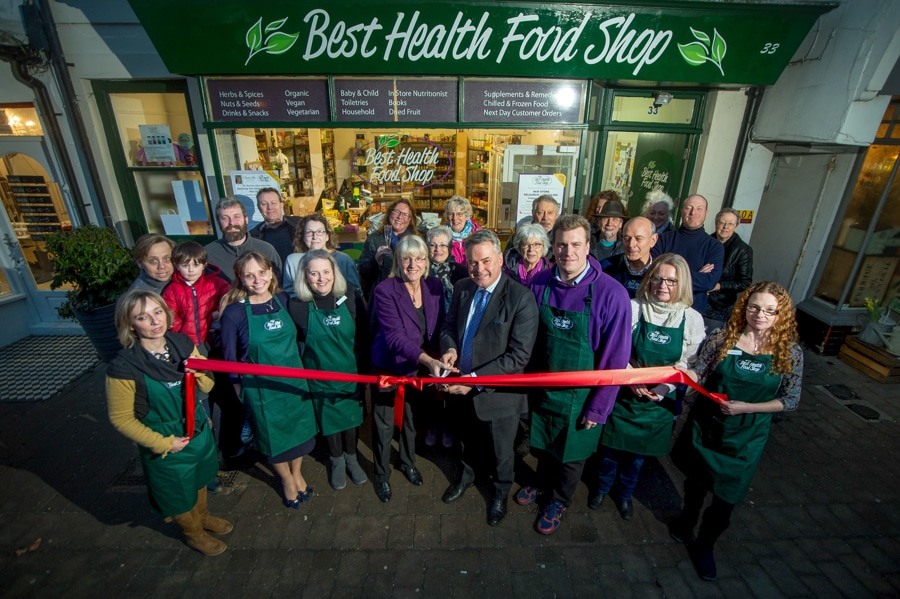 A West Sussex health food shop has been rebranded courtesy of new owners, Len Glenville and Mel Beard.
The Best Health Food Shop – formerly called Sugar and Spice – in Shoreham-by-Sea had a rebranding celebration with Len's mother – leading nutritionist Marilyn Glenville – cutting the ribbon for the new-look store.
It is the first store for Len and Mel, who took over last September. Both were formerly involved with Marilyn Glenville's Natural Health Practice business and have experience in digital marketing and business consultancy.
"We took over a few months ago but we wanted to make sure the community was used to us and reassured that we weren't going to get rid of things before making the name change," says Beard.
Since taking over they have expanded the range of products to include books, a larger vegan range, more local produce and toiletries, as well as the NHP range of supplements. "We want to modernize the local health food shop offer, based on what you see in Planet Organic, for example," says Glenville.
The store has two qualified nutritionists working on the shop floor and works hard at fostering a community spirit, including knowing customers by name, according to Beard. It is also starting to hold events, beginning with a talk on 'Balancing your hormones – naturally' from Marilyn Glenville in a nearby community centre.
The store is small – just 350sqft – but a partnership with wholesaler CLF is helping keep customers happy, says Beard. "CLF has revolutionized things for us. We can get orders in every day including a Saturday and so we can really push the customer order side of things, which is great given how limited we are for space."
The couple is keen to expand their retailing business. "We do want more shops but we will expand gradually in the Sussex, Surrey, Kent area," says Beard. "We want to keep the personal touch."
Photos: Professional Images/@ProfImages