Chococo has created a new range of handmade chocolate skulls, chocolates, lollies and bars inspired by the Mexican celebration of El Dia de Los Muertos – The Day of the Dead – which takes place between 31 October to 2 November.
Chococo has used chocolate from Madagascar, Venezuela and Colombia to create the new products, using curcumin, spirulina and beetroot to add colour to the designs.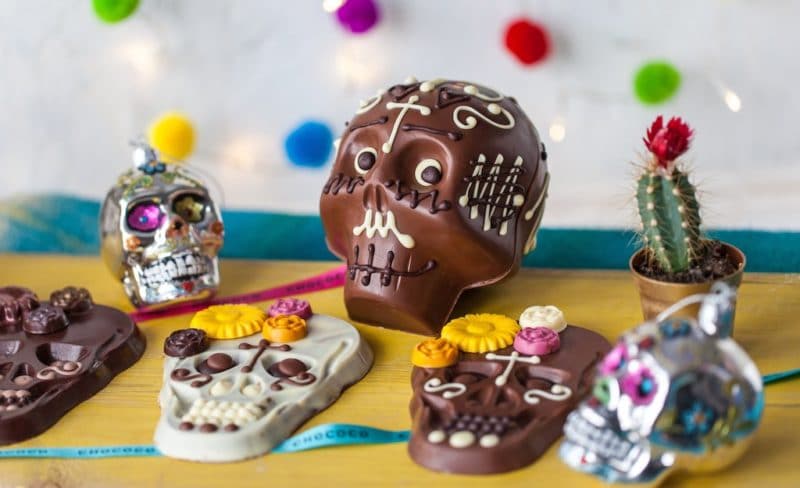 The range includes 3D Hand Decorated Day of the Dead Skulls in Pedro – milk chocolate decorated with white and dark chocolate patterns; and Tita, a colourful skull with naturally coloured white and ruby chocolate.
Day of the Dead Skull Bars are available in three different styles inspired by Mexican artist Frida Kahlo: Frida is a made from Venezuelan origin milk chocolate, decorated with naturally coloured white chocolate roses, ruby chocolate roses and caramelized white chocolate roses; Rosa is made from Madagascan origin 67% dark chocolate and is dairy-free and vegan-friendly; and Blanca is made from Venezuelan origin 45% milk chocolate with a thin outer layer of Colombian origin white chocolate. These gifts are all hand-decorated, so each one is unique.
There is also a Day of the Dead Selection Box with a selection of handmade chocolates: Mexican Chilli, Spiced Devonshire Rum, Gold Cocoa Nibs Gem, Black Garlic Caramel, Spiced Pumpkin, Cardamom & Pistachio, Black Summer Truffle, Dorset Smoked Sea Salt Caramel and  Cabin Pressure Gin & Rosemary.
The new selection is completed with Monster Mini Bar & Monster Lolly Set 'a perfect gift set for little zombies' and Single Origin Hot Chocolate Flakes, and the brand has also launched an improved house milk chocolate made with Venezuelan cocoa beans, and containing 45% cocoa solids.
All Chococo's Day of the Dead gifts are packaged in cardboard, with no plastic, and are either recyclable or compostable.