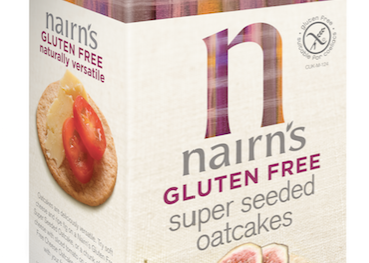 Nairn's new Gluten-Free Super Seeded Oatcakes is the first of the brand's products to don the refreshed packaging design, which will be rolling out in September.
Designed for the healthy snacking market, the oatcakes area high in fibre as well as protein due to the combination of flaxseed, sunflower seeds and chia seeds. In addition the wholegrain oats and chia seeds ensure slow release energy to keep consumers going through the day.
The Gluten-Free Super Seeded Oatcakes are packed in pouches of five for easy at-home or on-the-go consumption.
"We have developed a Gluten-Free Super Seeded Oatcake to tap into the continuing trend for seeded products and based on the success of our main category Super Seeded Oatcake which has fast become one of our best sellers," explains Paddy Cronin, UK sales director at Nairn's. "It's always been vital to Nairn's that our gluten-free range carries the same simple, natural and wholesome health credentials as our main range, as the gluten-free category often contains products which are higher in sugar or fat than their non-gluten-free counterparts.
"2017 has seen us launch a number of new gluten-free products, with more still to come. Our investment in making our gluten-free factory bigger and more efficient means we have the capacity to expand our range further. At a time when pack sizes are shrinking, we've also taken the opportunity to increase the size of our oatcake packs without a change to the RRP, and this is something we are also introducing on crackers from September."