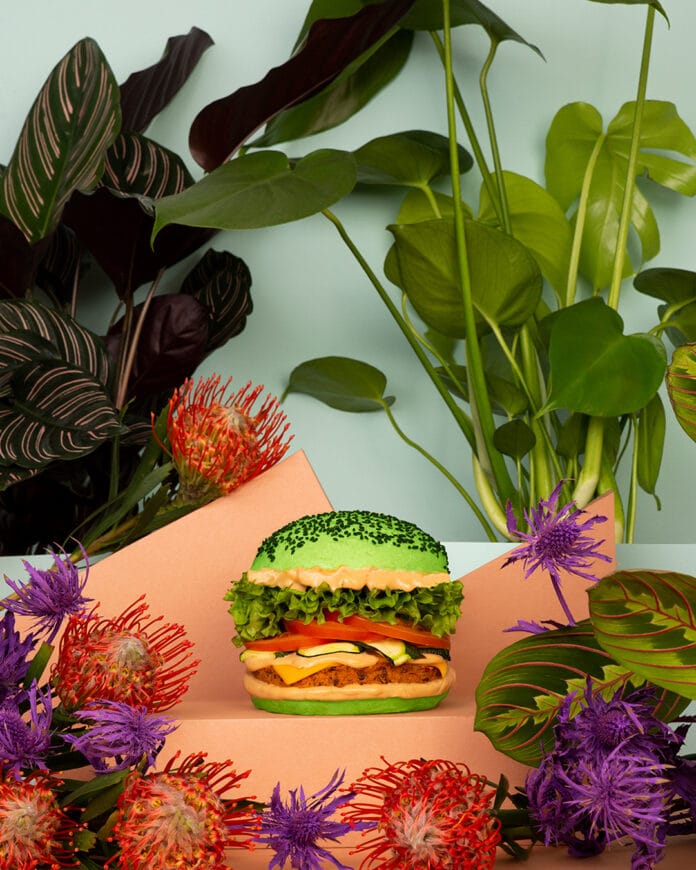 Following the successful launch of its Charlotte Street, London, branch this year, 'rainbow' plant-based burger concept Flower Burger has opened a second UK location in Brighton.
Located in North Street, near the Lanes, the new restaurant is described as being just as instagrammable as its rainbow burgers, providing a colourful space with kaleidoscopic graphics and 'a touch of flower power' in the form of some iconic quotes drawn from the 'ever-raging' Beetle's music.
Flower Burger offers plant-based fast-food in the form of 100% natural, vibrantly coloured vegan patties and buns produced in-house from fresh vegetables, cereals and legumes. The line-up includes the Jungle Burger, a red bean and oat patty in a green bun made with turmeric and spirulina, with lettuce, tomatoes, oven-baked courgettes, flower cheddar and a smoky BBQ sauce; Cherry Bomb – a lentil and basmati rice patty in a pink bun with beetroot; and the signature Flower Burger, a seitan and red kidney bean patty in a purple bun.
Offering 'a rainbow in every plate', the burgers can be paired with a selection of sides including Potato Wedges, Edamame, and Patatas Buenas, and topped off with vegan desserts, including Tiramisun, Coco-nuts and the restaurant's signature Chocolate Salami.
"We love that the Brightonians prioritize all the same values that we do, from inclusivity to sustainability," comments Matteo Toto, founder and CEO. "From day one, it has been our mission to create an inviting international brand that motivates customers to eat plant-based. We want people to relax and have fun in our restaurant, offering great-tasting and unique products that we produce ourselves."
Flower Burger has partnered with Gerry's Group to help grow the Flower Burger brand in the UK. "We are pleased to take Flower Burger from London to Brighton, the city known for vegan food and passionate for the hippie culture," says Trilok Seebundhun, COO, Gerry's Group UK.
Flower Burger restaurants have 20 international sites, including branches in Amsterdam, London, Los Angeles, Marseille and Milan.