This month saw the launch of Health & Her, a new online information and shopping portal focusing on female health, specifically the menopause.
Designed to cut through the confusion around the menopause, the site looks at the frequently overlooked physical, psychological and social impact on women and aims to evolve to 'support women from their first period to way past their last'.
Speaking about the reason behind the launch, which covers 'all 30 symptoms of the menopause,' creative director Gervase Fay, who founded the site along with Kate Bache, says: "Kate and I identified a real opportunity  to help women going through menopause who want to take control and have a place to find unbiased information from a variety of experts. In our research so many women didn't know what to expect and struggled with early symptoms and understanding how to effectively manage them. We launched at the beginning of this month and have had a great response from women."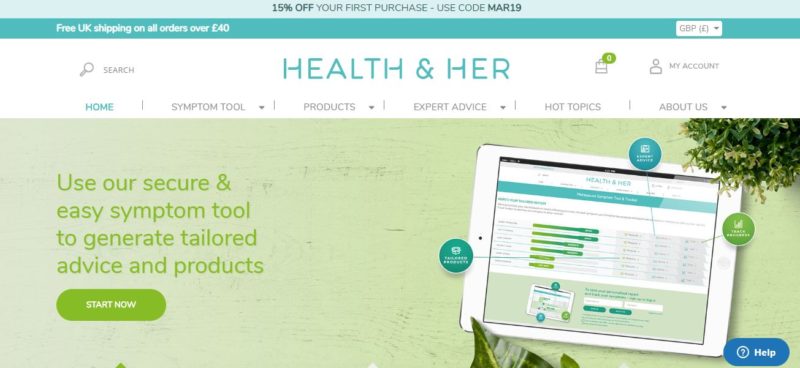 Health & Her offers advice from a number of experts ranging from gynaecologists and psychologists to womb yoga teachers, and also features news, views and real women's experiences. There is an interactive Symptom Tool to help women break down their symptoms and track changes over time, with expert advice about each symptom along with relevant supplement and product recommendations.
The site also features a shop offering a carefully curated range of hand-picked products, including supplements from  brands including Wild Nutrition, Pukka and A. Vogel, skincare and intimate care from Weleda, Lip and Salt of the Earth, Yes Yes and Kind among others, as well as natural clothing and practical solutions such as acupuncture mats. "We are always looking for the next best solution or innovation to help women," says Fay. "Every product goes through rigorous testing and we would only ever sell products we would use ourselves or recommend to our friends and family.  We always try to find the most natural solution where possible and all our suppliers have signed into our ethical standards."