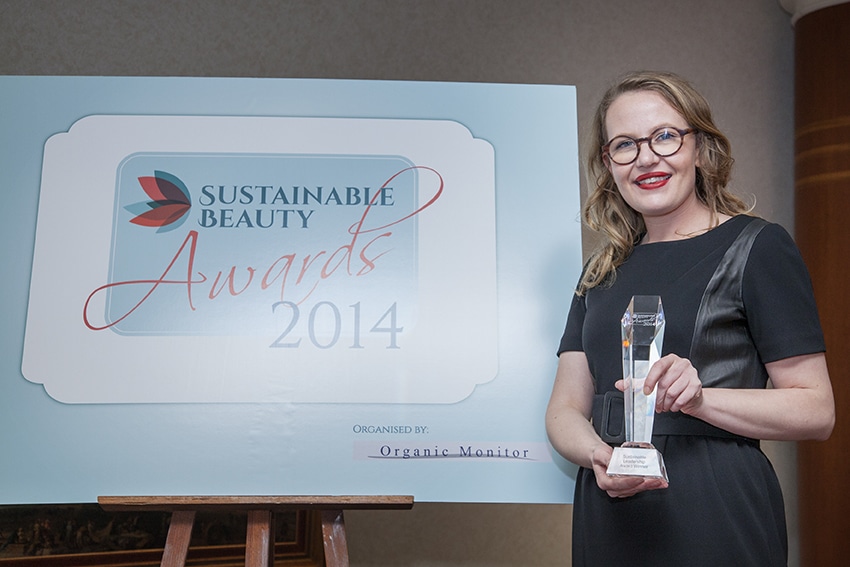 The winners of Organic Monitor's 2014 Sustainable Beauty Awards were announced a special reception at the Paris Marriott Champs-Elysées on Monday (24 November).
The awards recognize organizations which push the boundaries of sustainability in the beauty industry and reflect the growing diversity of the sustainable beauty sector.
Sustainability Pioneer
Winner: Cruelty Free International for its global campaign to end animal testing methods for cosmetic and personal care products.
Runner-up: Neal's Yard Remedies for its sustainable sourcing projects and carbon neutral retailing.
Sustainability Leadership
Winner: Aveda for pioneering many sustainability projects involving raw materials, production, packaging, renewable energy, waste management and CSR.
Runner-up: Whole Foods Market for various green initiatives and its bodycare standards which have encouraged many brands to clean up their formulations.
Sustainable Packaging
Winner: Laboratoires Nuxe for its eco-design approach which reduces energy use and lowers its environmental footprint.
Runner-up: Surya Brasil for using green plastics in its Sapien Women range.
Sustainable Ingredient
Winner: AAK with Lipex SheaLight which replaces silicones or synthetic esters in personal care formulations.
Runner-up: Mibelle Biochemistry with PhytoCellTec nunatak anti-ageing active sourced from an 'ice age' plant by sustainable processing methods.
Green Formulations
Winner: Abaché Organics (Greenlab Organics) for its range of professional organic hair care.
Runner-up: Zk'in by Pure & Green Organics.
Sustainability Lifetime Achievement
The late Horst Rechelbacher, founder of Aveda and Intelligent Nutrients, received this inaugural Sustainability Lifetime Achievement award. Receiving the award at the reception, Kieran Stordalen, his wife and business partner commented: "This is a great tribute to Horst's passion to make positive change". Widely recognized as a sustainability visionary, Horst Rechelbacher passed away in February this year.
Photo: Aveda wins  Sustainability Leadership award