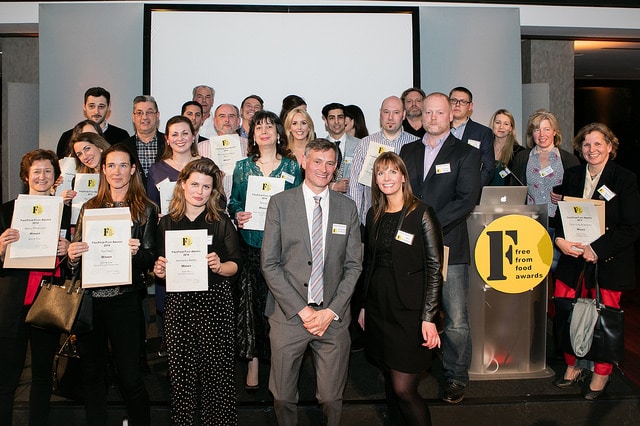 The FreeFrom Food Awards saw its ninth edition last month at the Royal College of Physicians where Antony Worrall Thompson handed out the awards to worthy innovators within this burgeoning sector.
With new categories for 2016, the awards reflect the continued success of the category and the inventiveness of free-from producers. This year saw the Oscar of free-from food, the Marble Mo, awarded to Richard Keir and Richard George for the introduction of Nutribix to the UK.
"Another year in which the boundaries of free-from were pushed yet further," said Michelle Berriedale-Johnson, director of the awards. "There are very few categories now where you cannot find not just a viable, but an excellent, free-from version of the original. Just look at this year's winner! In look, taste and texture it mirrors the original Weetabix – and yet is even better!"
Judges of the awards included health writer Alex Gazzola, nutritionist Christine Bailey, Simon Wright of OF+ Consulting, Naomi Hopkins from Goodness Direct and The Anaphylaxis Campaign's Lynne Regent.
The Innovation Award – sponsored by Food Matters Live
Gozo Deli Basil Pesto Casheese
FAIR trophy for the best FreeFrom Food
Nutribix Gluten Free
Retailer of the Year – sponsored by Oakland International
Tesco
Start-ups and Small producers – sponsored by Tesco
Seed & Sage Banana & Flaxseed Power Slice
Breakfast Foods – sponsored by Asda
Nutribix Gluten Free
Breads – sponsored by Udi's
Smart Eats & Treats Seeded Loaf
Tesco Free From Garlic Baguette
Store Cupboard – sponsored by Genius Gluten Free
Coconom Coconut Aminos
Origin Earth Gluten Free Crackers with Caraway
Sweetpea Pantry Grainy Brainy Pancake Mix
Pasta and Pizza – sponsored by Gluten Free Cuppa Tea
The White Rabbit Pizza Co – Capricciosa Pizza
Raw foods – sponsored by Genon Laboratories
Iswari Buddha's Awakening Maca & Vanilla
Superfoods & sports supplements – sponsored by Tiana Fair Trade Organics
Gourmet Spirulina Raw Spirulina Nibs
'Food to go' and vending – sponsored by Tesco
Oast to Host Leek & Onion Quongo (Quiche on the Go)
Simply 7 Lentil Crisps Sea Salt Flavoured
Down the pub and the bar – sponsored by The Food and Drink Innovation Network
Laura Marzen
Mrs Crimble's Cheese Straws
Meaty and Fishy Ready Meals – sponsored by Mrs Crimbles
Hotch Potch Bacon, Leek & Cheesy Pie
BigFish Brand Salmon Fillets Marinated in Garden Mint
Veggie Ready Meals – sponsored by Goodness Direct
Georgia's Choice Mexican Bean Bake
Foods suitable for nut and peanut allergics – sponsored by Wellaby's
BFree Multiseed Bagels
Children's food – sponsored by Delamere Dairy
Perfect World Carrot Cake Ice Cream
Tesco Free From Southern Fried Mini Chicken Fillets
Tea Time! – sponsored by Integrated Food Projects Limited
Seed & Sage Banana & Flaxseed Power Slice
Desserts and Puddings – sponsored by Romer Labs UK
The Coconut Collaborative Little Choc Pots Chocolate Ganache
Confectionery and Chocolate – sponsored by Free From Market
Booja Booja Hazelnut Chocolate Truffles
Bars – cereal, fruit, superfood, grain-free… – sponsored by Holland & Barrett
Get Fruity Moist Mixed Berry Bar
For a full list of winners and runners-up, visit http://www.freefromfoodawards.co.uk/.