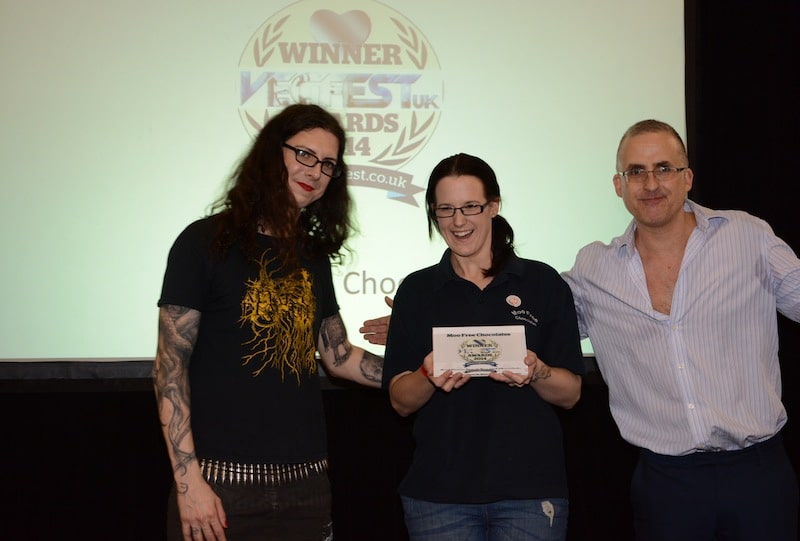 Winners of this year's VegfestUK Awards were announced at VegfestUK at Olympia West in September and presented by comedian Andrew O'Neill.
Launched in 2007, the VegfestUK 2014 awards consist of 14 different categories with ten nominees for each category. The awards celebrate the very best of the vegan lifestyle, from food, bodycare, publications, to celebrities, accommodation and bloggers.
This year's awards attracted over 12,000 people who cast their votes, along with and tens of thousands of Facebook posts and Tweets.
Here are some of this year's winners:
Best Vegan Bodycare – Lush Cosmetics
Best Vegan Snack Bars and Chocolates – Moo Free Chocolates
Best Vegan Cakes, Sweets and Desserts – Ms Cupcake
Best Vegan Shop – Utop-ish
Best Vegan Drinks – Equinox Kombucha
Best Vegan Meat – Fry's Traditional Burger
Best Coconut Product – Booja Booja Hullabaloo Ice Cream
Photo: Leah Clifford, event organizer from Moo Free Ltd accepting her VegfestUK Award from vegan comedian, Andrew O'Neill and VegfestUK award organiser, Tim Barford