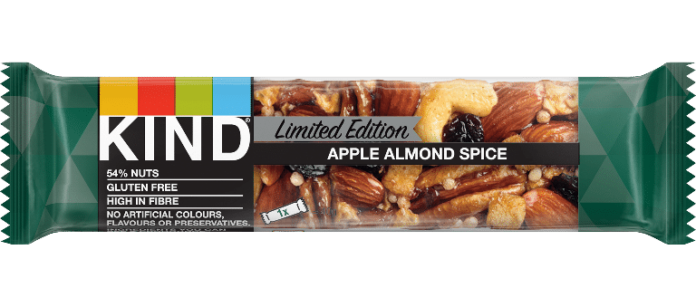 KIND has launched its first Limited Edition seasonal bar – Apple Almond Spice, a blend of sweet apples, almonds, cashews and pecans, with cinnamon spice.
M+LKPLUS, founded by Apprentice finalist Camilla Ainsworth, has launched its newest variant of flavoured oat milk, Chocolate Orange Oat, in a 'grab and go' 330ml format.
Puressentiel has introduced four limited edition Christmas gift sets: Time to Unwind; Winter Wellness; Fitness Wonders; and Beauty Sleep, featuring the brand's Beautiful Skin Elixir Face Care Oil.
Finnebrogue Artisan, the manufacturer behind nitrate-free Naked Bacon has launched a plant-based bacon line Without the Oink into 600 Tesco stores.
Joe & Seph's new five-strong range of Gourmet Popcorn Bars have launched into Selfridges, Harrods, QVC, Spar, WHSmith Travel and Applegreen.
Dragonfly Biosciences new CBD Oil with Vitamin D 500mg claims to be the first ever CBD oil to be combined with the nutrient. Five drops of the new product are enough to hit the recommended daily quota of vitamin D.
Organic food and drink brand Pip Organic has rolled out a fully recyclable, bendable paper straw to go on its drink cartons.
Re:Nourish has secured a seven-figure investment with the participation of Döhler Ventures and a private investment angel to help increase marketing activity, spearhead growth into foodservice and retail and expand into Europe.
Lake District-based family run bakery Ginger Bakers has added to its existing vegan range, creating a 'decadent' Chocolate, Coffee & Hazelnut Cake Bake.
Start-up V&YOU has created a range of CBD products around four vibes – calm, chill, focus and boost – including CBD oils and pouches.
Fairfields Farm is to supply HelloFresh with potatoes from its family farm in Colchester, Essex, in a bid to help the recipe box delivery service in its quest to become carbon neutral.
Suffolk-based seed producer Munchy Seeds has started supplying Holland & Barratt online for the first time as it looks to push its roasted seed mixes to health-conscious food fans across the country.