Following the launch of their first two stores in 2020, along with an e-commerce site, Love Health & Wellbeing co-owners Jason Pius and John Thorley (pictured below) are opening a third bricks and mortar shop in June.
With Pius originally from a pharma background, Thorley managing multi-million retail stores, and both having managed branches of a high street health food chain, they created Love Health & Wellbeing 'to show the public a new concept in health and wellbeing, something new and different'.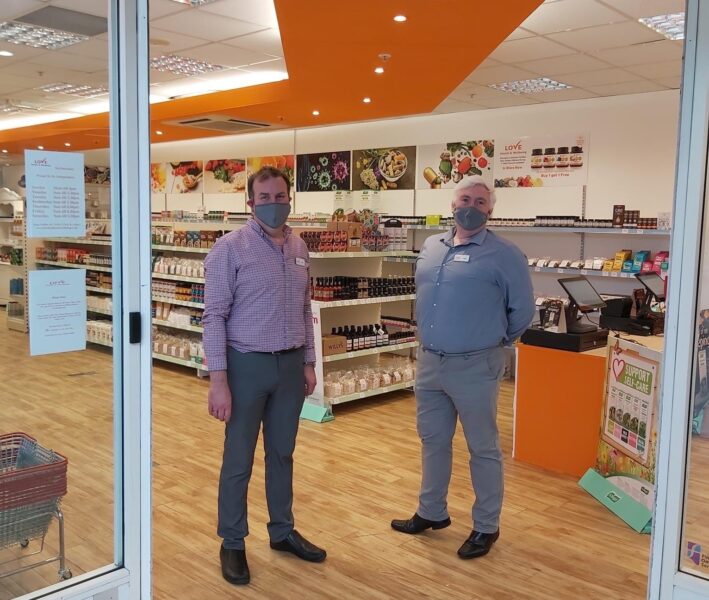 Confident that their passion and determination would see them through launching during the pandemic, the first store (1,000 sq ft) opened its doors in Ormskirk, Lancashire, in August and the second in Skelmersdale (2,000 sq ft) followed in November. The latest store is opening in Merseyside and will also span 2,000 sq ft.
The stores all align in terms of products, with a mix of healthy foods (30%), including frozen and chilled, VMS (50%), sports nutrition, beauty and bodycare and ethical household products. The stores will also offer services such as sports therapy and relaxation in future.
"Our USP is unique – we source local as much as possible, we like to meet our local suppliers and get to know them and the stories behind their products – we believe in building strong relationships with our suppliers," says Pius. "Our ethos is very important to us, supporting small business, our communities and our British industry. That's coupled with us having our own label in foods and VMS which we had from day one to give us a point of difference. Since opening the stores our own brand has grown immensely."
Excellent customer service is also an integral part of the store concept, Pius adds: "We listen to each customer's needs and advise, no hard sales, just honest advice in a welcoming environment. Our customers like to know about more than just the products, they like that we have the knowledge behind them, and this shows – we research our products to give our customers the best available."
When it came to branding, Pius says they chose 'bright and vibrant', deciding on orange and white: "For the look and feel of our stores we wanted a much more welcoming colour scheme that stands out from other retailers in our field – it's created a feeling of warmth and a modern twist. Our customers tell us all the time how it stands out and draws you in."
Due to the rapid success of the first two stores, and aiming to become the 'number one independent health retailer' in the UK, Love Health & Wellbeing will open three more stores this year and a further 12 in 2022, with the ultimate goal of taking its community-focused concept nationwide.