Jane Wolfe discovers how the male skincare sector is progressing and how the younger generation is starting to change the rules of the game
When it comes to men's grooming and skincare, there is change afoot, with growth in demand for male-focused products but also an increasing preference from Gen Z towards gender-inclusive formulations and packaging. However, some men still aren't fully on board with the concept of male skincare.
"Every Mintel and industry report for the last decade has declared it [male grooming] the growth area," says Luke Sherriff, ex-pro rugby player and co-founder of men's skincare brand Proverb with wife and Pinks Boutique creator Kirstie. "It is happening, and the demand is growing, but it still isn't anywhere near as fast as brands and the major players want it to be … 18 to 25-year-old men are much more advanced in their thinking towards skincare, but in our experience it still isn't natural to the demographic of 40-plus." 
Proverb was designed to challenge any stigma still attached to male skincare, Luke explains: "We were created based on an impactful morning routine. Simple, efficient, four steps in the morning building in time for self-care and focusing on goals and intent for the day. We created a brand from the super-masculine, sweaty space of professional rugby and have entirely directed our formulations based on elite sports nutrition and the diet sheets the boys used to have to eat and ingredients they had to avoid. Our INCIs read like a nutribullet smoothie, with spirulina, acai, pomegranate, coconut amino acid, blended with skincare-crucial ingredients like low molecular weight hyaluronic acid. We are speaking about health, performance and how you can look, feel and think better. Skincare should not be thought of as female or vanity, it is, for us, part of your health routine."
Changing attitudes
One online platform aiming to promote skincare and self-care to men is Humānery, and founder and CEO Sid Baveja believes attitudes are progressing: "Social norms and expectations around masculinity are rapidly shifting," he says. "More men than ever are starting to take care of themselves, including their physical and mental health, as well as their skin. Brand efforts to reduce such stigma of course include male-focused or gender-neutral branding, scents and product formulations. However, much of the work to be done in addressing the root of negative or uncertain perceptions lies in education.
"Most men feel underserved or even uncomfortable trying to navigate retail beauty environments, both offline and online. They are often overwhelmed by complexity and frustrated with female-focused products, marketing and guidance. Addressing this challenge is really the driving force behind Humānery – to create an inclusive destination dedicated to men's beauty and self-care needs. We curate the premium and independent brands our customers are looking for with the no-nonsense guidance they need to choose for themselves."
More men than ever are starting to take care of themselves, including their physical and mental health, as well as their skin
To this end, Baveja explains, Humānery has created an online journal. "A core value behind our Humans of Humānery Journal is to amplify positive cultural conversations around masculinity and men's beauty. We want to educate male audiences of all ages on the value of self-care and empower them with the practical knowledge to pursue it for themselves. This is a value we share not just internally but also with the brands we feature. There are honestly so many great brands rising to meet male consumers' evolving demands and expectations." 
Felicity Bramley, head buyer at Apothecary 27 in Haslemere, has witnessed a rising demand for men's grooming and cosmetic products first hand. "It's become more acceptable for men to take care of their appearance as women do. We see a lot of women shopping for their husbands, partners and friends, as well as men shopping for themselves. There could be a lot of potential in the market."
It's not always a simple sell, however. "Although it's a growing market, it can still be difficult for men's products to be marketed specifically for men. For example, if you take the skin concern rosacea, which affects both men and women, one of the main products we sell to help this is the Rose Day Cream by Dr Hauschka. This may not appeal to some male shoppers because it can sound too floral, however we've had fantastic results with this product with our male customers and now they can't live without it!"
An easy starting point to encourage men to take care of their skin is to suggest supplements. "It can definitely be easier for some customers as they would prefer to take a supplement as opposed to following a skincare routine. Collagen powder by Planet Paleo is a great seller for us for those looking to improve their skin, hair and nail health," says Bramley.
"Supplements can certainly be a simple and effective start into the self-care space for many men," agrees Baveja, stating he stocks skin, hair and wellbeing supplements from brands including TenT, Sanbera and Mantra Men's Club. 
Areas of concern
Men's skincare priorities can vary by age, but typically look to address specific concerns including wrinkles and ageing, skin sensitivity, dryness or oiliness, acne control, post-shave skincare and daily sun protection, according to Baveja. "The good news is that there are tonnes of great products addressing these concerns, both individually and in combination, depending on the formulation. 
"Naturally, hair care and shaving categories are highly popular given that most men engage in some form of hair care, hair styling and beard care. We also see significant interest in products for specific concerns such as thinning hair, where there are so many great solutions, from thickening shampoos and styling sprays to daily vitamin supplements. However, as mentioned above, the most growth we're seeing is in the men's skincare space, as more and more men embrace all facets of self-care. We continue to see increases in both skincare sales and new brand onboardings."
the most growth we're seeing is in the men's skincare space, as more and more men embrace all facets of self-care
Bramley says her customers' most common enquiries are for a good natural moisturizer and aftershave balm or serum. "Also, products that address redness and/or premature signs of aging. The shaving creams and body washes – basically the 'classic' men's bodycare – are still the top sellers. The range we currently sell that is targeted at men is the Sukin For Men skincare range, however when advising our customers, we also recommend brands such as Evolve, Dr Hauschka, Antipodes and Andalou, which are all packaged in gender-neutral colours. The Sukin For Men Facial Moisturiser and JASON Face+Body Wash are very popular."
The perks of packaging
What part does Bramley believe packaging plays in nudging a male consumer towards a specific skincare product or range? "I would say quite a lot. If the product looks male oriented or gender neutral, then I think it is more immediately attractive to the male consumer. Particularly if it's packaged in darker colours such as black, blues and grey. Some male customers will prefer male-oriented brands, and others will choose the gender-neutral products. This could be defined by the age of the customer, but not always by any means."
"We believe that right now the majority of UK men still more instantly understand a brand that looks like it is for a man," says Proverb co-founder Kirstie Sherriff. "They are not so driven by the pastel candy pop shades of skincare packaging adorning Instagram images … Our male consumers don't object to our white or yellow packaging, they would just not choose something that screamed pink or lilac."
Adds Baveja: "While many men still prefer products designed specifically for them, many brands are taking an explicitly gender-neutral approach, such as Bahiap, Bave, Five Dot Botanics, Messiah & Eve, Object and Saltee. Honestly, we love the gender-neutral approach and believe that everyone should feel comfortable and confident pursuing their own self-care, regardless of gender."
Gender inclusivity
According to Mintel, attitudes towards men's grooming are evolving due to younger, 'egalitarian and gender-fluid' male consumers emerging and defining a new approach. "There is an abundance of products targeting men in a straightforward way, using bold darker colours that emphasize the fact that they are dedicated to men," writes Mintel in a blog. "While this approach is far from redundant and continues to resonate with the functional male consumer, younger men are switching to products that are different from traditional brands, playing on gender-neutral branding that is ethereal and designed to appeal to men or women."
An example of this is Skin Sapiens' recently launched line of gender-neutral facial serums designed to enhance and hydrate the skin with four dermatologically tested formulations to suit individual concerns: Glow, Hydrate, Mattify and Balance. "Rather than focus on men's vs. women's products, Skin Sapiens puts your skin's specific needs first," explains brand founder James Jardella. "Gender-based skincare is a dated concept led by marketing more than science. Yes, there are subtle differences in men's and women's skin structures, but one size doesn't fit all! It's much more important to listen to what your skin's asking for. A man with oily skin has much more in common with a woman that has the same skin type than a guy with drier skin. So instead, we focus on skin goals. 
younger men are switching to products that are different from traditional brands, playing on gender-neutral branding
"Our range of booster serums helps control oiliness, hydrate dry skin, and balance sensitivity by pairing nature's best botanicals with these core needs. Each one can be mixed and matched for different zones, creating a tailored regime that's right for you, and backed in science. Certified vegan, natural and cruelty-free. Whatever we make, whatever your gender, it's good for skin, and good to the planet. It's the base of everything Skin Sapiens stands for."
And talking about good for the planet, when choosing skincare, how much of a priority are environmental concerns to male consumers? "I think this is as natural a concept to a man as it is a woman currently to choose a product that is doing good for the world," says Kirstie. "The real question is does your consumer care about sustainability as opposed to what sex they are. Our experience within Proverb since launching our Natural Refillable Deodorant is that reducing your impact on the plastic heaps is very motivating to consumers, and it feels like this is growing every day. That said, they are unwilling to compromise on it still working, being easy and viable to use. They want it to still feel luxe and be packaged like a mainstream product and be good for the planet. This is a huge challenge for the brands, and I think [it] will dominate the next ten years of creating products while new packaging technologies are developing."
Baveja explains that in terms of the environment, packaging is a major concern for many of his customers. "A number of brands readily address this concern by using 100% recyclable materials for their product containers," he says, adding: "We're proud to offer a platform that allows men to discover a range of natural and organic products from brands including Antipodes, Mesoa, Ra. Men's Care, Raw Naturals and Saunders & Long. It really is exciting to see so many brands taking more environmentally conscious and sustainable routes to success, and we hope to continually add ethical vendors to our collections."
Planet Paleo Ethical & Sustainable Collagen
Living Planet Distribution
Tel: 020 3176 9982
E-mail:  [email protected]
www.livingplanetdistribution.com
Planet Paleo produces one of the largest ranges of collagen and organic bone broth supplements in the UK. Respecting the food chain and the animals our products depend on is our highest priority, so we only subscribe to the highest welfare standards where the cattle are free to graze outdoors and are never treated with hormones or antibiotics. In a world where time is short and life is long, our unique range of highly ethical products support everyday health and performance, with minimal effort needed from the consumer. Good for you, good for the planet.
GRN[GREEN] Gentlemen's Organic Care
cosmondial GmbH & Co. KG
Tel: +49 6028998780
E-mail: [email protected]
www.cosmondial.com
You don't need a suit to be a gentleman! Potent and natural care for body, face and (beard) hair with high-quality ingredients for a self-confident statement.  Hemp and hops – the new dream team that covers everything a man needs for a well-groomed, attractive and naturally good appearance. The combination of soothing and energising active ingredients ensures revitalised and healthy male skin. The series combines 3in1 Body Wash, Deo Spray, Q10 Face Cream, Shaving Cream and Face & After-Shave Balm.
Pure Goodness Body Butter
Elan Skincare
Tel: 07412 676905
E-mail:  [email protected]
www.elanskincare.co.uk
Elan Skincare is a British-made, vegan skincare brand, combining science and nature. We formulate effective and science-based skincare, combining bioactive ingredients with natural and organic ingredients. The Pure Goodness Body Butter is our multiple award-winning unisex balm with organic shea butter, aloe vera, squalane, and vitamin E. Effective for sensitive and dehydrated skin prone to eczema and psoriasis. "The Award for Elan Skincare Pure Goodness Body Butter firms up their position as a "rising star" natural brand, with a sensual product which smells "gorgeous", banishes persistent hard patches of skin, and boosts softness." Jo & Sarah Beauty Bible
NAVEEN Men Refreshing Shampoo & Shower Gel
Evergoods Global Co., Ltd – Taiwan
Tel: +886 289678953
E-mail:  [email protected]
www.naveen.tw
100% natural origin. COSMOS-Organic certified. With refreshing lemon and peppermint smell, this Shampoo & Shower Gel is perfect for those who like to skip the hassle and wash your hair and body with one bottle. It foams well and can be easily rinsed off without slippery touch, gently while thoroughly cleans the skin, scalp and hair altogether, combats tough body odor and leaves you feeling clean and fresh. Bamboo and lotus extracts in this cleanser keeps your skin and hair balanced.
Flaya fragrances for men
Flaya GB
Tel: 07544 363345
E-mail:  [email protected]
www.flaya.co.uk
New and exclusively available to independents, Flaya's three male fragrances are vegan, cruelty-free, hand-made and produced to NFCC organic standards.
FREEDOM – Tease the senses with Freedom, a lively and invigorating scent.
A mesmerising mix of cool, minty fresh notes interwoven with subtle hints of incense.
INSTINCT – An intoxicating fragrance to arouse the senses.
Warm, spicy oriental notes are perfectly balanced with a dash of citrus.
ORIGIN – A crisp and uplifting fragrance – laced with mystery and intrigue.
This light, woody balsamic infusion is peppered with floral spice.
Introductory Trade Pack: £100.44 (ex. VAT), including testers. RRP £29.99 for 50ml.
JASON Men's Range
Kinetic Natural Products Distributor
Tel: 08450 725 825
E-mail:  [email protected]
www.kinetic4health.co.uk
Introducing JASON Men's – a range of high-performance products designed to cater for all men's personal care needs. Four products – Face & Body Wash, 2-in-1 Shampoo & Conditioner, Face Moisturiser and Stick Deodorant – each available in the following collections – Hydrating with Ocean Minerals & Eucalyptus for dry skin and dry/fine hair, Calming with Hemp Seed Oil & Aloe for sensitive skin and dandruff relief, and Refreshing with Citrus and Ginger for all skin and hair types. Made with just the good stuff: no parabens, sulphates, phthalates, or petrolatum, and vegan and certified cruelty-free.
benecos is for men too!
Pravera Ltd
Tel: 01557 870203
E-mail:  [email protected]
www.benecos.uk
Benecos is for men too! The benecos for men range offers the full natural experience with fresh scented products for the body, face, hair, and beard. Get the ultimate freshness kick with the 3in1 body wash, enriched with invigorating organic extracts to gently cleanse the hair and body. The deodorant spray offers reliable protection with a refreshing feel. Beard care? No problem, the beard oil is packed with organic oils for all round protection, not only for the beard but also for the skin underneath. And not forgetting the shaving cream and face & after shave balm to provide a gentle shave, while caring for the skin. The benecos for men range is certified by BDIH cosmos organic, they are free from parabens, silicones, PEG's, synthetic fragrances and never tested on animals.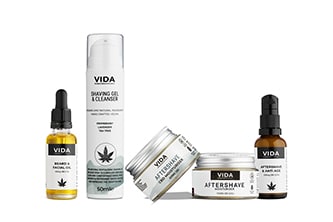 Men's CBD Skincare
PURA VIDA ORGANIC
Tel: +385 916045050 / +385 12028900
E-mail:  [email protected]
www.vida-organic.com
COSMOS Organic certified, 100% natural CBD Skincare for men. With a line of products to meet all your skincare needs. Effective anti-ageing, hydrating and soothing range for men, before and after shaving. Our Men's CBD range consisting of a dual-purpose shaving & cleansing gel, moisturisers, serum and a beard and facial oil will banish all signs of ageing, redness and irritation. Our powerful plant-based complex containing CBD restores balance, hydration and elasticity to the skin, while soothing and refreshing the skin at the same time for a lasting effect all day long. Dermatologically tested, vegan CBD skincare.