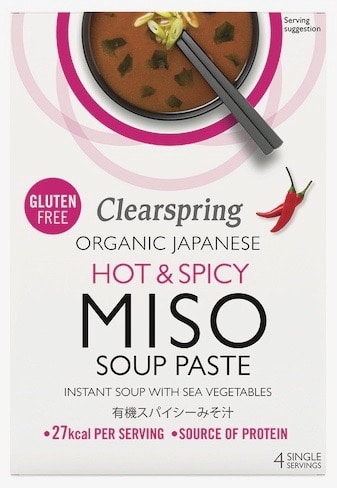 The latest bites of news from NPN
Clearspring has adding three new flavours to its instant Miso Soup Paste range: Ginger & Turmeric, Creamy Sesame and Hot & Spicy. All three are organic, gluten free, vegan and made using 100% natural ingredients.
UpCircle has created a natural alcohol-free Green Mint & Lemongrass Hand Wash designed to leave hands feeling cleansed, fresh and lightly fragranced. £1 from every bottle sold will be donated to Refuge.
WATER3 is sending out 30,000 carton bottles to NHS hospitals across the UK to help keep front-line workers hydrated as they help fight the coronavirus.
The Real Olive Company has had a makeover courtesy of food and drink branding experts, The Space Creative. The new design features bold navy blue to echo the colours of Mediterranean architecture and sunny skies.
Having donated over 10,000 cups to NHS and foodbanks across the UK, Mr Lee's Noodles has now launched a Back to Work scheme to address the restricted availability of food options for employees coming back to work.
Jason has reformulated and instrumentally tested four of its everyday hair care range and renamed them as: Strong & Healthy Jojoba, Intense Moisture 80% Aloe Vera & Prickly Pear, Thicken & Restore Biotin with Hyaluronic Acid and Smooth & Shine Sea Kelp with Porphyra Algae.
Central England Co-op has revealed several environmental milestones including removing 380,000 items of single-use plastic, re-distributing enough food via a scheme with FareShare Midlands to create over a million meals for people in need, reducing food waste by 25% since 2017 and reducing its carbon footprint by 72% since 2010.
Gallybird has created a new 'classic blend': by blending a touch more of its quinine with delicate citrus notes and extra sparkling mineral water, the brand says it has created a modern-day take on traditional Indian tonic water with a little added 'bite' for the 'die-hard gin and tonic lover'.
Riso Gallo has announced that in a three-year period it has achieved environmentally beneficial results including: a reduction by 17% of total energy consumption per kg of paddy rice processed; a reduction of 24% in total waste per quintal of rice processed; and a significant reduction on cardboard consumption its key ranges.
Applewood Vegan cheese has secured its first retail listing for its new 200g slices in 304 Sainsbury's stores across the UK.
In response to the COVID-19 pandemic, Made for Life Organics has signed a deal with Amazon which will take its authentic wellbeing products to a wider audience while spas are closed.