August saw Planet Organic open its eighth London store in Queen's Park, the first new shop launch since Inverleith LLP took a majority share in the pioneering organic retail chain in October 2018.
The 2,300 sq ft Planet Organic Queen's Park store, located in Queens Studios, is also the first new opening since the Tottenham Court Road branch in 2014.
Speaking to NPN, Al Overton, Planet Organic buying director, explains the latest location choice: "Queen's Park has a noticeably strong local community. We recognized this and confirmed it with some quite involved research. There's a surprising amount of statistical science in finding the ideal retail locations! But suffice it to say it's a busy community, a standalone London village. It's an area with considerable interest in health and wellbeing. And while there are successful businesses here with a healthy lifestyle offering, there weren't larger, dedicated greengrocer-type stores, none with Planet's depth of product and expertise in the field."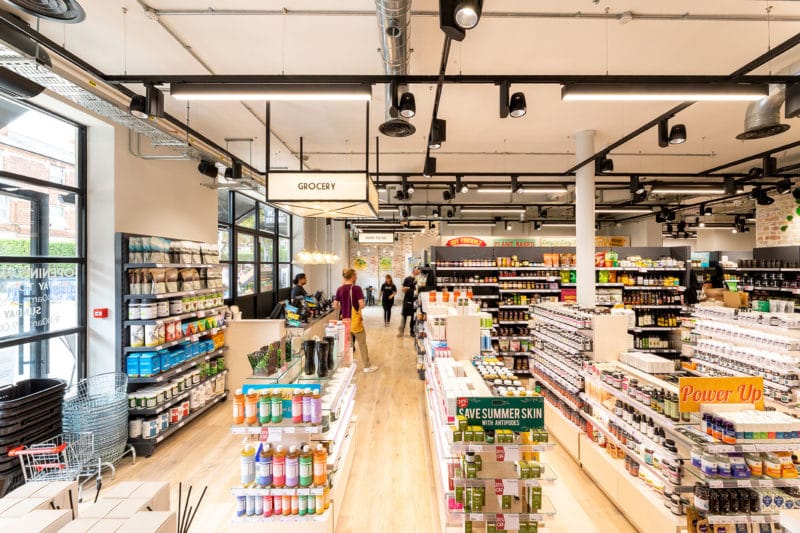 Although the store has a similar overall product mix to the other stores, Overton says the store has tried to cater to the local audience. "Not all our stores have a fully unpackaged offering – pulses, grains, store-cupboard staples – but we've made that a key component of our Queen's Park space because a lot of our shoppers will be local, shopping for their nearby homes and able to carry domestic grocery staples with them. We've got a large, dedicated plastic-free beauty section too."
The Queen's Park store will also be home to the retailer's first ever reusable KeepCup wash station, as well as a KeepCup deposit scheme where customers can borrow a cup if they forget their own.
An instore food-to-go counter offers organic-only fresh hot food and salads as well as a wide range of juices and smoothies, speciality coffees (including a CBD oil coffee), and a summer special: CBD blue lemonade, made with spirulina.
The retailer previously announced an ambitious plan to operate a minimum of 14 stores by 2023, so is it on track to meet this target? "We are actively all over it," says Overton, "identifying ideal locations and working on securing the best sites."
As to whether Planet Organic will move outside of the capital in the foreseeable future, Overton says the retailer is 'sticking to London right now' when it comes to its bricks and mortar operation. "There is a definite, proven demand for Planet Organic across the capital, and population density helps."