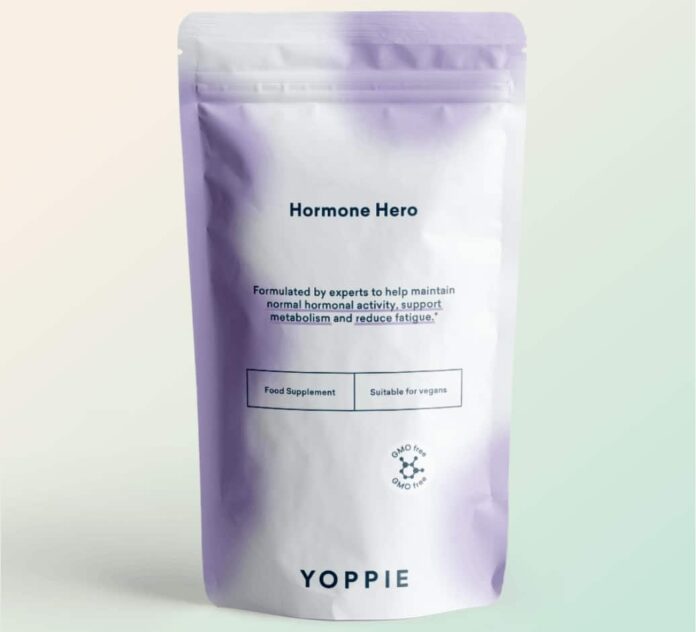 In a bid to take the complexity and stress out of tackling PMS and offer women a more tailored approach to symptom management, femtech start-up Yoppie has created three supplements to individually target the most common symptoms.
The three new Yoppie supplements are:
Mood Food is formulated to help alleviate emotional symptoms of PMS, such as mood swings, irritability and anxious feelings, with a blend including ashwagandha, lemon balm leaf, lavender flower, passion flower vitamin B6 and B5 and rhodiola root extract
Super Soother aims to help manage physical symptoms including cramps, headaches and breast tenderness, with a combination of magnesium, pine bark extract, vitamins C, D and K, ginger root extract and zinc
Hormone Hero is designed to help alleviate hormonal symptoms like bloating, digestive issues and fatigue with ingredients including vitamins B5, B6, B12, iron, asparagus root extract, activated charcoal, flaxseed, ginger root extract, nopal, zinc, inulin and the probiotic Lactobacillus acidophilus.
"We believe you deserve more than a 'one-size-fits-all female multivitamin designed for the masses' to help tackle your individual symptoms of PMS – so, we created three custom supplements that will," says brand founder Daniella Peri. "Whether it's bloating, cramps, mood swings, or a blend of all three, our supplements help target each symptom to give you the best individual results throughout your cycle.
"Plenty of women already use supplements in their daily lives and 40% of us prefer natural remedies over conventional pain relief medicine. However, we wanted to take the headache out of researching which supplement helps with what … so we designed Hormone Hero, Mood Food and Super Soother supplements to help women create uncomplicated and truly personal PMS solutions."
Each supplement is available in 21-, 28- or 35-day sizes to enable women to sync their intake to their cycle. The brand says they can be safely taken together or alongside other supplements and are delivered direct to consumers on a subscription basis.