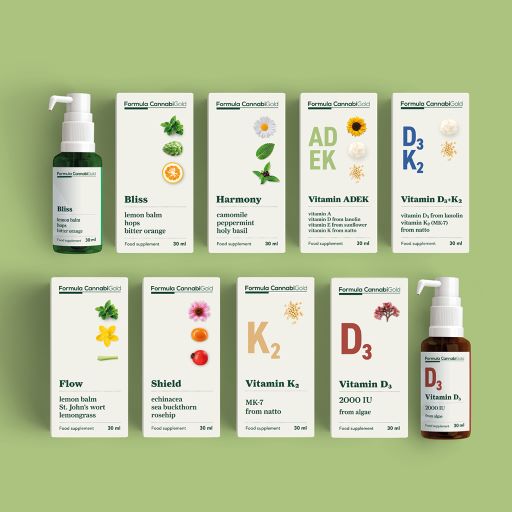 NEW Formula CannabiGold food supplements have everything today's wellness seekers want… they're authentic, honest, natural.
Containing combinations of carefully selected, highly concentrated vitamins and herbal extracts from natural sources, they are perfect for those seeking conscious supplementation.
Dissolved in valuable hempseed oil, rich in omega-3, 6 and 9 fatty acids, they will help you meet the demands of everyday life while taking care of your health and well-being.
Made to the "clean label" standard – the simplest composition, with a maximum of 5 ingredients and no synthetic preservatives or unnecessary fillers.
Selected plant extracts are obtained by means of supercritical Co2 extraction – the most gentle and sophisticated extraction method in line with "green chemistry" and free from contaminants like metals and pesticides.
The dark glass packaging guarantees the durability of the product, protecting its ingredients.
There's no top to unscrew, so it's ideal for those with arthritic or painful hands, and there's no risk of spillage.
Our handy pump dispenser delivers accurate dosing every time.
Formula CannabiGold can be taken orally or added to food such as salads, smoothies, cereal or even sandwiches. It's a real lifestyle product which can be accommodated into your daily routine.
Choose from 6 vitamins lines and 4 herbal products, all in 'no-pill', liquid format.
Bliss – with lemon balm, hops and bitter orange oil (v)
Harmony – with camomille, mint and holy basil (v)
Flow – with lemon balm, St. John's wort and lemongrass (v)
Shield – with echinacea, rosehip and sea buckthorn (v)
Vitamin D3 from lanolin
Vitamin D3 from algae; (v)
Vitamin E from sunflower (v)
Vitamin K2 (MK-7) from natto (v)
Vitamin D3+K2 from lanolin and natto
Vitamin ADEK from sunflower, lanolin and natto
RRPs from £10 to £18
Available from The Health Store, or directly from the manufacturer by contacting [email protected]
HemPoland
Tel: 07414 739323
email: [email protected]
https://cannabigold.co.uk/formula/