Never have our brains been so under the cosh than since the advent of the pandemic. Anxiety, depression, despondency, decreased cognitive function and plain old brain fog – the list goes on. Thankfully, writes Denise Barrett, there's an abundance of serotonin-enhancing products on hand, primed to help
Reassuringly, one way of giving brains a gentle lift is with the nation's favourite cuppa. Tea has great psychological benefits, so there's never been a better time to wrap your hands around a steaming mug.   
The best variants to go for, according to the Tea Advisory panel (TAP), are black, oolong and green. TAP's new research, published in the Journal of Human Nutrition, involved 557 participants and focused on the benefits these teas provide for our brain, mental wellbeing and cognition.
TAP advisor, lead co-author and GP, Dr Gill Jenkins, reports: "All three teas contain thousands of different bioactive compounds, making them extremely beneficial for our mind. In fact, the aroma of inhaling tea can help reduce stress. The amino acid l-theanine is a key component in black, oolong and green tea and works synergistically with caffeine by thwarting its 'jittery' effect, whilst still helping to improve focus and reducing anxiety and stress."
Study co-author Dr Chris Etheridge adds: "Other reviews say that green tea polyphenols can help reduce the risk of age-related neurodegeneration. An additional key component of tea, proven to help with mental wellbeing and brain health is epigallocatechin-3-gallate (EGCG). This is a type of antioxidant-filled polyphenol demonstrated to provide anti-inflammatory actions and is particularly prominent in green tea as well as oolong tea."
"Lion's mane's anti-inflammatory properties make it a great supplement that supports both heart and brain health"
Noo kids in town
You'll find a raft of trailblazing products on the market positioned to enhance brain care, but there's a particular buzz around nootropics (code for properties that claim to improve everyday cognitive function). 
London Nootropics was co-founded by Zain Peer and Shez Shaikh and launched in January 2020. Peer and Shaikh were enjoying their own form of coffee with added natural ingredients for a pre-gym energy boost as an alternative to chemical-laced pre-workout drinks. A few friends tried their blends and suggested they should market them commercially. "We were experimenting with herbal extracts to see which helped give us [sustained] energy and focus and came across medicinal mushrooms and other adaptogens," says Peer. "We found the adaptogens' effects profound and realized the potential could go beyond pre-workout." 
Peer and Shaikh identified a market gap, so they set about launching three different lifestyle variants to help people 'flow' through their day. "They're made with the highest quality medicinal mushrooms and other adaptogens," says Peer, "and each blend is designed for a specific purpose: Grind for mental clarity and focus; Zen to alleviate stress and anxiety; and Mojo, which contains cordyceps mushroom for a natural boost."  
Entrepreneur Alexej Pivosky, who heads up CBD e-commerce platform Alphagreen, has added to his portfolio with Yawns, available in Day Caps and Night Caps. Night Caps contain ashwagandha, valerian root and griffonia seeds designed to work together to improve quality of rest. Day Caps, formulated to enhance immunity and physical performance, go big on medicinal mushrooms including lion's mane, cordyceps, reishi, shiitake and oyster. 
British professional rally-cross driver Oliver Bennett has also entered the race with his naturally caffeinated nootropic-fuelled energy drinks and bars, dynamically packaged and branded as XITE. To promote his product Bennett races in climate-friendly Extreme E, the world's first all-electric, off-road series. 
Also championing lion's mane is online retailer For the Ageless. Daniel Perez Vidal, nutritional expert and co-founder, says: "The biomass and fruiting body of lion's mane mushroom act as a nootropic that can boost memory and mental capacity. 
"Lion's mane's anti-inflammatory properties make it a great supplement that supports both heart and brain health. It can be ingested as a food, supplement or as an infusion. However, as medicinal mushrooms are bio-accumulators that absorb a great deal from their environment, it is important to source a lion's mane that has been tested for heavy metal toxicity. We also prefer those that are Soil Association-certified organic, like our freeze-dried capsules by brand Mushrooms 4 Life."
Elite nutrients
There's also an armoury of other powerful nutrients with properties recognized for supporting cognitive health. Viridian is at the forefront with its Brain Support Multi, a daily formulation of 22 nutrients to promote brain health and function, along with bioavailable minerals and selected phytonutrients. Iodine, iron and zinc are included, contributing to normal cognitive function, and high-dose choline together with brahmi extract at therapeutic dose.
"Premature ageing can occur without the right diet, and data shows up to 20% of those over 65 experience mild cognitive impairment," comments Aimee Benbow, Viridian's technical director. "Brain Support Multi is an ideal daily food supplement to support individuals who may not be getting the necessary nutrients from their diet. It contains a combination of carefully selected nutrients to promote the nutritional building blocks for normal brain activity." Last summer, the brand also launched Peak Focus, an organic supplement for optimized concentration.
In the big cognitive picture, mood stability also plays its part. Bach RESCUE has addressed this with new Balance & Positivity capsules designed to support positivity and help maintain balance throughout busy times. Using unique ingredient blends with natural flower essences, the capsules feature the emotion and mood-balancing botanical saffron along with l-theanine and vegan-sourced B vitamins. 
Out in the stores, Kathryn Lewis has over 40 years' experience working in the industry and opened her shop Abaca Health Store in Liverpool over 20 years ago. Abaca offers vitamins and minerals, herbal preparations, proteins and food. "Several customers have been coming in with the symptom of brain fog after having coronavirus," she says. "Turmeric has been a popular choice … to overcome this and so too has Wiley's Finest fish oil which is high in EPA and DHA. In our store we also believe that supporting the immune system is fundamental to physiological and psychological wellbeing and our most popular product for this is a fantastic liquid by NaturesPlus called Source of Life Gold."
Harvard's hope for Alzheimer's
According to Alzheimer's Research UK, over half of UK adults now know someone diagnosed with dementia. 
Last July, Nutrients magazine published a review paper connecting vitamin K2 to factors involved in Alzheimer's disease (AD), concluding that K2 has the potential to slow the progression of AD and contribute to its prevention.
Researchers from the Harvard Extension School and Pacific Northwest University wrote: "Our review is the first to consider the physiological roles of vitamin K2 in the context of AD and, given the recent shift in AD research toward non-pharmacological interventions, our findings emphasize the timeliness and need for clinical studies involving vitamin K2." 
Dr Hogne Vik, chief medical officer for leading K2 specialists NattoPharma, concludes: "We are gratified that vitamin K2 is becoming a prominent part of this conversation, particularly as most of the world's population expresses a vitamin K deficiency."
Be smart, Eat nuts
Nuts are little nutritional powerhouses – in fact, the shape of a walnut, with its many folds and wrinkles, looks uncannily like the human brain. Their omega-3 content is anti-inflammatory and extremely helpful in protecting brain health and improving cognitive performance.
Now, a new study published in BMC Geriatrics suggests that moderate intake equivalent to half a serving of nuts may aid and increase cognitive performance among older adults. A team of researchers from Deakin University, Australia, studied the impact of consuming nuts on cognitive performance among older adults in the United States. 
The results of the study – which included 1,814 participants above the age of 60 – showed a consistent difference in cognitive performance between older adults who were in the non-nut-consuming group and those in the moderate nut intake group. The lowest cognitive performance was found in older adults who did not consume any nuts and the highest scores were found in those who consumed 15.1g and 30g. 
Lead investigator Dr Sze-Yen Tan concludes: "Eating a handful of nuts each day is a simple dietary strategy that improves cognitive performance in older adults, among many other already well-established health benefits." 
Model beverage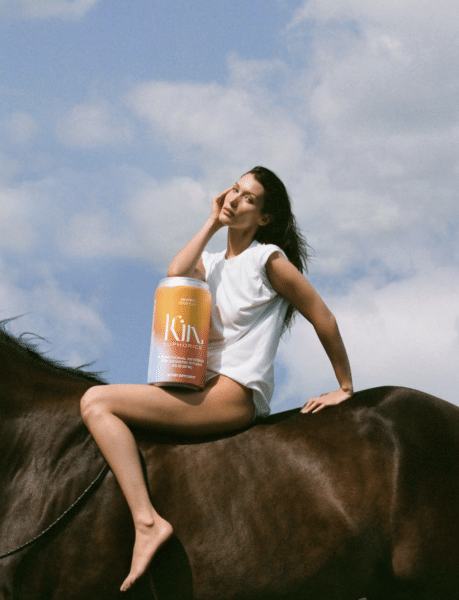 Unless you've been living in a cave you'll have heard of Bella Hadid – an American model blessed with good genes. But on Instagram, where Hadid is prolific, of her mental health she once wrote: "I have suffered from extreme depression and anxiety for most of my teenage and adult life. Since I was 14, I had tried everything to help myself feel better." 
Hadid must have had a 'eureka' moment, as in September 2021 she the co-founded Kin Euphorics, a non-alcoholic adaptogenic drink product that promotes 'brain care as self-care'. The drink, branded as Kin, is designed to enhance serotonin levels and blends a
mix of nootropics, botanicals and adaptogens. 
The product launched at a time when, Hadid acknowledges, many people felt 'bleh' – 'completely unmotivated, antisocial, depressed, anxious' and suffering from 'sleepy brain' – brought on by lockdown, or quarantine as they call it in the US. 
"We can help bring happiness back into the world, through brain health. What
I believe is that Kin makes you want to be social. Kin makes you feel grounded. Kin makes you want to dance. Kin makes you want to smile. Kin makes you want to talk. Kin makes you want to chill. Kin makes you want to feel your best. Kin makes you want to do what you do best. Kin makes you feel happy to be alive. At all times. With no sacrifices."
TurMemoric – Turmeric Extract with Lutein, Rosemary, Vitamin B12 and Zinc
Lamberts Healthcare Ltd
Tel: : 01892 554313
E-mail:  [email protected]
www.lambertshealthcare.co.uk
Lamberts® TurMemoric is based on the latest nutritional research. We have combined our premium turmeric extract, standardised to provide 95% curcumins, with lutein, which is an important dietary carotenoid. Interest in lutein has grown beyond eye health, with the discovery that it is the main carotenoid concentrated in the brain. Researchers have discovered a link between lutein accumulation and areas of the brain rich in fatty acids, suggesting its role as an antioxidant. Rosemary extract is included to preserve the active constituents plus we've added vitamin B12 for normal neurological and psychological functions, plus zinc for normal cognitive function.
NeuroForte®
HealthAid Ltd
Tel: 020 8426 3400
E-mail: [email protected]
www.HealthAid.co.uk
NeuroForte® – Healthy brain and cognitive function – The brain, the most vital organ in the body, it requires nutrients to support its function. The stress and pressure associated with modern lifestyles may reduce the brain's ability to function optimally, resulting in reduced concentration and alertness. HealthAid® have developed Neuroforte® contains essential nutrients such as amino acids, vitamins, minerals and herbs, which help support a healthy brain and nervous system, provide a sense of balance and wellbeing. Beneficial for cognitive function and good blood flow to and from the brain. Neuroforte® retails at £10.49 for 30 vegan tablets. Contact HealthAid Ltd on 020 8426 3400 for purchase and stockist information or visit
www.healthaid.co.uk   
SYNAPTAID
World Foods Brand Management Ltd
Tel: 01782 528611
E-mail:  [email protected]
www.wfbm.co.uk
SYNAPTAID is a first-of-its kind supplement for supporting brain function and combating processes known to cause 'cognitive impairment'.  
The 'brains' behind SYNAPTAID is Dr John Briffa, a practising medical doctor, journalist and author with 30 years' experience in natural medicine.
SYNAPTAID contains a blend of 8 botanicals and nutrients, each of which has a role to play in supporting and assisting memory, concentration and mood. Just one of SYNAPTAID's active ingredients is Lion's Mane. This medicinal mushroom has several supporting actions in the brain, including boosting 'nerve growth factors' that can stimulate regeneration of brain cells. Lion's Mane has been found to significantly improve brain function in individuals suffering from 'cognitive impairment' in just a few weeks. A new Synaptaid animated video will be appearing on social media platforms featuring Dr John  Briffa this year driving additional demand to Health stores. 
Bio-Kult Gut-Brain Range
Bio-Kult – ADM Protexin Ltd
Tel: 01460 243230
E-mail: [email protected]
Bio-Kult Migréa is an advanced multi-action live bacteria formulation that targets both the digestive tract and the head. The product has been formulated with magnesium and vitamin B6, both of which contribute to normal functioning of the nervous system, and reduction of tiredness and fatigue. Vitamin B6 contributes towards the normal function of the immune system and has been shown to help protect against inflammation. Vitamin B6 also contributes to the regulation of hormone activity.
Bio-Kult Mind is an advanced multi-action formulation designed to target cognitive function, containing live bacteria Bacillus subtilis PXN® 21®, bioavailable flavonoids, grape and wild blueberry extracts, and zinc. Zinc contributes to normal cognitive function and the protection of cells from oxidative stress. Zinc also contributes to the normal function of the immune system.
Bio-Kult Brighten is the latest addition to the Bio-Kult Gut-Brain Range. Bio-Kult Brighten is an advanced multi-action formulation containing 14 live bacteria strains, vitamin D, vitamin B6, vitamin B12, magnesium and zinc. Vitamins B6 and B12 contribute to normal psychological function as well as the reduction of tiredness and fatigue. Vitamins D, B6, B12, and zinc all contribute to the normal function of the immune system. Bio-Kult Brighten is for those looking to support their psychological function, and smile from the inside out.
The Bio-Kult range does not need to be refrigerated and each of our unique bacteria strains are encapsulated during the freeze drying process, which aids in their survival through the low acidity of the stomach.
Raw & Activated Nutrition Bar
Be hundred Percent Limited – BE 100%
Tel: 020 8245 1810
E-mail:  [email protected]
www.behundredpercent.com
This Snack Bar covers a 360° Nutritional Profile
A delicious handcrafted nutrition bar to enjoy as a snack or a treat, packed with essential micronutrients, antioxidants, vital bioactive compounds and enzymes that support a healthy brain and gut. These bars combine the three of the main brain health ingredients: activated nuts & seeds rich in ALA Omega3 (the vegan Omega3), raw dark chocolate rich in magnesium and antioxidants and berries rich in vitamin C among other nutrients.
Living Nutrition Cognitive Range
Living Planet Distribution
Tel: 020 3176 9982
E-mail:  [email protected]
www.livingplanetdistribution.com
Organic Fermented Cognitive Blends are inspired by the well-known ability of fermented foods to support healthy cognitive function and mood, for example through the production of neurotransmitters or various enzymes that support metabolic pathways. A healthy digestive microbiome also communicates with the brain via the gut-brain axis. Living Nutrition Cognitive formulas contain ingredients with renowned therapeutic effects—including key adaptogenic foods and medicinal mushrooms and herbs—with enhanced bioavailability and bioactivity due to fermentation. With stress functioning as one of the leading causes of long-term absenteeism in the UK, Cognitive has been created to restore balance and harmony in today's modern environment.
BrainPower™
Wholesale Health Ltd
Tel: 01606 889905
E-mail: [email protected]
www.wholesalehealthltd.co.uk
Good Health Naturally's BrainPower™ is a potent combination of liposomal curcumin with resveratrol, both widely recognised for their powerful brain health benefits. The liposome technology uses phosphatidylcholine to deliver the ingredients to the head and brain within minutes and includes a high concentration of curcumin 200mg and resveratrol 75mg in each serving (6ml). With its powerful antioxidant and anti-inflammatory properties, this unique combination is highly recommended for those seeking to naturally support their brain health, including memory, cognition and mood. Pleasant tasting off the spoon or mixed into liquids for convenience and flexible dosing. Vegan. 180ml (approx. 30 servings).
Clear Brain
New Nordic Ltd
Tel: 0800 389 1255
E-mail:  [email protected]
www.newnordic.co.uk
MENTAL PERFORMANCE – The brain is the largest and most important part of your nervous system. It receives and coordinates signals from your senses, movement and memory.
New Nordic™ developed Clear Brain and it's based on a natural extract combination, vitamins and minerals to support brain performance. The content of iodine contributes to normal cognitive functions.
Pantothenic acid contributes to normal mental performance. Riboflavin, niacin, vitamin B6 and B12 reduces fatigue and contribute to the normal function of the nervous system.
KEPTABIOM® – Support to Gut-Brain Axis
KEPTA LIMITED
E-mail: [email protected]
www.kepta.co.uk
The most recent studies show the fundamental link between gut microbiome and brain health.
KEPTABIOM® is an advanced synbiotic formula, containing well-studied live bacteria strains (Bifidobacterium longum, Lactobacillus acidophilus, Lactobacillus rhamnosus, Streptococus thermophilus) and prebiotics (native Chicory inulin and Acacia gum soluble dietary fiber).
KEPTABIOM® may complement the gut microbiome, contribute to the maintenance of normal digestion, immunity and brain performance.
• Free from: gluten, GMO, hormones.
• Blister packed for protection from air and moisture.
• Produced in EU under HACCP Certification.
• Suitable for travelers, vegetarians, pregnant women and children from 3 years.
• No need to refrigerate.
KEPTALIVA Complex® – Support to Liver-Brain Axis
KEPTA LIMITED
E-mail: [email protected]
www.kepta.co.uk
The Liver is a natural filter for harmful substances, which can potentially travel from bloodstream to the brain and affect its functions.
KEPTALIVA Complex® is an advanced herbal formula developed to support the liver, gallbladder and digestion.
KEPTALIVA Complex® is containing standardised extracts of Artichoke, Milk thistle, Schisandra chinensis, Andrographis paniculata, Black radish, and enhanced with Bromelain.
• 1 capsule provides: silymarin – 80 mg, bromelain – 25 mg, cynarin – 7.5 mg, andrographolides – 2 mg, schisandrin – 1 mg.
• Free from: gluten, lactose, dairy, GMO.
• Blister packed for protection from air and moisture.
• Produced in EU under HACCP Certification.