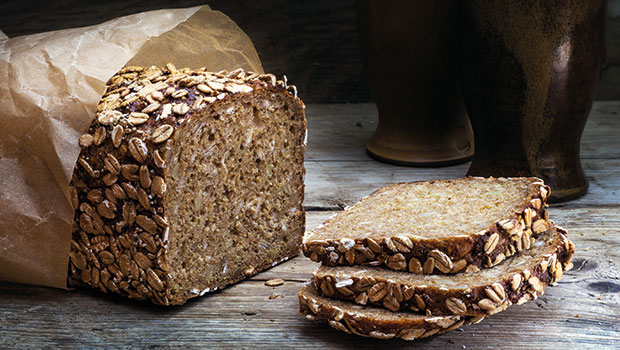 Kate Miller dives into the free-from sector and discovers the traditional Russian ingredients and improved nutritional profile changing the UK's free-from scene
The free-from sector is something of a conundrum. While its roots lie with customers who avoid certain foods as a health necessity, these now make up only 20% of consumers of the category which is now dominated by those avoiding ingredients as a lifestyle choice.
"Healthy lifestyles and ethical and environmental concerns are boosting the appeal of these products, with young consumers in particular most likely to be driven by these factors" says Emma Clifford, Mintel's associate director of food and drink.
"I think what this says is that something that has been going on for a while is intensifying," adds Simon Wright, chair of the Gluten Free Industry Association. "The balance tipped to lifestyle over need a while ago. And the reason lifestylers have come in such numbers is that the quality of the food in the category has become so good. [In January] I finished judging the Free From Food Awards category for this year and the discussion among the judges was the increase in quality that had happened over the years."
Wright says that when he came into the market the food was, to put it kindly, somewhat challenging – meaning that the only people seeking it out were those who had to. Today there is no trade-off in quality, and whole families can now happily eat the same food together.
But not everyone who eats free-from is doing so for lifestyle or need. According to Mintel, 28% who eat in the free-from category are not looking to avoid any foods/ingredients at all – possibly because they think these products are intrinsically healthy, which is not necessarily the case. The nutritional value of free-from food has been an issue which many in the industry have sought to address over the years.
"If you look at the early days of free-from the nutritional comparison of products such as bread was not in its favour, with levels of fat and sugar considerably higher," says Wright. "But the likes of companies like Genius have spent a long time and a lot of energy over last few years improving the nutritional profile of products. The industry has been long-aware of anomalies on [the] nutrition side and I think it is working to address this."
From Russia with love
Nutritional credentials are something that Russian company Len and Grechka is serious about, according to Jennifer Dworkin who is bringing the brand to the UK. The name is a translation of 'linseed' and 'buckwheat', which are the brand's naturally gluten-free staple ingredients. 
"We don't use any sugar, additives, preservatives or yeast in our baking," she says, adding that the initial aim was to produce great quality sprouted bread. 
"As it happens, the ingredients we chose – mainly because they are indispensable to the Russian family table – also happen to be gluten-free and healthy.  We now only make gluten-free products. Our buck-wheat is sprouted back to its vegetable state, making it easy to digest, and here in Kent we use seaweed in place of fat, lowering the overall salt content and boosting the bread's macro elements.
"So many products in the market, both in Russia and here, have hidden sugars and additives, and the free-from market is no stranger to that. We wanted to do something pure, transparent and delicious and to work for a wide range of diets, especially in the free-from market." 
Gluten-free and going strong
Gluten-free is still the leading free-from category, with 27% of consumers having purchased or eaten these over six months, despite only 12% of consumers reporting that they or somebody else in their household avoid gluten.
Second to gluten-free is the dairy-free category, with almost a quarter of British consumers purchasing dairy substitutes. However, only 25% of them use them in cooking compared to 42% for standard cow's milk users; and under half use them in hot drinks, compared to 82% for standard cow's milk users. 
A company seeking to address this is breakfast product producer MoMA Foods, which has just launched two oat milks to the market: Original and Barista.
Barista has been specially developed to foam and has a slightly higher fat content to give a creamier mouth feel which works well in hot drinks. Original can be used in hot drinks too, but is also designed for everyday use – over cereals and in smoothies. 
Promoting hot drink use is something the brand has conveyed in its packaging: "This is something we actually thought about a lot with our artwork design," says innovation and product manager Kate Jackson. "We understand that there are a number of different offerings in both ambient and chilled and it can be confusing knowing what to use, so we have tried to demonstrate this easily on pack."
The brand is also targeting the 65% of plant-based milk users who say they would welcome advice on how to use alternatives in cooking/baking through recipes, advice and inspiration for customers via social media and on its website.
Another source of concern for just under half of customers surrounds maintaining nutritional balance on an ingredient-restricted diet.
Don't go it alone
"When you cut out any food group, you are usually cutting out one of their regular intakes of certain nutrients," says Shona Wilkinson, nutritionist. "It is important to always make sure that while they cut this food out of their diet, you aren't leaving them open to nutrient deficiencies. This is why I feel that it is vital to seek professional advice from a nutritionist rather than just do it themselves. It may also be that you don't have to cut this food out of your diet forever. I have often seen many cases where the person has cut the food out of their diet for approximately three months and then slowly reintroduced the food until their tolerance level is realized.
"Obviously, for some people, they have no tolerance level and have to remove the food from their diet permanently. For others, they can continue to have small amounts of the food but know their own personal limits. This is great because it means that the person doesn't feel that they are missing out."
But does the very name of the category 'free-from' promote the idea that customers are somehow missing out rather than focus on the gains? Simon Wright thinks so: "Most people who are working in free-from think that it's a really rubbish name," he says. "But there are the first stirrings of people saying: 'Well, actually, what our products are trying to do is not avoid wheat but promote other grains'. There are lots of other forms of grain and carbs available which will encourage people to mix things up and become more varied. I personally would like it if, rather than free-from being all about what isn't there, it became all about what is there."
This would also have the benefit of helping customers and retailers to communicate, says Wright. "When your doctor gives you advice to stop eating a particular thing it can come as a big shock for some people. They then head to the supermarket and are confronted by rows of stuff and it's confusing – and there is only so much space on the label to give information. Having trained staff in health food stores is super important. And if they can talk in a positive way about what the customer can eat, then all the better."
Retailer's voice
Best Health Food Shop opened its first shop in Shoreham-by-Sea in 2016 and has expanded to five shops, with three opening in the last six months due, says co-owner Mel Beard, to opportunities that couldn't be turned down. 
Beard owns the company with Len Glenville, son of Dr Marilyn Glenville. After working at the Natural Health Practice for many years they decided to embark upon a venture together that they were passionate about, which is when they opened their first health food store. 
"Free-from is a very broad term – but I would say that a good 60% or more of our stock is free-from in some way. Be it gluten, sugar, dairy, animal products, pesticides, wheat, FODMAP-friendly, etc. Free from dairy and animal-derived ingredients are the best-selling overall products. 
"I think at the moment the best-selling vegan brands for us are Naturli and Violife (its new vegan epic cheddar), and second to that would be confectionery: Booja-Boojia, Ombar, Rhythm 108 and Kookie Cats are all firm favourites. 
"The second biggest one would be gluten-free. We have a weekly delivery of freshly baked gluten-free bread from Rana's Artisan Bakery, which is hugely popular and lovely! We also have our gluten-free options in our dispensers and pre-packs (mainly Infinity), such as oats and pastas that are the most popular.
"I think we have more people coming into the shop now looking for sugar-free products, mainly due to diabetes diagnosis, which is sadly on the rise. Definitely the overall interest in anything free-from is trending and I think it is still an even balance between medical and lifestyle choice at the moment. 
"Our shelf-edge labels denote if a product is free-from and from time to time we also might showcase certain free-from categories. It does change from store to store, depending on the customers' needs. 
"We are running plastic-free promotion in one store at the moment and a FODMAP-friendly section in another. We also ran a sugar-free promotion in January too.
"Wherever possible we try to cater for all needs. It is important to us that products are clean and have no processed sugar. Gluten-free and plastic-free are also a priority. If a product is vegan too, then it is a winner! More and more products are 'free' from a lot of things, so finding new products is definitely easier than it was."
Alara Organic Milled Linseeds Range
Alara Wholefoods Ltd
Tel: 020 7255 9725
E-mail:  [email protected]
www.alara.co.uk
You may know Alara Wholefoods by now for our delicious home compostable, organic cereals. We are launching a new range of organic milled linseeds in 6 flavours: Raw Milled Linseeds, Mixed Seeds, Mulberries, Maca & Mulberries, Superfoods Mix and Acai Bowl. These products contain no added sugar and all 6 varieties are high in fibre, a tasty source of Omega 3, GMO free and suitable for vegans. Sprinkle over porridge, yogurt, dessert, add to smoothies or simply eat a handful as a yummy, healthy snack. All Alara products are completely plastic free – the inner packaging is made of eucalyptus cellulose.
Booja-Booja Puts the Fabulous into Free From
Booja-Booja
Tel: 01508 558888
E-mail: [email protected]
www.boojabooja.com
Booja-Booja chocolate truffles are handmade in Norfolk from simple, natural ingredients. Beautifully presented in exquisite boxes, they make ideal gifts for special occasions including birthdays, anniversaries, Mother's Day and Easter. Multi award-winning and melt-in-the-mouth delicious, all Booja-Booja chocolate truffles are dairy free, gluten free, soya free, vegan and organic. Created to be a treat for all the senses they look sensational on your shelf too.
EatEnjoy
Pharmavita
Tel: 07810 565524
E-mail: [email protected]
www.eatenjoy.co.uk
The EatEnjoy range of innovative nutritional supplements are designed to help those suffering from food sensitivities – including dairy and gluten intolerances – effectively manage their symptoms and enjoy the foods they love again. EatEnjoy Dairy, EatEnjoy Glutalytic and EatEnjoy Balance are made from unique blends of enzymes that facilitate the digestion of complex foods, reducing the feelings of digestive discomfort and supporting regularity in the digestive system.  EatEnjoy capsules come in convenient perforated blister packs. Simply take one capsule of EatEnjoy a few minutes before eating to feel the benefits. Available from Tree of Life and The Health Store.
Vegan Values from NHP

 
The Natural Health PRactice
Tel: 01892 507598
E-mail:  [email protected]
www.naturalhealthpractice.com
The Vegan Society approved * range of premium vitamins, minerals and herbs form the Natural Health Practice have all been formulated in association with Dr Marilyn Glenville PHD, the UK's leading nutritionist specialising in female health. With the emphasis always being on the use of quality, clean and natural ingredients, the NHP range is respected for its formulation values and is totally free from gluten, yeast and dairy products.  Additionally registered with the Vegetarian* society and Kosher approved, the range is also Halal compliant (according to manufacturer's GMP). Talk to our team today to find out about our latest promotions.
* Excluding Omega 3 Support
Plamil So free Cocoabites
Plamil Foods Ltd
Tel: 01303 850588
E-mail:  [email protected]
www.plamilfoods.co.uk
Delicious vegan chocolate with no plastic packaging. Cocoabites are award winning vegan bite sized chocolate for sharing made with new improved recipes. There are three moreish varieties, Organic dark sweetened with coconut blossom sugar, smooth 'milky' and white. Cocoabites come in refillable glass jars.  They are re-sealable as well as refillable, reusable and recyclable glass jars, addressing concerns about sustainability. Created by Plamil, the original and much loved vegan company. Cocoabites are lovingly made in the UK with certified cocoa, using 100% renewable energy.   Retailer refill packs available. The 85g glass jars have a retail price of £2.50
Tree of Life Free From
Tree of Life
Tel: 01782 567100
E-mail:  [email protected]
www.treeoflife.co.uk
Tree of Life's wide range of products is perfect for free-from lifestyles without compromising on quality and taste. All of our Organic Pastas and Sauces are certified gluten free, including our great new Superfood and High Protein Pastas, plus our hand-finished Organic Chocolate is free from dairy and refined sugar. For vegan diets our Agave Syrups and Coconut Oils provide easy alternatives to honey and butter, whilst our Yeast Flakes with added Vitamin B12 provide extra nutritional support. We believe in making health easy by offering a range of delicious, high quality and affordable products for all your customers' needs.