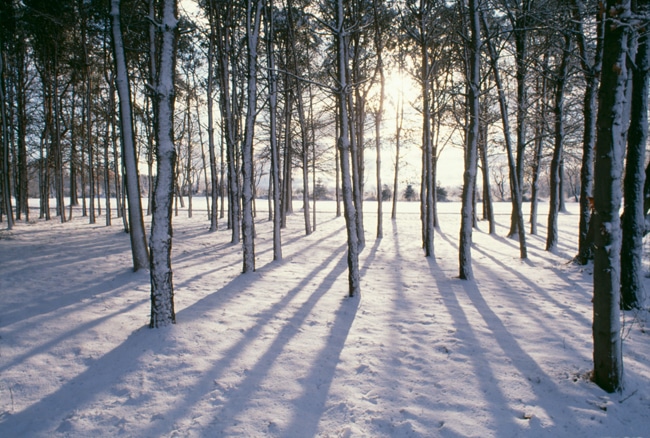 Natural products designed for winter wellness gives the industry a huge boost every year. Sarah Callard explores how best to keep your customers healthy as the nights start drawing in.
Winter remedies make up a large proportion of many retailers' annual sales, so it's vital to get your offering right at this time of year. The key remedies are going to be immune boosters such as Echinacea and vitamins C and E. However, as consumers become better educated they are looking for a broader range of less well-known herbs and nutrients, so it is crucial to offer a wide range of varied products.
Immune health is key when it comes to protecting against coughs and colds. Julie Lamble, nutritionist for Lifeplan says: "A healthy immune system is vital if we are to ward off the ill effects of bacteria, viruses and toxins that damage our body and cause such infections as colds, coughs and other associated winter ailments."
"At the end of the day, if our immunity is impaired, we are more likely to catch a cold and suffer for longer," she adds.
Feed a cold, starve a flu
Each year the incidences of severe flu seem to increase and viruses such as Swine Flu have definitely affected the market with more people looking for protection against them. Consumers are looking for ways to boost their immunity and some will undoubtedly look to the natural health industry.
However, it's not just severe flu viruses that have people looking to boost their immune systems – the common cold is also a market driver. According to the Common Cold Centre at Cardiff University, adults suffer two to five colds per year and school children may suffer up to seven to 10 colds each year.
Lots of health store consumers now look to the supplements section when seeking to give their immune systems some help surviving the winter months.
Old herbs, modern techniques
Echinacea is still very much top of the class when it comes to winter health. It is the best known and most-researched of the herbs being marketed to ease cold and flu symptoms and is still very popular. It can be safely taken on a long-term basis to prevent coughs and colds as well as to treat symptoms.
New product development has led to lots of innovation within this sector and the herb Echinacea now comes in many different delivery formats, broadening its appeal across the market. These include throat sprays such as Viridian's Echinacea Throat Spray, made with elderberry tincture and honey; Echinacea drinks and lozenges such as Optima's Echinacea Effervescent, as well as the more traditional tinctures like market leading Echinaforce by A Vogel.
Researchers at the University of Connecticut combined the results of 14 different studies on Echinacea and confirmed the herb's efficacy at preventing and/or reducing the effects of a cold by 58 per cent, and the duration by 1.4 days
Products with Echinacea mixed with other herbs have become increasingly popular within the wider industry. For instance, Kiwiherb's Echinacea, Thyme and Liquorice product is a high potency tincture specifically designed to soothe seasonal sore throats.
Phil Rasmussen, medical herbalist and creator of the range, says: "I found that when practitioner-strength concentrations of Echinacea were combined with thyme and liquorice, the resulting mixture provided a highly effective, natural remedy for easing even the sorest of throats."
Immunity boosters
Alison Cullen, education manager at A Vogel is reported as saying: "It's very important that health stores have the products to help keep their customers healthy through the winter months, especially these days when stress, poor diet and insufficient sleep and exercise are affecting immune function."Immune-boosting foods such as peppers, broccoli, watercress, whole grains, berries and citrus fruits are very beneficial but can be greatly improved with supplementation of vitamins and minerals such as selenium, zinc and vitamin C.
Other cold-busting foods and herbs include apples, carrots, beetroot, ginger, garlic, fresh herbs, turmeric, grapes, oats and barley. Oats and barley are natural sources of beta glucans which is known for its immune-boosting properties.
Vitamin C – the vital vitamin
Research has shown that 2g doses of vitamin C taken daily may reduce the risk of colds in people exposed to stress. Studies also reveal that regular supplementation with vitamin C is associated with a small reduction in the duration and severity of common cold symptoms.
It is still a vital nutrient in the fight against coughs and colds and no self-respecting retailer would start the winter period without giving their vitamin C offering extra care and attention.
As with Echinacea, developments around vitamin C have focused on delivery formats and there is now a wide range of products on the market including capsules, drinks and lozenges. Many manufacturers include the patented Ester-C, which is considered to be gentler on the stomach. This is beacause an upset stomach is one of the side-effects of taking high doses of vitamin C.
Herbal healing
Echinacea isn't the only herb which can boost winter health however, and manufacturers are continuing to develop brand new alternatives. Plantago, Oregano and Astragalus are just a few of the herbs claiming their stake on the winter remedies market.
The Wellness Formula from Source Naturals combines a number of these herbs like Astragalus, Goldenseal and Echinacea alongside vitamin C, zinc, selenium, Siberian Ginseng and propolis.
Ayurvedic herbs are also becoming increasingly popular to ward off winter chills. Trikatu tincture from Pukka Herbs is a combination of three warming spices: long pepper; black pepper and ginger, which help to clear mucous and has a warming effect. However, it is only recommended for the common cold rather than flu. The cooling herb, Andrographis, is recommended for treating flu symptoms, which are associated with heat.
Pukka's Chywanaprash π– a herbal 'jam' with a potent vitamin C content – can be added to drinks, spread on toast or simply taken by the spoonful as a powerful winter tonic. It's made from amla fruits and includes a mixture of 20 different herbs and spices including shatavari, cardamom, ashwagandha and cinnamon which are thought to help ward off colds and flu.
Back in black
There is currently a good deal of research supporting the benefits of black elderberry for fighting off coughs and colds. Studies have shown black elderberry extract to be effective in shortening the duration of many different strains of influenza too.
Black elderberry appears in an increasing number of natural remedies including Nature's Answer Black Elderberry Extract and Sambucus Black Elderberry Extract Spray from Kinetic, Higher Nature's Sambucol and ImmuneC from BioCare which was formulated by Patrick Holford and combines vitamin C and black elderberry and ginger.
Kiwiherb's Ginger & Kawakawa Syrup was formulated as an organic winter tonic. It combines practitioner strength ginger with peppermint and two New Zealand herbs, Kawakawa and Manuka Honey. It can be taken straight from the spoon or stirred into hot water.
Honey, honey
Honey and propolis are very beneficial for boosting immunity. Also, honey has the benefit of being instantly soothing when added to herbal teas and other hot drinks. Propolis is produced by bees when they collect the natural sap and resin from trees and shrubs and then combine it with their own enzymes. Bees use propolis to surround their hive to prevent against bacterial infection. It is also a powerful anaesthetic and a natural antibiotic which helps to boost the immune system.
Optima's Manuka Honey & Propolis Syrup combines the natural antibiotic properties of Manuka Honey with propolis, elderberry, marshmallow and mullein to create a natural syrup suitable for adults and children. Comvita combines propolis and Manuka Honey in its Herbal Elixir product which was designed as a tonic to promote winter wellness.
New product, Rainforest Honey 30+ from Lifeplan, is thought to help the body fight infection. It contains active H2O2NEY, a patented process that activates the production of hydrogen peroxide, the honey's healing constituents, only when exposed to the skin or taken internally.
When catering for the winter cold and flu crowd it is, of course, vital that you listen to your customers – if you give them what they need (even when they don't know it!) they won't go elsewhere for solutions. And if you keep them supplied with immune-boosting natural remedies they will keep the colds at bay and come back for more!
Think Zinc
Evidence has shown that early treatment of the common cold with zinc lozenges may shorten the duration of symptoms by several days. Previous trials looking at whether zinc can combat a cold have produced conflicting results. However, in a recent analysis of previous studies the researchers concluded that zinc does indeed offer protection against the common cold.
The researchers analysed data from 15 trials involving 1360 participants and they concluded that taking zinc syrup, lozenges or tablets within a day of the onset of cold symptoms had a remedial effect. Both the severity and length of the illness were reduced.
After seven days more patients who took zinc had fought off their colds than those who took the placebos. Giving zinc also reduced the use of antibiotics in children. There are still questions about optimum dose, formulation and length of treatment however.
Winter Listings
Potter's herbals winter remedies
Potter's Limited,
1 Botanic Court, Martland Park,
Wigan WN5 0JZ
Tel: 01202 449752
www.pottersherbals.co.uk
[email protected]
As the weather gets colder, we need to think about safe and effective ways of treating those coughs and colds and staying healthy through the season. After two centuries of producing high quality herbal remedies, Potter's Herbals has rejuvenated its successful range of products to celebrate its heritage in traditional herbal medicine.
Herbalist Henry Potter opened his first shop in London's Fleet Market in 1812 and quickly established himself as an expert in herbal medicine. His unique method of blending specially selected ingredients has created perhaps the oldest and most traditional herbal remedies still at the heart of all Potter's products today.
The common cold is so widespread there are very few people who get through the year without contracting the virus, and most will suffer multiple times. It has been estimated that the average adult will have three to five colds each year, and this appears to be increasing as our densely populated cities make it easier for the virus to be passed on.
Potter's cough and cold products use a wide selection of herbs and are fully licensed by the MRHA, so when it comes to treating those
niggly coughs and colds this winter, Potter's has a tried and tested herbal medicine that can help.
Potter's Cough Remover
Stubborn irritating cough that just won't go away? This all time Potter's best seller is a traditional herbal remedy for dry, tickly and chesty coughs. Potter's Cough Remover is pleasant tasting and made from a specially formulated/developed blend of herbal ingredients, including ipecacuanha, lobelia, black cohosh, pleurisy root and skullcap. These are traditionally known to help clear phlegm from the throat and chest and to relieve coughing.
Potter's Catarrh Mixture
A mixture of burdock root, boneset, and hyssop, this formulation removes catarrh and phlegm from the nose and throat. Boneset has traditionally been used to help fight infections by stimulating the immune system.
Potter's Chest Mixture
A best seller since 1930, the combination of ingredients including horehound, skullcap and lobelia is used to relieve both coughs and clear catarrh from the upper respiratory tract and is the perfect all-rounder to care for your chest.
Wintervits®
HealthAid Ltd, HealthAid House, Marlborough Hill,
Harrow, Middlesex HA1 1UD
Tel: 020 84263400 • Fax: 020 84263434
E-mail: [email protected]
www.HealthAid.co.uk
Age, stress, and poor nutrition can deplete our immune system of its effectiveness. In order to avoid illness, the body needs to be equipped with a whole host of essential micronutrients. Supplements are a great way of safeguarding nutrient intake. Wintervits®, a synergistic blend of vital Vitamins, Minerals and Herbal extracts such as: Vitamin C, Zinc, Maitake mushroom, Astragalus, Rutin and Proplis extract; are well-known for their immune boosting properties. Wintervits® also has the added benefit of Quercetin, which contains powerful antioxidant and anti-inflammatory properties that help support a healthy immune system. Wintervits® retails at £8.99 for 30 tablets.
BEE Prepared immune support
Unbeelievable Health
Crown House, 72 Hammersmith Road, London W14 8TH
Tel: 0207 9932471
E-mail: [email protected]
Web: www.unbeelievablehealth.co.uk
Multi award winning BEE Prepared immune support by UnBEElievable Health is THE 'IT VIT' for helping keep colds, flu & winter bugs at bay. It conveniently combines propolis, elderberry, olive leaf & beta glucans. The MAX strength version also has astaxanthin & resihi. BEE Prepared is made in the UK, is Vegetarian Society approved & contain generous amounts of high quality nutrients so fewer tablets are required. In both capsules & chewables (suitable for all ages 4+). See our website for online testimonials: ww.unbeelievablehealth.co.uk
Immune Support +
Natures Aid, St. Georges Park, Kirkham, Preston, Lancashire
PR4 2DQ
Tel: 01772 686231
Fax: 01772 686700
E-mail: [email protected]
Web: www.naturesaid.co.uk
Immune Support + Support your Body's defences with Beta-Glucans. The best way to prevent disease is to ensure our immune system is strong and healthy and able to repel infective micro-organisms to the best of its ability. There are several nutrients shown to be beneficial in supporting the immune system and we have combined these nutrients in a convenient one a day formula to provide support for the forthcoming cold and influenza season. Included in this formulation is 150mg of the increasingly popular Beta (1,3/1,6) Glucans, a key aid in our defence against infective organisms. Each tablet also contains Concentrated Garlic, Elderberry, Vitamin A, Vitamin D3, Ester-C®, Zinc and Selenium. Natures Aid Immune Support + available in 30 Tablets & New 90 Tablets
Cranberry Intensive
BioCare® Ltd, Lakeside, 180 Lifford Lane, Kings Norton, Birmingham B30 3NU
Tel: 0121 4333727
Fax: 0121 4338705
E-mail: [email protected]
Web: www.biocare.co.uk
New Cranberry Intensive is a unique combination of cranberry, potassium salts, probiotics and hibiscus extract designed to support the health of the urinary tract. Cranberries and fresh cranberry juice have long been employed as a natural means of supporting the health of the urinary system. Cranberry and hibiscus contain active components called proanthocyanadins which work along with Lactobacillus acidophilus and vitamin C to help promote a favourable balance of microflora in the urinary system. Each box contains six 10g Cranberry Intensive sachets, which dissolve in water to provide a pleasant tasting cranberry drink.
RRP £14.95. Available online from
www.biocare.co.uk or by calling 0121 433 3727.
Elderberry Syrup
Pukka Herbs Ltd, 8 Hawkfield Business Park,
Bristol BS14 0BY
Tel: 0845 3751744 • Fax: 0117 9640804
E-mail: [email protected]
Web: www.pukkaherbs.com
Elderberry Syrup is a naturally sweet tasting combination of herbs renowned for their use in treating the respiratory system. These nourishing herbs help to gently clear mucus and catarrh from the respiratory tract and sinuses. Sore and irritated mucous membranes are soothed and lubricated easing both dry and productive coughs. Ginger, black pepper and long pepper are used in Ayurveda as "Trikatu" to help maintain a healthy respiratory system alleviating colds, congestion and sluggish metabolism. Chills and fevers benefit from the herbs in this delicious elixir.
Terranova – Resistance Support Complex
Kinetic Enterprises, 258 Belsive Road, London NW6 4BT
Tel: 0845 0725825 • Fax: 0845 0725826
E-mail: [email protected]
Web: www.kinetic4health.co.uk
Terranova Resistance Support Complex is a powerfully active and intensely synergistic formulation designed for the maintenance of a healthy immune system. Resistance Support Complex features Astragalus, combined with fresh freeze dried botanicals including Elderberry, Garlic, Osha and Maitake, and supported by Larch Arabinoglalactan, Oregon Grape Root and Stabilised Rice Bran. This blend is remarkable in its versatility – supporting a vast array of functions relevant to healthy resistance. Most of the botanicals in Resistance Support Complex have been fresh freeze dried, which is superior to other drying methods in terms of enzyme content, activity, solubility, stability and protection of the plant's original chemical composition.
Nature's Answer – Sambucus with Black Elder Berry
Kinetic Enterprises, 258 Belsive Road, London NW6 4BT
Tel: 0845 0725825
Fax: 0845 0725826
E-mail: [email protected]
Web: www.kinetic4health.co.uk
The berries of Sambucus nigra L. have naturally-occurring flavonoids which may support winter health. Evidence suggests an extract of black elderberries can inhibit the cellular replication of several types of viruses, including influenza. Research shows that the use of elderberry reduced the duration of flu symptoms from an average of 6 days to 2 days in more than 90% of the patients. It was reported that in more than 20% of cases, the symptoms of the elderberry-treated patients abated within one day. New Nature's Answer Sambucus is sugar-free, alcohol-free and holistically-balanced and contains 5,000mg of elderberry extract per serving.
HOMEOPATHIC REMEDIES FOR WINTER AILMENTS
Helios Homeopathy Ltd, 97 Camden Road,
Tunbridge Wells, Kent TN1 2QR
Tel: 01892 537254
Fax: 01892 515111
E-mail: [email protected]
Web: www.helios.co.uk
The Helios Basic 18 homeopathic remedy kit for home and family contains 18 licensed remedies. Gentle and safe the remedies cover a wide range of common winter ailments such as coughs, colds and flu and many other first aid complaints. Strong, lightweight and compact the kit is easy to transport so you can have the right remedies available wherever you are. For details of this and other products in our range please contact Roz Crompton.
EnergyMel and LifeMel
Tel: 01782 617575
Contact Leanne Combrinck
E-mail: [email protected]
Web: www.nuvitalityproducts.com
Developed with over 30 years of research, LifeMel, made by honeybees, is proven in a number of cases to boost immunity. It is carefully produced by honeybees in Israel, which are fed on a specific diet including selected herbs such as Siberian ginseng, echinacea and calendula.
Feeling frazzled – Boost your energy and support your immune system during times of stress with help from EnergyMel. The active ingredients of the botanicals fed to the bees, result in a natural supplement containing the combined healing health benefits of the individual herbs.
Nu Vitality Products focus on supplying the wholesale natural health and pharmaceutical sector with exciting and new products which inspire health and vitality. Nu Vitality Products focus on offering high end customer service to our wholesale community by offering product training and marketing support.
EBeta Glucans Immune Complex
Solgar Vitamins, Beggars Lane, Aldbury, Tring, Herts HP23 5PT
Tel: 01442 890355
Fax: 01442 890366
E-mail: [email protected]
Web: www.solgar.com/uk
Research has established that many nutrients play an integral role in the functioning of the immune system.
The immune system is designed to defend against millions of bacteria, microbes, toxins, viruses and parasites that we encounter on a daily basis. It is a complete structure, needing a multifactorial approach to function efficiently. Solgar has combined six key nutrients with a berry blend to provide this comprehensive formula.
The primary ingredient is Beta 1,3 Glucans; derived from the cell wall of fungi and yeasts and is known to stimulate macrophage activation.
Sambucol Black Elderberry Extract
PharmaCare Europe Ltd. PharmaCare House, Foundry Lane, Horsham, West Sussex. RH13 5PX
Tel: 01403 0280876
Fax: 01403 280861
E-mail: [email protected]
Web: www.pharmacareeurope.com
If your family depends on you to keep them healthy, try Sambucol. Sambucol is a great tasting product to take during the winter to keep your immune system healthy. Sambucol contains up to 1000 Black Elderberries, which are powerful antioxidants with almost five times the antioxidant level of blueberries, which help to support the immune system. Available in a variety of formats including 4 liquid syrups – Original, Immuno Forte (with added Vitamin C & Zinc), for Kids (with added Vitamin C), Sugar Free, One-A-Day Gel Capsules & New Immuno Forte Effervescent Tablets. Sambucol is used and recommended by Carol Vorderman.
Sambucol Black Elderberry Extract
PharmaCare Europe Ltd. PharmaCare House, Foundry Lane, Horsham, West Sussex. RH13 5PX
Tel: 01403 0280876
Fax: 01403 280861
E-mail: [email protected]
Web: www.pharmacareeurope.com
If your family depends on you to keep them healthy, try Sambucol. Sambucol is a great tasting product to take during the winter to keep your immune system healthy. Sambucol contains up to 1000 Black Elderberries, which are powerful antioxidants with almost five times the antioxidant level of blueberries, which help to support the immune system. Available in a variety of formats including 4 liquid syrups – Original, Immuno Forte (with added Vitamin C & Zinc), for Kids (with added Vitamin C), Sugar Free, One-A-Day Gel Capsules & New Immuno Forte Effervescent Tablets. Sambucol is used and recommended by Carol Vorderman
Bee Health Propolis
Bee Health Limited
Tel: 01262 607890
Fax:01262 424012
E-mail: [email protected]
Web: www.beehealth.co.uk
Since 1992, Bee Health Limited, the Home of Propolis, have created a versatile and unique brand, which is renowned and distributed throughout the World. Our extensive range of Bee Health Propolis products are specifically developed and formulated to provide consumers with a naturally derived high quality range. Propolis provides essential natural occurring bioflavonoids, the most important component of Propolis. Bee Health pride themselves on the heritage and research centred around our bee derived, superior and trusted efficacy portfolio including Capsules, Tablets, Liquid, Cream, Throat Spray, Lozenges and Winter Mixture.