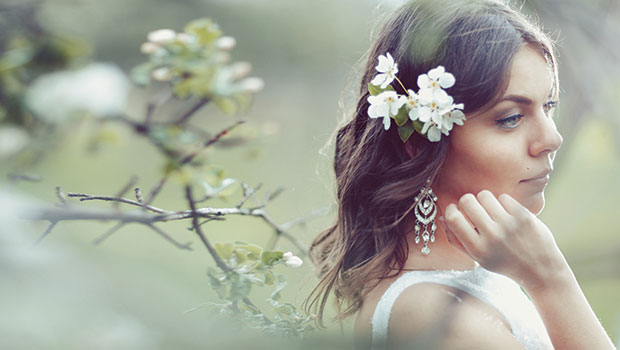 As more consumers look for natural and organic beauty solutions, there's an increasing demand for reassurance through certification, reduced chemicals and highly effective and innovative formulations. Jane Wolfe takes a look at how the sector is rising to the challenge
The organic health and beauty sector is booming, with the Soil Association Organic Market Report 2015 revealing that sales in the UK rose by 20% in 2014 to reach £44.6 million.
"It has been another fantastic year for the organic health and beauty market," commented Emma Reinhold, trade relations manager at Soil Association Certification. "Organic beauty now appeals to a much wider group of consumers … The overall UK organic market is expected to grow steadily again in 2015 and should break the £2 billion barrier in 2016."
Consumer research published by Organic Monitor has revealed that 90% of UK consumers of natural and organic health and beauty products say 'avoidance of synthetic chemicals' is important or very important to them. And in research recently commissioned by NATRUE, 89% of respondents cited the potential harmfulness of ingredients as an important factor behind their purchasing decision. In addition, 80% of buyers said they were driven to buy natural and organic products by the expectation that they contain uniquely natural ingredients and 64% expected them to contain only organic ingredients.
Reassurance through certification
Due to a rise in greenwashing in the organic beauty sector, it is clear that authenticity is vital if the sector is to remain credible in the eyes of consumers, who are now increasingly looking for certification credentials.
The number of Soil Association symbol holders rose by 51% to 204 in 2014, with the association saying that consumers are looking "for the reassurance of organic certification in an unregulated market plagued by spurious organic claims".
Organic Monitor found that 43% of buyers look for symbols on personal care products, up from 33% in 2007, and revealed that the Soil Association logo is the most associated with certified products, with nearly 30% of buyers seeking it out.
Organic skincare company Botanicals, whose entire range is licensed by the Soil Association, recently enhanced its formulations to conform to the new European Organic Standard COSMOS. Founder Wendy Stirling sees certification as paramount to the sector: "'Natural' and 'organic' are very misused terms in cosmetics. Unlike food, there's no legislation governing these terms. Products labelled 'organic' can contain as little as 1% of ingredients derived from natural or organic origin. This means that products that are legitimately marketed as natural or organic are competing with products that are being marketed on the basis of a 'natural' image, rather than actual ingredients."
Speaking at Biofach in February, Francis Blake, COSMOS president and Soil Association policy advisor, explained: "We are working to ensure the COSMOS standard becomes the de-facto international organic and natural cosmetics standard. A unified certification and standard becomes the go-to state for the organic and natural cosmetics market, and we believe this is the best way to build consumer trust and a more sustainable and buoyant market."
In its report, Organic Monitor found that all those surveyed were willing to pay more for certified products, with 72% saying they'd pay up to 20% more, and 12% said they would pay a premium over 30%. However, the price tag on certified organic products may still be an issue for some.
"Within this sector coconut oil has
experienced a meteoric rise in popularity"
Beyond Organic recently launched its Beyond Naturals non-organic range of natural skincare products which the company says offers the same performance and purity as its certified organic products, but at half the price. "We launched the natural range to complement our certified organic range in recognition that not everybody can afford certified organic," says company founder Marianne Tregoning. "With this range we can offer pure effective products to many more people."
When science meets nature
One emerging trend in this sector is the combination of science and nature to produce highly effective skincare products.
Tree of Life has started distributing Andalou Naturals' anti-ageing skin and hair care range which uses apple and grape stem cells combined with the company's BioActive 8 Berry Complex – a mix of superfruit antioxidants.
"The products work by blending advanced fruit stem cell science with natural ingredients to combat the signs of aging," says Kirsten Sowerby, marketing manager at Tree of Life, "combining the power of nature with the power of technology to develop a clinically proven formulation with three powerful levels of bio-functional ingredients that work to renew, repair and regenerate the skin."
Another innovative brand is Alorée which offers its chlorophyll-based anti-ageing skincare range through Pravera. As chlorophyll can't be extracted by itself from plants, company founder Alexandra Croce developed a unique chlorophyllin hordeum complex (CHC) serum which contains chlorophyll from young organic barley shoots.
And the innovative use of ingredients is continuing to flourish. Recent launches include Recoffee, which uses recycled coffee grounds in its haircare range, and Greenfrog Botanic which has based its bodycare offer on organic soapberries. The What Skin Needs products incorporate the extract of Centipeda cunninghamii, which enjoys a revered position amongst the Aboriginal people for its soothing and healing properties; and zk'in's Line Smoothing Serum uses paracress extract to temporarily block the muscular contractions that contribute to expression lines.
But this is yet another sector in which coconut is king. "Within this segment, coconut oil has experienced a meteoric rise in popularity, with sales rising by 780% from 2008-2012 and showing no sign of slowing down," says Sowerby from Tree of Life which recently launched Lucy Bee Coconut Oil in a smaller 300ml jar. "Its success is largely down to the multifunctional nature of coconut oil. Whilst many natural beauty products confine the consumer to a single purpose, coconut oil delivers a whole range of beauty benefits."
Other new coconut launches include the Beauty Sensations range from TIANA Fair Trade Organics which comprises Anti-Ageing Moisturizer, Intensive Hydration Treatment for Hair and Pure Virgin Coconut Oil Essential for Dry Skin; and Jason's new Smoothing Coconut Body Wash; Smoothing Coconut Hand & Body Lotion and Smoothing Coconut Oil.
Beauty from inside out 
As well as superfoods turning up as must-include ingredients in recipes – think baobab seed, acai, cranberry, camu camu and pomegranate – there is also a move towards feeding the skin from the inside out, with more and more supplements and powders aiming to do just that.
One ingredient gaining in popularity is moringa which is credited with anti-ageing properties due to its high levels of the plant hormone zeatin. According to Mintel, 96% of all launches with moringa-derived ingredients came from the beauty and personal care sector in 2014.
Andrew Hunt, co-founder of Aduna, says the company plans to expand into beauty in the future as part of its long-term vision, and actually created its moringa and baobab powders with that in mind. "Beauty from the inside is probably the fastest growing dimension of the beauty market, and we looked at this when developing our brand. Health and beauty are converging as more women realize that their skin health is primarily a function of their diet and lifestyle more than what skin cream they put on."
Other growing areas in skincare include raw – which is considered by Jessica Laura, CEO of raw organic skincare company Raw Gaia, as going a step beyond organic – and vegan. Beauty brand distributor Botanical Brands predicts that 2015 will see increased consumer demand for all-things vegan, and that this will impact on the beauty market.
Beauty shines at Natural Beauty & Spa
At Natural & Organic Products Europe, the Natural Beauty & Spa area will be offering the best in the sector from over 200 natural and organic beauty, cosmetic and personal care companies from around the world, new product launches, great show offers and inspiring talks hosted in the Natural Beauty Theatre.
001 Skincare will launch its Asian-inspired Silk Skin Mask Sheets and Rosa Damascena Essence Mist, while company founder Ada Ooi will present her talk Shifting East: how Asian skincare trends are taking off in Europe.
Other must-see sessions include The raw skincare revolution by Jessica Laura, CEO of Raw Gaia, and Love the skin you're in by Sarah Brown of Pai Skincare.
Herbatint will be at the show to reveal its reformulated hair colour range with six new shades; Suma will showcase its Ecoleaf Coconut & Ylang Ylang Handmade Soap; and Good Clean Love will show products including its Almost Naked Personal Lubricant and Balance Moisturizing Wash.
ATM Organics will be there to launch its JMO Body Scrubs, and Natura Siberica will be exhibiting its new Black Cedar Body Soap and Face Mesococktail Pearls de North.
NEW Age Defy+ Tinted DD Moisturiser SPF 15
Green People
Tel: 01403 740350
E-mail:  [email protected]
www.greenpeople.co.uk
Discover the UK's first certified organic DD cream with plant stem cells, a youth-boosting formula for beautiful sheer coverage. This new generation tinted Daily Defence (DD) SPF15 moisturiser will protect against sun damage and give flawless coverage, whilst reducing fine lines and wrinkles and increasing cell turnover. A complete anti-ageing skin solution with Sea Fennel plant stem cells, offering intense hydration, promoting skin regeneration and preserving the youthful look and vitality of the skin. This skin-kind formula uses colour correcting natural earth minerals in two blendable tones to reduce redness and balance out sallow complexions, without blocking pores.
Avalon Organics Clarifying Lemon Shampoo & Conditioner
Kinetic Natural Products Distributor
Tel: 08450 725 825
E-mail: [email protected]
www.kinetic4health.co.uk
Avalon Organics offer gentle shampoos and moisturising conditioners that will cleanse without stripping and hydrate without adding excess weight. Formulated with organic botanicals and essential oils, each biode-gradable shappo and conditioner due effectively address specific hair needs. Avalon Organics Clarifying Lemon Shampoo ad Condiitoner are formulated with Chamomile, Aloe, Vitamins and Lemon Essential Oil to gently clarify and condition to brighten and restore natural highlights, colour and shine. All Avalon Organics products contain no GMOs, parabens harsh preservatives, synthetic colours, artificial fragrances or harmful sulfates. All products are made with 100% vegetarian ingredients and are never tested on animals at any level. For more information visit kinetic4health.co.uk or call 08450 725 825
Dr Bronner's Magic Liquid Soaps
Kinetic Natural Products Distributor
Tel: 08450 725 825
E-mail: [email protected]
www.kinetic4health.co.uk
Dr Bronner's Liquid Soaps, considered by many the ultimate multi-tasking must-have, thanks to Dr Bronner's Iconic 18-in-1 uses as advertised on the label. The #Compassion Campaign is in full swing, with a portion of sales on selected items pledged to Compassion in World Farming till June 2015. Certified organic and fair trade, the range is also suitable for vegetarians and cruelty-free certified with the BUAV's Leaping Bunny. Over the years, the brand has gained a cult following including Lady Gaga, Sandra Bullock, Eminem and Bobbi Brown. Recent accolades include picking up Best Shower Product in the Natural Health Awards 2014. For more information visit kinetic4health.co.uk or call 08450 725 825
Antipodes Skin Brightening Serum
Kinetic Natural Products Distributor
Tel: 08450 725 825
E-mail: [email protected]
www.kinetic4health.co.uk
Antipodes Apostle Skin Brightening & Tone Correcting Serum is scientifically shown to help brighten com-plexion in 5 days, this targeted serum to help target pigmentation, brighten skin and restore an even tone. Artisan Waiwera water restores essential moisture whilst delivering antioxidant-rich Vinanza Performance Plus to inhibit melanin production. Vinanza Oxifend defends skin cells against oxidative stress. Kiwifruit exfo-liating enzyme renews skin. Fragranced with pure plant extracts of Green Apple and Cardamom. Dermato-logically approved for sensitive skin, and suited to all skin conditions including sensitised and irritat-ed.Society approved and certified organic by Asurequality; 100% of ingredients from natural origin and 74% from organic cultivation. For more information visit kinetic4health.co.uk or call 08450 725 825
Giovanni 2Chic Blackberry & Coconut Milk Ultra-Repair Leave-In Conditioner & Styling Elixir
Kinetic Natural Products Distributor
Tel: 08450 725 825
E-mail: [email protected]
www.kinetic4health.co.uk
New for 2015 is Giovanni 2Chic Blackberry & Coconut Milk Hair & Body Care. Featuring a dual repairing complex bursting with antioxidant power that combines freshly ripened Blackberries and the sweet delicate nectar of Coconut Milk. Giovanni 2Chic Blackberry & Coconut Milk Ultra-Repair Leave-In Conditioner & Styling Elixir restores the natural elasticity of hair, strengthens hair for effortless style control, smooths away frizz, nourishes, repairs and helps prevent split ends. Giovanni 2Chic features USDA certified organic ingredients, is 100% vegetarian, cruelty free certified, contains no parabens, lauryl or laureth sulphates, dyes or PEGs. For more information visit kinetic4health.co.uk or call 08450 725 825
zk'in Soothing Hand Cream
zk'in Certified Organic Skincare
Tel: 01730 716222
E-mail:  [email protected]
www.zkinorganics.co.uk
This incredible vegan hand cream has won yet another accolade in this year's Beauty Shortlist Awards. In clinical trials, the skin repair active formula was shown to provide a remarkable 30% improvement in moisture-loss after just 7 days! The cream brings genuine relief to dry hands and is part of the brand new multi award-winning zk'in range. Dermatologically tested on sensitive skins and completely non-irritant. Every product is certified organic and is made with a unique 100% natural preservative system. The packaging is food-grade and free from BPA and the range contains no parabens or petrochemicals, just gentle effective ingredients.
JASON Smoothing Coconut Oil (Certified USDA Organic)
Kinetic Natural Products Distributor
Tel: 08450 725 825
E-mail: [email protected]
www.kinetic4health.co.uk
JASON virgin, organic Coconut Oil is a perfect, all-purpose moisturizer. Rich in nourishing Vitamin E and antioxidant polyphenols, this melts-at-first-touch oil delivers unparalleled care to your skin and hair.  Can be used in a variety of way – oil cleansing, moisturising, nail strengthener, cuticle softener, lip balm alternative and an intense hair moisturier. The Coconut Oil is USDA Certified Organic, unrefined and extracted naturally without the use of extreme, damaging heat. It is also not bleached with skin-irritating solvents. Also available in the JASON Smoothing Body Care range are a Body Wash and Hand & Body Lotion. For more information visit kinetic4health.co.uk or call 08450 725 825
Royal Jelly Body Butter – Sensitive Skin
Savannah Bee Company
Tel: (1) 800.955.5080
E-mail:  [email protected]
www.savannahbee.com
Savannah Bee Company's Royal Jelly Body Butter super-rich formula combines royal jelly – the "Cinderella" substance that turns a worker bee into a queen – with other treasures from the hive, such as protective propolis and emollient beeswax, to quench dryness and protect skin's own natural moisture barriers.  Rich, softening peach seed oil and a delicate, natural scent add the final touches of luxuriousness that make this unique formula truly fit or a queen! Royal Jelly Body Butter is available in two sizes and additional fragrances. Made in the USA.
Pacifica Roll-On Perfumes
Kinetic Natural Products Distributor
Tel: 08450 725 825
E-mail: [email protected]
www.kinetic4health.co.uk
Pacifica Roll-On Perfumes – perfect for travel, and fit in the smallest of handbags. Pacifica use a natural grain alcohol for their roll-on perfume base. Brook Harvey-Taylor personally develops all of Pacifica's scents using the highest quality ingredients including essential and natural oils from all over the world to create Pacifica's proprietary perfume blends. Pacifica does not support the use of naturals that are threatened or where the harvesting of the plant endangers biodiversity or causes other environmental issues. Pacifica adheres to strict IFRA standards, a self-governing organisation that sets safety standards for all natural and non-natural aroma compounds. Pacifica perfumes are always vegan, phthalate free and cruelty free.  For more information visit kinetic4health.co.uk or call 08450 725 825