When Vogue and HuffPost start writing about shampoo bars, you know consumers will pay attention. Solid personal care products may have been around since the Babylonian era (2800 BC) when soap was supposedly first invented, but leaps and bounds have been made in just the past five years. Rosie Greenaway catalogues some of the solid beauty superheroes which have caught her eye
Foreign travel: remember that? While UK holiday destinations haven't known such popularity since the 1950s when 'bucket and spade' trips to Bournemouth were in fashion, airlines are now reporting a welcome rise in passengers fleeing the British Isles for the intoxicating smells and sights of abroad. 
Solid beauty is the category perfectly positioned to cater for either situation. Whether packing an overnight bag to hike in the Lake District or heaving the suitcase down from the loft for a long-haul vacay, smart travellers will realize that not only can they save space and weight by switching to solid products, but they won't find their clothes covered in face wash when they arrive. 
On that note, we transport you to the lavender fields of southern France, where French brand Balade en Provence has been cooking up a storm throughout the pandemic, preparing to market a host of new solid products, all with its trademark je ne sais quoi.
Fabriqué en France
"Since mid-2020, we have worked hard on a number of innovations, and a good portion will be coming to fruition in the first nine months of 2022," says Alexandre Vidal, the plastic-free brand's MD, 
Up first for the UK is Make-up Cleansing Oil – a concentrated alternative to liquid cleansing oils, enriched with jojoba oil and scented with white lily. Next, a solid Men's Face and Eye Cream, which accompanies Men's Face Wash – containing mineral-rich French green clay and grapeseed oil. Naturally, they're all certified COSMOS Organic and handmade in la belle France. 
"It is quite easy to launch a solid product; delighting consumers is a different story"
"There will be a total of 11 new products this year. We are already working on our 2023 innovations, with some breakthrough initiatives. We are quite secretive about our innovations (sorry …) because we like to surprise! But we have demonstrated in the past that we can really create new categories in solid. Our solid Night Cream has been a world first. Our solid Eye Contour Serum, too [winner of the Natural & Organic Awards Europe 2021 Best New Facial Skincare Product]. We launched the first solid shampoo specifically dedicated to men. We intend to stay a few steps ahead in skincare and men." 
Vidal explains that when it comes to formulating a solid rival to a liquid product, it's not just about matching efficacy, but surpassing it. "The challenge is to offer products that are at least equal but ideally superior to the liquid alternatives. It is quite easy to launch a solid product; delighting consumers is a different story. 
"We have drastically improved our product development process. We have done a lot of work in gathering consumer insights. We added a very strong product feedback loop to make sure we deliver on our promises. In some of our innovations, we are at our ninth reiteration of the product."
Vidal's approach to NPD is 'everything is possible' – but that doesn't come without lessons. "It is always easier when there is an existing product in the market, but when you start with a white sheet of papier, it is more challenging. We have to be super demanding and keep challenging ourselves. When somebody tells us 'This is not possible', we now laugh, but we used to worry. We gained confidence in our ability to deliver breakthrough innovations, and above all, we learned to listen to consumer feedback. I know this may seem redundant, but this is so true. 
"And not to forget about our local experts; in the UK, we are very attentive to what the Kinetic team tells us. They know the UK market, they have incredible experience in the natural and organic field, so they are our local guide to make sure we deliver innovations that are meaningful to the UK consumers."
Back in France, the cosmetics market is notoriously chic. Even small-town French pharmacy shelves read like a who's who of skincare royalty. But what about demand for solid beauty – are French consumers ready to reassign their loyalty? Vidal says it's actually a case of returning to French traditions, as he walks us through the country's 'long history with solid products': "It first started with the cold process soap centuries ago. Later came the Marseille soap, mostly for household and hand wash. But French consumers … moved to liquids in the '70s, and it is only maybe five years ago that the word 'solid' became fashionable again. 
"But I remember even in 2018, when we won the French Cosmetics Award for Best Natural Product with our Solid Shampoo for Men, very few people knew what a solid shampoo was. Then in mid-2021 the market saw huge entries in solid hair care, with most major brands now present." 
Vidal believes, in both nations, solid beauty has legs. "The offer is huge, marketing budgets are huge; the demand is increasing very fast. Consumers are well aware of the impact of plastic waste, so bulk and solid products are here to stay. The growth of those segments is just at its infancy."
On your soap box
Clear messaging about the significance of sustain-ability was high on the agenda for climate-passionate businesses during COP26 in Glasgow last year – not least for those which call the city home. Beauty Kitchen was one such brand, with co-founder Jo Chidley lead-ing discussions from the ICE Hub. 
As vice chair of the Sustainable Beauty Coalition, Chidley says 'there's a sense of simple innovation with bar and naked products that is bringing a wave of positive change to the beauty industry. Minimal packaging and naked products are something that LUSH have excelled at for years … but it's only recently taken off in the mainstream."
Beauty Kitchen has extended its concentrated bar range from soap to hair and skincare, including the Seahorse Plankton+ Organic Facial Cleansing Bar. Chidley notes 'the trick is to ensure that the bar products perform just as well as traditional formats in terms of efficacy and longevity' as 'customers won't sacrifice results'.
"Our 50g shampoo bar … is the equivalent of saving two plastic shampoo bottles, so of course there is the positive environmental impact. One of the consumer recommendations outlined in the … Planet Positive Beauty Guide is to switch to bar products for this reason. Due to minimal packaging, transporting solids are smaller and lighter than liquid counterparts, therefore generally having a much smaller carbon footprint."
Another brand channelling its Scottish roots during the summit was Soapworks, which designed its organic, vegan Coastal Shores bar to celebrate sustainability and 'promote the goals of COP26'. The brand hoped that it would highlight the ecological benefits of bar formats and create awareness of the fragility of Scotland's shores. 
Claire Caddis, the brand's sales and business development director, says Coastal Shores is 'a symbol of a more sustainable future for the personal care industry'. "Switching to bar format … can help to cut down on unnecessary plastic waste and uses less water in production. Using carefully sourced, sustainable ingredients like deforestation-free palm oil will help us to protect the natural environment for the benefit of people and wildlife."
Raising the bar
It's hard to put an exact date on when solid shampoo crept onto the scene – some credit the pioneering work of LUSH in the '80s, while others date it back to the 19th century – but the 2022 consumer is blessed with an abundance of bars to lure them away from the bottle. And while L'Oréal may have joined the likes of Ben & Anna, UpCircle and SBTRCT in 2020, launching its own shampoo bar under the Garnier label, challenger brands still lead the way – Tony Maleedy, co-founder of EarthKind, believes this will always be the case. "It's hard to say what the big boys are going to do. With vast amounts of money, they can do virtually anything they want [but] it takes them so long to develop new products. With smaller companies … if they've got the right people they can develop products very quickly. I think bars are always going to be niche."
"Switching to bar format … can help to cut down on unnecessary plastic waste and uses less water in production"
EarthKind was launched in 2019 as the brainchild of Maleedy, a cosmetic scientist, who – like so many – felt 'horrified' after watching the Blue Planet II exposé on plastic pollution. "I can truly say that I felt sick to my stomach. It was the first time I really thought about it. We said 'We've got to do something. We can't carry on like this'." 
In a crowded category, EarthKind's USP is Maleedy's experience in trichology: the science of the structure and function of hair. Maleedy uses his knowledge to stand out from competitors, developing concentrated formulations which treat distressed scalps and cleanse a variety of hair types. "Innovation is the key. You've got to be creative, use your imagination. We've got so much new development going on in our lab. We're just finishing off a shampoo and conditioner bar for curly hair."
Aside from the obvious environmental benefits of no plastic, Maleedy explains why bars win out over their bottled counterparts. "It's easier to incorporate natural oils," he says, citing tea tree and eucalyptus as 'two of the very best' for dandruff. 
"With a bar, because it is an emulsion, you can incorporate higher levels of oil into it, whereas with a liquid shampoo being water based it can be more difficult to put oil into it. Bars are concentrated; they contain no, or very little, water. A typical liquid shampoo will contain about 75% water. A typical conditioner will contain … maybe 80-85% water."
Shower power
In this exclusive preview, Weleda unveils four new vegan solid Shower Bars (to be showcased at Natural & Organic Products Europe) in four combinations of beautiful natural aromas: Ginger + Petitgrain; Ylang Ylang + Iris; Geranium + Litsea Cubeba; and Lavender + Vetiver. Consumers choose a bar 'to match their mood', either refreshing or relaxing the senses as desired. 
Jayn Sterland, MD, Weleda UK & Ireland, comments that getting back to basics in the bathroom is in vogue: "It is exciting to see the public embracing solid bar formulations – whether for hands, body or hair – in a move towards greater sustainability and to reduce both packaging and water. I've said this in the past (because at Weleda we have quite a few traditional formulations that were first launched in the 1920s that are still going strong today), but sometimes the coolest trendsetting products are not the latest and newest fad; sometimes old is the new new! The younger generation … is really good at embracing retro ideas and seeing the merit of the OG. They love the minimalist eco packaging of solid bars which is neat for travelling or packing in an overnight bag and presents no issues with recycling. So, there is a real 'feel-good factor' in turning to solid bars."
A close shave
Ever had to answer questions from curious customers about using a shaving bar for the first time? Alexandre Vidal, MD, Balade en Provence, offers this advice: "We need to first clean the skin … then apply the bar. To make more foam, we recommend circular movements on the skin with the bar. Some people massage with the hands too. Then shave as usual. Our solid shave bars make less foam … but shave closer (as there is a thinner layer of product)." 
For the Soothing Shave Bar for Men, Vidal says the brand avoided that generic 'shaving foam' aroma, instead giving the bar its own identifying 'light citrus scent' (and there's no excuse for laziness – it should be followed up with the Calming Post-Shave Nourishing Balm, for added softness). In the Extra-Kind Shave Bar for Women, orange blossom was chosen – a smell 'which is so typical from Provence'. Both bars offer up to a year's worth of shaving and are ultra-gentle and enriching for the skin. What's not to love?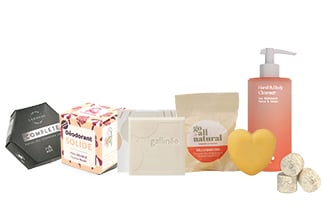 Stocking up on solids
Balancing the biome
The microbiome-balancing Prebiotic Cleansing Bar from Gallinée combines prebiotics, probiotics and postbiotics to respect the skin's natural pH, making it a suitable solid cleanser for sensitive and eczema-prone skin.
4-in-1 from Finland
Multi-tasking and gender-neutral Luonkos Complete Oil Cleansing Cake is a 4-in-1 bar which cleanses, removes make-up, acts as an aftershave balm and can also be used as a beard oil. Scented with cedar, ginger and bergamot, each cake lasts for 60 uses. 
Skincare revolution
Meet MONO: the brand behind the world's first skincare tablet. Simply fill the container with water, drop in a tablet (the range includes cleansers, toners, moisturizers, serums and mists), shake, wait for three minutes and use as normal.  
Perspiring pits
Formulated without essential oils or sodium bicarbonate, Lamazuna's creamy-
textured, floral-scented, cone-shaped solid deodorant uses zinc ricinoleate and diatomaceous earth to neutralize bad odours without disrupting the natural process of perspiration. 
Go for the glow
Go All Natural's Organic Lotion Bar has been formulated to give skin a glow through its 'smooth as butter' blend of organic cocoa and shea. Scented with alluring mandarin essential oils, the compact bar offers deep hydration in a grease-free formula.
Faith In Nature
Faith In Nature
Tel: 0161 7244016
E-mail:  [email protected]
www.faithinnature.co.uk
Our founder, Rivka, grew up in NYC. Not best known for its wide, open, green spaces! But from an early age, she had a fascination with growing avocado seeds from her local grocery store.
One thing led to another. Rivka moved to the UK. And in 1974, she started Faith In Nature.
And here we are today. Just goes to show what even the smallest connection to nature can inspire.
In 1974, natural, cruelty-free and vegan weren't so much a bandwagon as a one man band. Or, in our case, a one woman band. Because Faith In Nature isn't just a name – it's Rivka's passion for harnessing the power of nature, without harming it in the process. Now, it seems, Rivka's passion has caught on. Welcome to our not-so-crazy-after-all world.
We believe everyone should have access to nature. It's why we're passionate about keeping our price affordable and using only the best quality natural ingredients. Because only when we're all connected to nature, will we all commit to protecting it.
All of our products are made in our UK home, just outside of Manchester. It means a great deal to us to keep manufacturing on home soil — and continuing to employ many of the same people who've worked with us for so long that they're probably as surprised as anyone that we're now the UK's largest manufacturer of natural products. 
So if you're looking for personal care products – across hair, body and hand – household or dog shampoo, we've got the right solution for both you and the planet. Plus, we have an extensive range of refill and zero plastic options, so whether consumers are refilling in store or at home, we can all commit to doing more to protect our environment.
Shaving Bar – Orange & Lavender
Friendly Soap
E-mail:  [email protected]
www.friendlysoap.co.uk
Forget your foams and junk your gels! This naturally soothing plant-based bar makes a wonderful lather for a luxurious wet shave. A clever bar that softens hair and nourishes skin both at the same time. Great for chins and legs, whipping up a lather is easy, both by hand or with a bowl and brush. Each Shaving bar is handmade with castor oil, olive oil, coconut oil, kaolin clay, soy wax, aloe vera and lavender & orange essential oils. Packed into plastic-free, recycled and recyclable boxes. Friendly Soap is registered with The Vegan Society and Cruelty-Free International.
Balade en Provence Solid Make-Up Cleansing Oil
Kinetic Natural Products Distributor
Tel: 08450 725 825
E-mail:  [email protected]
www.kinetic4health.co.uk
New and on-trend solid beauty product from Balade en Provence – Solid Make-up Cleansing Oil. Formulated with 100% natural origin ingredients including: jojoba oil to help remove even waterproof make-up; white lily flower which offers a whole host of beauty benefits including purifying, detoxifying, promoting healthy cell renewal, and a more youthful appearance; and pink clay to soften. Balade en Provence products are lovingly handmade in Provence and reflect the artistry, fragrance and flora of the region.  These zero waste solid beauty bars are certified both organic and vegan, and packaged in compostable and recyclable boxes, 100% plastic-free.
Lamazuna Solid Zero Waste Skincare
Living Planet Distribution
Tel: 020 3176 9982
E-mail:  [email protected]
www.livingplanetdistribution.com
This French company has made a name for itself producing handmade, vegan cosmetics and beautifully designed bathroom accessories with a strong eco ethos. Their comprehensive range of solid cosmetics spans shampoos, conditioners, deodorants, makeup remover, facial cleansers, and cocoa butters. They contain skin-loving, nourishing essentials such as coconut oil, sweet almond oil, fruit extracts, essential oils, clays and natural surfactants with no harsh abrasive chemicals or additives. Many of their products are organically certified and they are all 'eco affordable', helping consumers minimise bathroom waste and saving them money, since they last up to twice as long as their average disposable competitor. 
Lamazuna Solid Perfumes
Living Planet Distribution
Tel: 020 3176 9982
E-mail:  [email protected]
www.livingplanetdistribution.com
New to Lamazuna's solid cosmetics range is a stunning line of perfumes that honour Lamazuna's sustainable eco credentials. Based on skin-friendly essentials such as organic carnauba wax and cocoa butter to intensely nourish skin, these gorgeous, fragrant discs come in their own stainless-steel tin that accommodates refills. All the solid perfumes are vegan, handmade in France and 80% organically derived. Each fragrance is designed to remind the wearer of some aspect of the natural world, using floral, woody, marine, spicy and exotic scents, and with their playful, distinctive names such as Impetuous, Mysterious, Mischievous and Audacious, these are sure to become popular talking points.
Oliva Olive Oil Soaps
Skoulikas Bedford Ltd
Tel: 01234 354783
E-mail:  [email protected]
www.skoulikasbedford.co.uk
This month sees the launch of two new Oliva olive oil soaps.  From pure unrefined Cretan olive oil, they are produced by an ethically and environmentally friendly cooperative with over 120 years of soap making experience. Try the antioxidant rich Olive Oil Soap with Aloe Vera with its natural source of vitamins, minerals and amino acids to help nourish and soften the skin or Olive Oil Soap with Tea Tree with its antibacterial, anti-fungal and antiseptic properties. With only 4 ingredients, these new editions are also hypoallergenic, 100% biodegradable and come in recyclable boxes that have on shelf flexibility for positioning. Suitable for vegans.
Zao Solid Makeup Remover Range
Zao Essence of Nature UK Ltd
Tel: 0345 6190999
E-mail: [email protected]
www.makeup.co.uk
Zao Makeup's solid makeup remover range is handmade by French artisans, using 100% natural and certified organic ingredients.
The Solid Makeup Remover Milk transforms into a soft milk upon contact with water, gently removing makeup for clean, soft, and hydrated skin.
The Solid Makeup Remover Oil is a true makeup cleanser that removes even waterproof makeup, using organic olive oil and carnauba wax to draw out impurities and relieve dry, taut skin. The Detox Facial Cleanser uses bamboo charcoal to cleanse skin deeply, regulating excess sebum for clearer skin. Zao offers the solid skincare range in metal cases, with repeat purchases in a compostable paper bag.