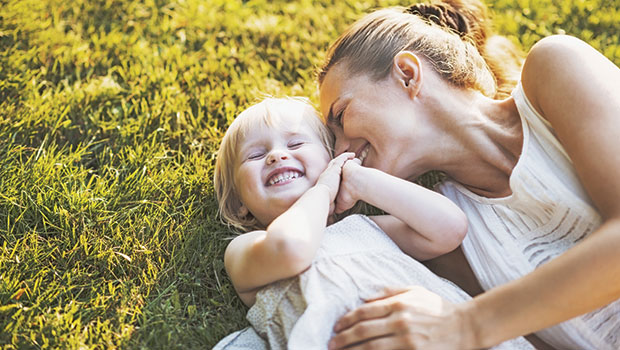 With Britain undergoing something of a baby boom, retailers with good parent and baby categories in store are proving that they're no dummies. Kate Miller finds out more
The recent royal birth may have got the picture editors on the nationals all of a twitter, but it is the booming birth rate in the UK which has got retailers' hearts all of a flutter. There are now more parents in the UK than there have been in the past 30 years, with more babies being born in the period 2011-2012 than any year since 1972, according to the Office of National Statistics.
The great thing about having a baby section in your store is that parents are good customers. Even consumers who normally wouldn't set foot inside a health food store will gladly do so looking for products that suit their child.
"Baby care is one of the areas where we see most loyalty," says Joanne Hill, who runs Amaranth in Bramhall, Cheshire. "With adult customers it's often that they've seen something in a magazine and want to try it, but may switch to something else next time; but parents, particularly those with young children, will stay very loyal to a product if they find it works."
And because of the nature of the products, the custom is regular: "Baby products tend to be used every day so they come in a lot to restock," says Hill. And with an average basket spend by parents of between £20-£30 in her store, they are profitable too.
Joanne's experience of high basket spend from parents is borne out by the statistics. According to Kantar Worldpanel, across retail,
parents spend on average £5.17 more per shopping trip than non-parents, which equates to a 38% boost on basket spend.
Preparing for parenthood
But parents aren't waiting until they hear the patter of tiny feet before seeking the services of health food stores. Jilly Evans, supplements advisor at Greenlife in Totnes, says that the town is experiencing a huge baby boom at the moment and she often sees customers right through from before conception to after the baby is born.
"They often come in looking for supplements, such as Viridian Fertility, and they usually keep coming in all the way through. We're like a little community and it's nice to see them when the baby is born and know that everything has gone well." She says that the store sells a few ranges such as Viridian, Terra Nova and Biocare, plus Helios in the homeopathy field.
Once the baby is born, Evans says that nappies are the biggest seller, along with breast pads, fennel tea and milk products.
New customers come in, she says, if babies start to experience allergies: "It's usually on their skin and is a reaction to dairy or something that their clothes are being washed in. The parents may have been to the doctors but don't want to use the steroid cream prescribed on their child. We carry the Salcura range for babies and Gentle Green, plus alternatives to their washing powder." Other good sellers, says Evans, are the Dr Bronner range of soaps which include a baby soap, and the Weleda calendula range.
Hill says that her store's treatment rooms, which offer specialist pregnancy massages, mean that they also see a lot of women throughout their pregnancy, leading to a good relationship between shop and customer.
Start with a sample
"With these customers, they often bring their babies in and we'll give them samples of Weleda calendula products so that they can try them out, as babies skin can be very sensitive. Luckily Weleda do little sachets of products which are very useful because we want them to be completely happy with what they buy."
She says that this is particularly popular with new customers who come in with babies who are hypersensitive: "It only seems fair to let them try the product. We get a lot of repeat purchases once they find something that suits their baby."
The store's baby care section is mainly focused on skincare and vitamins. "In skincare we sell Weleda and Green People, and in supplements we sell Viridian Viridikids and Nature's Plus Animal Parade which are both very popular. Plus we also sell Natures Aid vitamin drops and we do well with Burt's Bees Baby products."
Hill says that the store 'ticks most of the boxes in baby care' but that she is constantly looking out for new products, particularly when it comes to gifting for the pregnant mum-to-be:  "I'm still looking for the right pregnancy range – the products tend to be very expensive or comprise things that are marked 'mother and baby'. When people are buying a gift for someone who is pregnant they want something with pregnancy written on it.
"There are some nice branded body washes, but a lot of pregnancy products are very practical such as perineal massage cream or creams for stretch marks. Also people often don't want things with the baby on it until the baby is born."
Hill is so positive about the category that she is  thinking of doing a mother and baby group as well as running workshops, for instance on baby massage
and nutritional advice, for parents. "It's something we're thinking about, there's nothing firm yet, but it would fit very well," she says.
Natural Parenting Products
Humphrey's Corner
Faith in Nature
Tel: 0161 7244016
Email: [email protected]
www.faithinnature.co.uk
Humphrey's Corner was first launched in 1998 and has since become a firm family favourite. The natural vegan baby products are hypoallergenic to ensure that they are as mild and gentle, as possible, on babies' delicate skin. The range includes Bubble Baths and Shampoos with beautiful natural fragrances such as Lavender and Camomile. Crafted with organic and other natural ingredients these mild products are… Free from parabens and artificial colours & fragrances pH balanced. Biodegradable Bottles made from recycled material, when available. The range of natural vegan baby products includes shampoo, bubbly bath, lotion and gifts.
Terranova Green Child Product Range
Kinetic Natural Products Distributor
Tel No: 08450 725825
E-mail: [email protected]
www.kinetic4health.co.uk
Introducing the new Green Child range from Terranova, formulated especially to support the development of children aged 4-12. The range consists of  four products – Living Multivitamin – with 13 Vitamins, 10 Minerals, 8 Wholefoods plus DHA; Vitamin D3 400iu – with Vegan-sourced Cholecalciferol with 4 Synergistic Wholefoods; Friendly Microflora – with 3 probiotic strains, FOS and 4 Synergistic Wholefoods; Sneaky Greens – with Berries Super-Shake. All formulated without fillers, binders and other excipients, suitable for vegetarians and vegans, and with Magnifood – to enhance absorption, bioavailability, utilisation, activity, stability, function and effects of the product's vitamins, minerals or other nutrients.
Beond Organic Fruit Bars
Pulsin' Limited
Tel: 01452 729000
E-mail:  [email protected]
www.pulsin.co.uk
Beond Organic Fruit Bars are deliciously healthy snacks thoughtfully crafted using nutritious organic  wholefoods.  They are ideal for children and adults alike.  Available in 35g bars and 15g bites the six exciting flavours are Acai Berry, Raw Choc, Blueberry, Apple Cinnamon, Baobab Pineapple and the new Sour Cherry.  The bars are raw, vegan, gluten free, dairy free, soya free and have no added sugar.  They are a great source of antioxidants, are balanced with cashews as a natural protein source and have low GI/GL to provide a slow sustaining energy release. They truly are as good for you as they taste!
JASON Kids Only! Toothpastes
Kinetic Natural Products Distributor
Tel: 08450 725825
E-mail: [email protected]
www.kinetic4health.co.uk
JASON Kids Only! products are gentle, safe and effective, utilising extra-mild surfactants, kind ingredients and delicious scents and flavours to please even the fussiest of children. Kids Only! Toothpastes are available in two flavours – strawberry and orange – in an easy to squeeze tube and formulated with Calcium Carbonate to help clean and protect teeth and precent tartar buildup, and other mild botanicals including Aloe Vera, Calendula and Coconut Triglycerides. Always no SLS/SLES, Parabens, Petrolatum, Phthalates, vegan-friendly and BUAV certified cruelty free.
Green People
Green People
Tel: 01403 740350
E-mail:  [email protected]
www.greenpeople.co.uk
Sweet Treats for Young Hair – Berry Smoothie A new Bath & Shower Gel to complete our much loved Organic Children's Berry Smoothie hair and body collection
Bursting with berry benefits
• A trio of berry goodness
• Certified organic and 100% natural
• High shine hair and super skin softness
• Just for kids!
Introducing the brand NEW Berry Smoothie Bath & Shower gel which joins favourites, Berry Smoothie Shampoo and Conditioner, to bring you a fruity trio of skin and hair goodness. Creating sparkling, tangle-free tresses and super soft skin these products are wrapped up in a Raspberry, Apple and Vanilla aroma that smells good enough to eat.
Helios Calendula Trio
Helios Homeopathy Ltd
Tel: 01892 537254
E-mail:  [email protected]
www.helios.co.uk
Produced using the finest quality organic tinctures and other natural plant based ingredients, Helios Calendula based creams are formulated to soothe a wide range of complaints from nappy rash, cradle cap and dry skin to mild eczema and psoriasis. Free from lanolin, artificial preservatives and petroleum derivatives the creams are suitable for the most delicate skin. For details of these and other creams in the range please contact Roz Crompton.
Ultimate Flora for Kids / Norwegian Gold Kids DHA
Renew Life UK
Tel: 0800 7076671
E-mail:  [email protected]
www.renewlife.co.uk
Supercharge your kid's health!
Ultimate Flora For Kids is the highest potency chewable probiotic available. Each sugar free, natural berry tablet contains 10 billion live bacteria, and 9 kid friendly live bacteria strains, delivering the highest, most targeted bowel support available.  Norwegian Gold Kids DHA is the highest potency, purest kids chewable Omega-3 with Vitamin D3 available. Delicious natural fruit punch flavour, guaranteed no "fishy' taste! Every batch tested and certified for ultimate purity, stability and sustainability. For ages 2 and up.