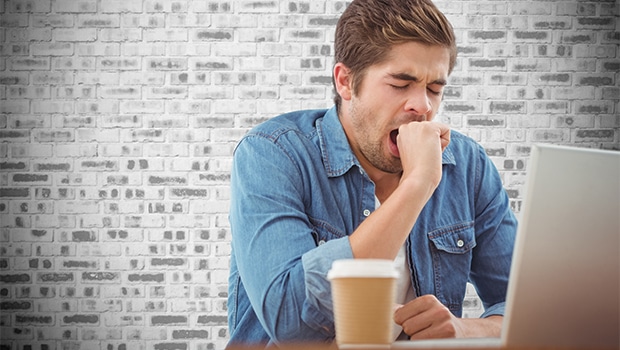 Increased daylight hours, caffeine, alcohol and 'screen time' are contributing to the nation's struggle for a decent night's rest. But which city sleeps the least? Which soporific herb is the industry go-to? And what's the latest product which promises to combat tiredness and fatigue? Rosie Greenaway finds out
When Waitrose became the first supermarket to ban the sale of energy drinks to under-16s, it appeared that a mainstream push to cut caffeine, taurine and sugar may be around the corner. If this move develops legs within governmental policy – helped, potentially, by the recently implemented sugar tax – then over time health stores could see a rise in footfall caused by a tired, fatigued public which wants more substance in its pick-me-ups, especially if Solaray's message is heeded by consumers: "The majority of people automatically reach for an energy drink, but such stimulants may make things worse, resulting in even more stress and fatigue. Instead of increasing your intake of energy supplements, you should be addressing the root cause of stress, as well as nurturing the adrenal glands," says Dr Nicholas Kelly, Solaray.
A worsening problem
As a society, we're becoming more tired, more fatigued and therefore more stressed, and experts believe this is due to some common worries. In new research conducted by natural wellbeing company Puressentiel, a poll of 1,000 adults aged 18-60 cited money, health and employment as the biggest stress triggers, closely followed by weight, family and a lack of 'me time'. The survey went on to reveal that 35% of respondents felt that life was more stressful than a year ago, however a staggering 85% said they don't use any products to combat this, which presents a world of opportunity for retailers to attract an untapped section of the market.
Dr Chris Etheridge, medical herbalist and advisor to Puressentiel, says that getting a good night's sleep is absolutely essential and should be made a priority by us all. "It's vital we all get enough proper sleep. Though people vary in their need for sleep, six hours is likely the least we can cope with for a good quality of life. The British Sleep Council says that a lack of sleep increases the risk of early death by as much as 12%. Scientists at Surrey University have discovered that 700 of the body's genes, including those that control the immune system, are affected if someone sleeps less than six hours a night.
Yet Brits regularly get less than six hours. More worryingly, 86% say they don't wake up refreshed," adds Etheridge.
"Most of the things we eat affect our mood and our mental performance, so in reality almost anything we ingest has some
sort of nootropic
aspect to it"
Achieving a refreshed state, Etheridge believes, can be facilitated by turning to one key essential oil which the brand uses in its Rest & Relax
range. "My hero herb would be lavender. A large number of trials and studies have demonstrated the very real biochemical effects of true lavender and the posi-
tive effects on the mind
and body."
Along with obvious culprits such as alcohol, caffeine and heavy meals, Etheridge also says that excessive screen time contributes to a bad night's sleep. "My advice is to avoid all screens within the two hours before bedtime. At night, light throws the body's biological clock out of sync. Blue light, which helps during daylight hours to boost attention, reaction times and mood, seems to be the most disruptive at night. It suppresses melatonin production – the so-called sleep hormone. So, avoid the use of mobile phones, tablets and the like within two hours of bedtime. In fact, to avoid temptation, maybe ban all such electronic screens from the room where you sleep."
Lifting the fog
Joseph Welstead, CEO of Motion Nutrition, says combating tiredness means striking a fine balance between 'powering up' and 'unplugging'. The brand's latest
product range – Power Up and Unplug – launched on 1 April, and is built on the concept of nootropics. For Welstead and co-founder Charlie Matthews the correlation between nootropics, brain health and fatigue prevention was evidence enough to base the range upon.
"We started having this quite clear picture of how certain ingredients help with energy, focus, memory and mood, and certain other ingredients help deal with stress and help you unwind for a deep, restorative sleep."
But nootropics hasn't always had the best reputation. "It's been a little bit demonized and seen as 'dangerous' because of how nootropics have been marketed over the past couple of years. They are often associated in the news with 'smart drugs'; if you read any kind of media about how nootropics work invariably you'll have connections with amphetamine drugs. That's really not a fair description. Coffee is a nootropic. Most of the things we eat affect our mood and our mental performance, so in reality almost anything we ingest has some sort of nootropic aspect to it," says Welstead.
Power Up, he explains, works from 'two angles': instant effects, which according to early feedback are reported to manifest as increased productivity, heightened focus and improved mental performance; and long-term effects on brain health. "A really common bit of feedback that we get is: 'I took it for the first day and when the evening came around I'd done so much work and been so productive'."
Laser-sharp focus
He says the inclusion of certain minerals and vitamins which 'carry official claims' has allowed the brand to make confident statements against the products: 'It'll help you remember names, numbers and places' and 'Power through your work with laser-sharp focus and in good mood', for example. Also included in the recipes are what he calls 'more interesting ingredients' such as rhodiola, Korean panax ginseng and adaptogen of the moment, ashwagandha.
Planet Organic may have secured the launch, but at Natural & Organic Products Europe the Motion Nutrition team focused on discussions with independents in the hopes of expanding the products' reach. "It's good for us to test the market [in Planet Organic], and understand what the demand might be. We're doing three-day trial packs … If people can feel the benefit in those first few days they're a lot more likely to come back for the full-size jar."
"These products are more suited for independent retailers than anything we've done before. It might seem like a bit of a luxury to some people – you have to have a certain disposable income – but these products are actually reasonably priced," Welstead says, explaining that the customer base is wide, encompassing everyone from entrepreneurs in their thirties who want to maintain high energy levels throughout the day, to someone in their sixties concerned about brain health.
Flora-fix
John McKee, owner of Hanover Healthfoods, Edinburgh, knows a thing or two about tiredness himself, after a night of celebrations at the Scottish Independent Retail Awards 2018, where his store scooped Specialist Retailer of the Year. "I tend to watch myself like a hawk when it comes to energy. I try to avoid caffeine and processed foods when I am low energy, and I try to rest. If I avoid those drains then my body corrects itself quite quickly."
And, says McKee, his health store takes a back to basics approach when helping customers who feel a bit wiped out. "We always try to make sure that people are eating and sleeping right before we crack on with recommending supplements. Sleep is massive, so we almost always try to emphasize that first."
Once rest and nutrition have been evaluated, there are certain products that fly off Hanover's shelves:
"It depends on the cause, but Lamberts Multiguard ADR is pretty reliable, as is Bio-Strath. Magnesium and B vitamins are often part of the mix. Lots of people use Floradix. I nearly forgot B12; we sell a lot of that for fatigue."
Taking a Pukka nap
The Big Apple might be known as the city that never sleeps, but when British clocks went forward in early spring, sleep became a hot topic of conversation in workplaces and homes around the country – nowhere more so than in Brighton. Coinciding with the lighter evenings, Pukka Herbs published new research by Opinion Matters indicating that Brightonians not only fail to reach the recommended eight hours a night, but they're falling short by a whole night's sleep a week – that's even less than 'the average New Yorker' gets. In a stunt aimed at consumers, the team installed a giant bed on the city's streets, inviting passers-by to talk with Euan MacLennan, herbal director, about how to achieve a better sleep with Pukka's new Night Time 7 Day Kit.
Better get involved
Riding high on the success of its Magnesium Skin Body Butter (which won Best New Natural Skincare Product in the Natural & Organic Awards 2018), BetterYou is launching a retailer campaign to promote Magnesium Sleep – a variation of its classic lotion which includes lavender and chamomile to 'relax tired muscles, slow sensory activity and quieten the mind, allowing for a deeper and more sustained sleep cycle'. Thanks to the exclusion of clary sage the product can be used during pregnancy, and a recent consumer study showed that it aided sleep in 92% of respondents.
This annual sleep campaign will run from May to July, and there is still time for stores to get on board. Marketing collateral available to order includes floor and window vinyls, strut cards, hanging boards, posters, pull-up banners and shelf wobblers.
Special Feature – Products
BioCitrate Magnesium
Solaray
Tel: 0800 0851 697
E-mail:  [email protected]
www.solaray.co.uk
Magnesium participates in numerous enzymatic reactions in the body and is intended to provide nutritive support for normal, healthy heart, muscle, nerve and circulatory function. Magnesium has also been found to contribute to a reduction of tiredness and fatigue. Poor quality Magnesium products are not well absorbed by the body, so our easy to absorb formula provides value for money.
FSC Siberian Ginseng
FSC
Tel: 0800 083 0356
E-mail:  [email protected]
www.fscsupplements.com
Eleutherococcus senticosus is a species of small, woody shrub in the family Araliaceae native to Eastern and Northeastern Asia (China, Korea, Japan and Russia). It is often colloquially referred to as Siberian Ginseng, Eleuthero or Ciwujia and has a history of use in traditional Chinese medicine. As with all FSC supplements, FSC Siberian Ginseng 1000mg is made in the UK with the finest ingredients and based on widely recognised scientific evidence of their health qualities. Recommended to take one capsule daily with food.
BetterYou Boost B12 Oral Spray
BetterYou
Tel: 01226 814030
E-mail:  [email protected]
www.betteryou.com
Energise and revive with the award winning BetterYou™ Boost B12 Oral Spray. Vitamin B12 is known for its energy boosting benefits as well as its involvement in aiding concentration, learning and memory. So, when it's time for a boost this expert blend of vitamin B12, chromium and green tea extract guarantees to battle tiredness and aid mental performance, all in a simple spray. Boost B12 Oral Spray is scientifically proven to deliver this vital vitamin straight into the bloodstream to quickly increase the body's levels. With no need for tablets or capsules the tasty formula absorbs immediately to support a healthier you.
TravelProbio™
HealthAid Ltd
Tel: 020 8426 3400
E-mail: [email protected]
www.HealthAid.co.uk
TravelProbio – Vital Energy Booster – Haemovit® Plus is a synergistic formula that provides a form of Iron easily absorbed by the body. Iron contributes to normal formation of red blood cells and haemoglobin and to normal oxygen transport in the body. The formula has the added benefits of B6 and B12 that help reduce tiredness, fatigue and maintain a healthy immune system. The vitamins in the formula also help the nervous system to function properly; Iron contributes to normal energy-yielding metabolism and cognitive function. Haemovit® Plus formula to help maintain a healthy hormonal balance, nervous system and normal psychological and mental function, vital factors to combat fatigue and stress levels. Haemovit® Plus retails at £7.99 for 30 capsules. Contact HealthAid Ltd on 020 8426 3400 for purchase and stockist information or visit www.healthaid.co.uk
Nature's Answer Liquid Magnesium Glycinate
Kinetic Natural Products Distributor
Tel: 08450 725 825
E-mail: [email protected]
www.kinetic4health.co.uk
Nature's Answer Magnesium Malate & Glycinate offers a more bioavailable form of magnesium in liquid supplement, suspended in vegetarian glycerin for better intra-cellular absorption. Featuring a unique botanical blend, Quicksorb, for better assimilation from the intestinal tract plus liver metabolism. With a delicious natural tangerine flavour. Nature's Answer produce high-quality natural products for vital, healthy lifestyles since 1972. Their facility is cGMP Certified, organic and kosher certified.
Garden of Life B-Complex
Kinetic Natural Products Distributor
Tel: 08450 725 825
E-mail: [email protected]
www.kinetic4health.co.uk
Garden of Life mykind Organics B-Complex is a once daily formula that provides 100% daily value and more of all the B vitamins to help support healthy energy levels, support metabolism and stress response. Contains 300mcg of biotin for healthy hair, skin and nails. Supports a healthy heart with 400mcg (100% daily value) of folate. Made from real organic powdered fruits, vegetables and herbs and made from over 25 real, nutritious foods. Certified USDA Organic, gluten free, kosher and Non-GMO Project Verified.
Lamberts® MagAsorb® Powder 375mg (as citrate)
Lamberts Healthcare Ltd,
Tel: 01892 554313
E-mail:  [email protected]
www.lambertshealthcare.co.uk
Lamberts® are delighted to add our new powdered MagAsorb® to the range. Each 5.5g scoop provides a full 375mg of magnesium, which is 100% of the adult NRV, in the highly bioavailable citrate form. Our highly soluble, pleasant citrus flavoured powder is suitable for vegetarians and vegans, and is easily mixed into a glass of water. With magnesium insufficiency so common and some clients struggling to take magnesium products due to the tablet size, we think you'll find this product jumping to the top of your list of essential products for practice.
Bio-Strath
World Foods Brand Management Ltd
Tel: 01782 366080
E-mail:  [email protected]
www.bio-strath.com
Absorbing study – A new study conducted on Bio-Strath ( Strath) has shown remarkable results on the uptake on nutrients in the digestive system. The scientifically accepted in vitro study demonstrated that when Strath liquid or tablets where combined with vitamins and minerals the level of bio-availability increased by up to 10 times. The digestive systems ability to fully utilise nutrients from food and nutritional supplements is often compromised due to digestive illness, poor intestinal flora and the aging process. The exact action of Strath is not clear but it is believed that Strath provides specific organic enzymes to enhance absorption.
CoQ Plus Carnitine
HOLFORDirect
Tel: 0370 3341575
E-mail:  [email protected]
www.holfordirect.com
CoQ Plus Carnitine is a great product for heart health. More than half the heart's energy supply comes from fat. Fatty acids are complex packages to deliver, and they generate toxic waste. Carnitine delivers the fatty acids to process for energy and takes away the toxic by-products. The heart needs to liberate energy every second, and carnitine helps it to do so efficiently. With three types of carnitine: L-carnitine, Acetyl-L-carnitine and Propionyl – L-carnitine plus Coenzyme Q10, this product supports the heart to have a consistent high level of energy and reduces the toxic by-products of energy production.
Saint Come Aromaspray: Mint Eucalyptus
Tel:  07843 378901
E-mail:  [email protected] 
www.saintcome.co.uk
A breath of fresh air for some real energy and a boost? Try Laboratoire Saint Come's Aromaspray Mint Eucalyptus! Our Aromaspray Mint Eucalyptus is ideal as a training enhancer and gives those who are tired or fatigued an instant boost of energy. Aromaspray are made of undenatured alcohol, water and 100% pure and natural premium grade essential oils and contain no chemicals. Also try our other flavours: Lavender Rosemary for relaxation, Lemon-Cedar against motion sickness, or our Pillow Mist for a true natural alternative to sleeping pills for a good night's rest!
Bee Energised energy & focus supplement
Unbeelievable Health
Tel: 02079 932471
E-mail:  [email protected]
www.unbeelievablehealth.co.uk
Bee Energised is formulated by nutritionists & combines high quality nutrients with proven benefits which are not usually found in a regular diet or multivitamin including organic: bee pollen, matcha & spirulina plus ginseng, rose hips & l-theanine rich green tea & more to help with energy and mental alertness. 'Free from' & Vegetarian Society Approved. Capsules may also be opened into yogurt & smoothies. Bee Energised is helpful for sports & fitness training, when run down or experiencing 'brain fog', jet lag, exams & more. Available via Tree of Life, CLF, The Health Store & Wholefoods Ireland.
Travel Biotic
Viridian Nutrition
Tel: 01327  878050
E-mail:  [email protected]
www.viridian-nutrition.com
Travel Biotic provides a unique type of good bacteria, Saccharomyces boulardii, that has a long and very well established scientific use as a dietary supplement in a convenient, professional-strength, vegan one-a-day capsule. In a base of sustainably-grown ginger root powder, each capsule contains Saccharomyces boulardii (500mg.) It is heat-resistant so no need to refrigerate. The perfect digestive companion for work and holiday travel. . Part of the 200+ range from the ethical vitamin company, Viridian Nutrition, founded on the principles of Purity, the Environment and Charity. Dedicated to the continued success of the specialist health food store.