Following the publication of part two of the National Food Strategy (NFS), in which Henry Dimbleby – co-founder of Leon and the Sustainable Restaurants Associations – examines the functions and failures of the UK's food system, NPN hears from Helen Browning, Soil Association CEO.
Dimbleby – who was appointed lead non-executive board member of Defra in 2018 – explores how our food system works and the damage it is doing to both public and planetary health. The NFS also sets out a plan for the future, to which the Government must respond within six months.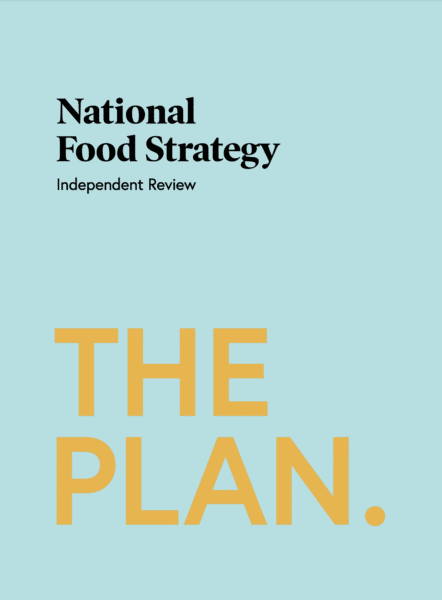 Among the strategy's 'most important recommendations', according to Browning, are points relating to food served in public settings – such as schools and hospitals. "The strategy recognizes the pioneering role the Soil Association's 'Food for Life' programme has played in this regard and recommends changes that would put healthier and more sustainable ingredients on the plate, including British and higher welfare meat," says Browning.
She acknowledges that 'the meat question will spark debate' but says 'the evidence is clear that dietary change will be needed to enable more nature-friendly farming'.
"The wider uptake of agroecology, as recommended in the strategy, would see livestock, and particularly ruminants, reintroduced into rotations and animals playing an important role on the land, but our diets must adapt for such an approach to be viable. We will need to eat much less industrially farmed meat, which can drive deforestation and land use change through its reliance on imported feed crops and ensure that the meat we do eat is produced in regenerative systems that support biodiversity. The debate in farming shouldn't be about whether this is so, but about how to make this transformation quickly and fairly, for both farmers and citizens.
The evidence is clear that dietary change will be needed to enable more nature-friendly farming
"The strategy also positions ultra-processed foods as the new frontier in the battle against obesity and chronic disease. The proposed tax on salt and sugar is hugely important and should be enacted by the Government, but we would urge further action more squarely targeting ultra-processed foods. The French government has introduced a percentage reduction target for ultra-processed foods in the diet, and we should be introducing a similar target in England.
"The recommendations of the National Food Strategy offer genuine hope that by embracing agroecological and organic farming, and adopting a healthier and more sustainable diet, we can address the climate, nature and health crises. It is now critical that the Government implements the strategy, ensuring that farmers are in the vanguard of this good food revolution. We look forward to working with the National Food Strategy team and with the Government to this end," Browning concludes.
Also in favour of the strategy's recommendations is Caroline Klinge, director of Klinge Foods which manufactures LoSalt: "We really welcome the … report and the impetus it has on creating a food system that enables us to live well for longer on a much healthier planet, and for putting the spotlight back on population salt intake which has been long overdue. It's also great to see that food manufacturers are being given support by green-lighting the use of potassium-based salts for reformulation and future innovation.
At what point in the supply chain is the tax introduced and what is the definition of salt
With some consumers putting salt content low on their priorities when making healthier food choices, we see the salt tax as a way to help reduce this burden, making lower-in salt options more readily available. We do however believe significant consideration needs to be given determining the mechanics of how this would work, ie at what point in the supply chain is the tax introduced and what is the definition of salt?
As 75% of the salt we consume is attributable to pre-made foods it is understandable that focus has been given to food manufacturers and caterers. We should not however forget the salt used at home, especially when we have seen an excess of an additional 5kMT of salt being purchased in supermarkets by the consumer in 2020. With the leading dietary factors to premature death and disability being too little wholegrains and fruit, and too much sodium, people have to be made aware that if salt use cannot be avoided, a reduced sodium salt is a healthier alternative.
By empowering the consumer with factual information will ensure that a culture of prevention can be sustained. We've been championing sodium reduction for almost four decades now, and in February of this year, we launched a public awareness campaign called Season with Sense. Working with leading experts in their field and organizations such as, the Stroke Association and the World Heart Federation, the campaign aims to educate the consumer facilitating better salt choices both in and out of home, helping to reduce the incidence of stroke and cardiovascular disease."