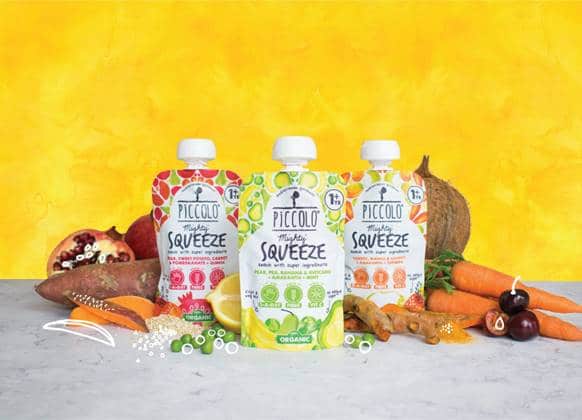 Baby food brand Piccolo is launching Mighty Squeeze, a new snack range for toddlers packaged in a handy pouch format, making them perfect for snacking on-the-go or a lunchboxes.
Aimed at toddlers aged one year and over (although suitable from six months), Piccolo Mighty Squeeze has three recipes: Pear, pea, banana & avocado with amaranth & mint; Carrot, mango & coconut with amaranth & turmeric; and Pear, sweet potato & carrot with pomegranate & quinoa.
The inclusion of ingredients such as turmeric, avocado, pomegranate and acerola cherries mean that little ones can try new and developed flavours that pack a nutritional punch too, says the brand.
"We are always looking at ways to bring new and different ingredients to our recipes as we know how important this is in developing little one's taste buds and setting them up with a great and lifelong relationship with food," explains Cat Gazzoli, founder of Piccolo. "Our new Mighty Squeeze range is the perfect way to give toddlers a healthy snack that tastes good too, in a pouch format they know and love."
Available from this month, Piccolo Mighty Squeeze is and comes in 110g resealable pouches.