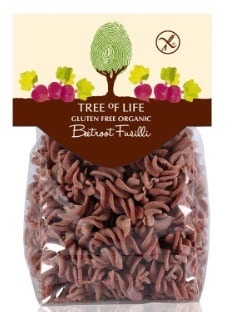 New from organic and natural wholesale distributor Tree of Life comes a nine-strong range of Superfood and High Protein Pasta in 250g packs.
Made in Italy, the pastas combine superfood ingredients designed to add a nutrient boost to mealtimes and are made using all-natural ingredients, with no binders or fillers. The pastas are certified organic and gluten-free, and are suitable for vegans.
Tree of Life High Protein Pastas are made from 100% legumes, providing up to 26% protein per serving. They are available in three varieties – Chick Pea Gnocchetti, Red Lentil Fusilli and Green Pea Penne.
The Superfood Pastas combine gluten-free rice or corn flour with superfood ingredients, and are available in six varieties: Turmeric Fusilli, Hemp Fusilli, Beetroot Fusilli, Spinach Fusilli, Tricolour Fusilli and Tricolour Penne.
"Our mission at Tree of Life is to make health easy for shoppers, so this is a really exciting development combining superfoods with an everyday favourite that's so easy to prepare and enjoy," says marketing controller Kirsten Sowerby commenting on the launch. "By making the products gluten-free, organic and vegan, the shopping decision is easy too, appealing to a large range of consumers."