BetterYou has entered into a new collaboration with Madeleine Shaw to launch a four-strong line of family-focused nutritional oral sprays which launch on 1 February.
The nutritional therapist and cookery writer has teamed up with BetterYou to produce a range of sprays to support conception, pregnancy, children's health and 'getting your glow back' following childbirth.
Conception Oral Spray is a blend of seven essential nutrients that support fertility and prepare the body for pregnancy. The pomegranate and raspberry flavoured spray delivers scientifically substantiated levels of vitamin D3, folic acid, iron, zinc, selenium, thiamine and iodine to help contribute to normal fertility and cell production, and support maternal tissue growth and immune health.
The peppermint Pregnancy Oral Spray supports the nutrient and energy demands experienced during pregnancy with an anti-nausea formulation to optimize overall wellbeing. It contains folic acid, iodine, iron, vitamins D3, K2 and B12 to contribute to the reduction of tiredness and fatigue by stimulating natural energy production, while supporting maternal tissue growth and normal immune function.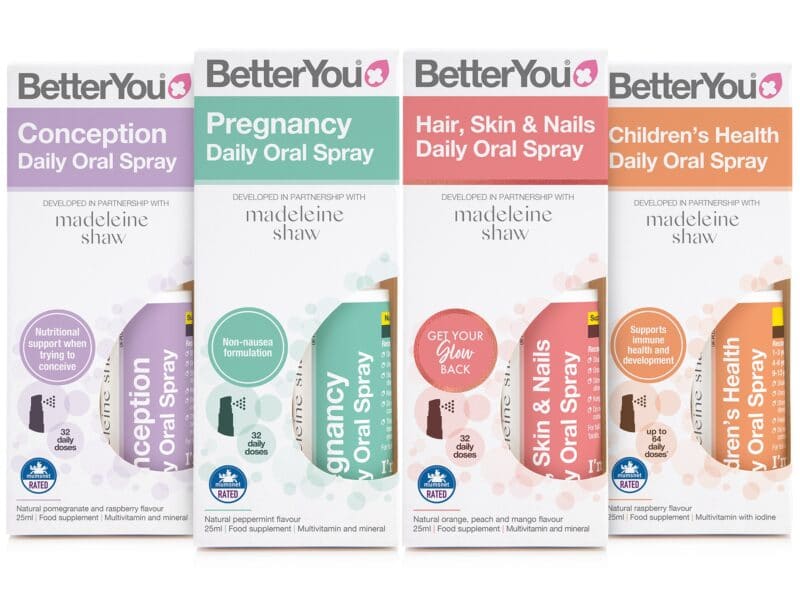 Children's Health Oral Spray is a convenient and effective way to ensure kids get the key vitamins required to support growth and development, from toddlers to teens. With vitamins A, B12, C, D and K2, folic acid and iodine, the raspberry flavour supplement supports areas such as bone development, energy requirements and cognition/attention span.
Hair, Skin & Nails Oral Spray is about beauty from within and is a Madeleine Shaw signature product to help 'get your glow back'. Tailored support for healthy hair, skin and nails, the orange, peach and mango flavoured spray blends six beauty-boosting nutrients: vitamin C, zinc, selenium, biotin, iodine and pantothenic acid.
"I love products that are ethical and sustainable – I feel as though the products have meaning and have a heart. That's why I'm so excited about partnering with BetterYou, I love everything the brand stands for," says Shaw.
The sprays are vegetarian-friendly, palm oil- and palm oil derivative-free and contained in fully recyclable packaging that can be put into household plastic recycling.