San Diego-based wellness brand Cymbiotika has expanded into the UK market with the launch of a new e-commerce website offering its range of clinically-backed, organic nutritional supplements.
The brand, whose motto is 'Your mind and body deserve the best', says its UK website will provide in-depth descriptions of every product, include an interactive health quiz to determine personalized product recommendations, user-friendly blogs, recipes, and more, all curated by Cymbiotika's team of doctors and scientists.
Customers will also be able to make long-term savings through the brand's Rewards programme and its Bundle & Save options, and benefit from reduced international shipping costs, customs fees and shipping times.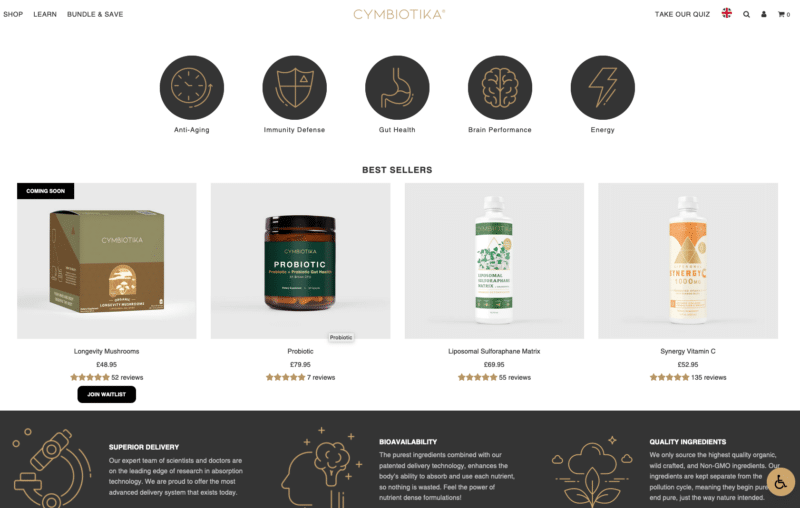 "Our business is driven by the goal of empowering as many people as possible worldwide to reclaim their health and live long, happy lives," comments Cymbiotika CEO and managing partner, Shahab Elmi. "While we are still at the start of the new year, 2022 has already kicked off with an unprecedented level of growth for us toward this objective. We are beyond elated to announce this next step in our global strategy, providing a new way for Cymbiotika's top-quality products to reach customers in the UK market."
Cymbiotika's supplements range from capsules to serums using plant-based nutrients to resolve specific nutritional deficiencies and support healthy ageing, detoxification and longevity. They contain no synthetics, GMOs, fillers, chemicals, preservatives, additives or sugars.