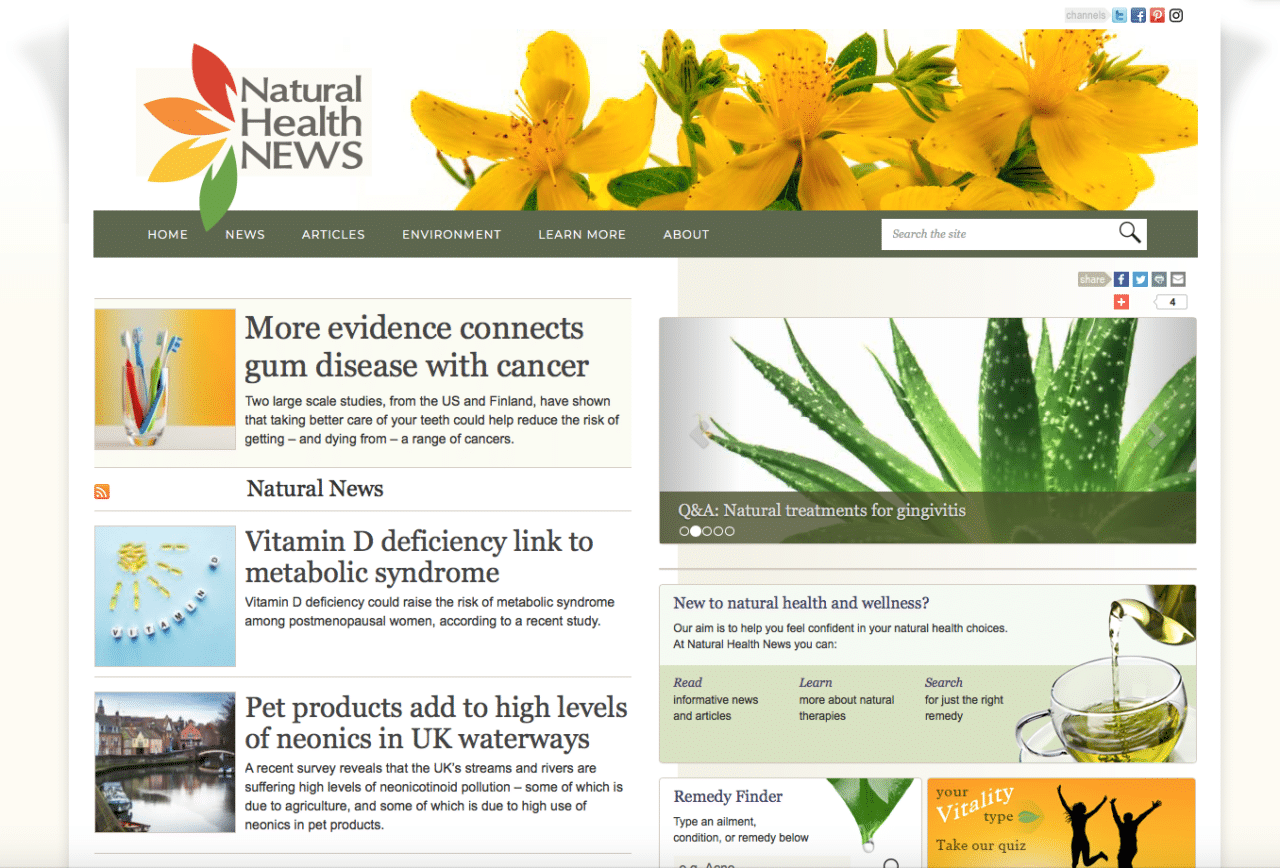 This month sees the launch of a new and comprehensive natural website in the UK: Natural Health News.
Setting out to provide useful news and information on complementary and alternative health choices, the launch is in fact a relaunch – giving a new name and a fresh new look to a website that may just be one of the UK's best kept natural health secrets.
For six years the site was run by Neal's Yard Remedies and called NYR Natural News. During that time editor Pat Thomas, a journalist, author and former editor of the Ecologist, wrote for and curated the site which now boasts thousands of articles, health tips and news items.
The original website launched quietly, but over the years millions from around the world have visited and it also has also acquired a lively social media presence.
"The goal of the site was always fairly simple." says Thomas, "We wanted to create a place to provide news, articles and opinions that support a more holistic way of life and that provide choices for those who wish to manage their health naturally."
She also wanted to produce a site that was engaging and easy to use, and which had lots of useful "stuff" on it. So visitors to the site will also find recipes, interactive quizzes and a handy Remedy Finder.
Many complementary and alternative approaches to health are well-researched and effective, and user satisfaction is high, but this fact is not always well reflected in the mainstream press, says Thomas.
"We wanted to correct this deficit by giving space to natural health success stories, by busting a few myths and producing informative articles on natural prevention and self-care. It was also important to provide context because health isn't created in a vacuum, but is so often a result of our environment and lifestyle choices."
For that reason the site also covers environmental, food and farming issues "without which we cannot hope to have a total understanding of health."
Thomas, who is also the author of numerous books on health and environment says of the change: "This website has always been a labour of love and I am grateful for Neal's Yard Remedies' support over the years and for their faith in my ability to take it forward. It has been very gratifying to see the site, its subscriber base and its online community grow as more as more people become aware of and interested in using natural and holistic approaches to managing their health."
Susan Curtis, Director of Natural Health at Neal's Yard Remedies adds, "I'm delighted that our natural health site will continue as an independent enterprise with Pat Thomas staying on as editor. It is so important to have access to accurate and well-balanced information on health alternatives – and on environmental influences on health – and I hope the site will continue to go from strength to strength."
Natural brands whose mission aligns with that of the site and who are interested in sponsorship, advertising or other collaborations are welcome to get in touch with Pat Thomas at [email protected].