After a year's break, this month saw the return of the Viridian Daventry Triathlon, sponsored by Viridian Nutrition and independent retailer Sheaf Street Health Store.
More than 230 entrants took part in the sprint distance triathlon which encompasses a 400-metre pool swim at Daventry Leisure Centre, a 20km cycle through Northamptonshire countryside and a 5km run around Daventry Country Park.
"We were really excited to hold the event for the community as it enabled people to show off the hard work they've put in," says Viridian's marketing and events manager Tom Welch. "More importantly, this event encouraged people from complete novices to professionals to begin making small steps or to continue with their health and fitness journey. A massive well done to everyone who took part."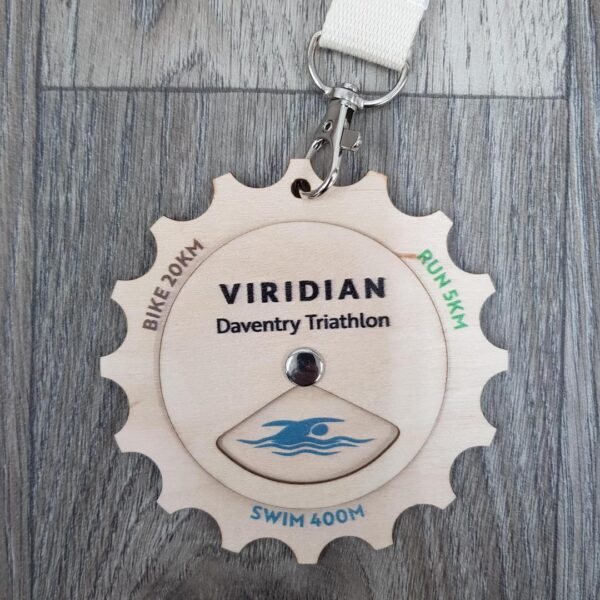 The event also saw Viridian MD and founder Cheryl Thallon (pictured third from right) entering for the first time as part of a relay team, finishing the 5K run in 39 minutes. "I've spent the last four decades sitting at a desk, and decided this was the year I had to make a proper investment in my fitness," comments Thallon. "I committed to the 'Couch to 5k' programme and registering for the Daventry Triathlon kept me focused. I'm so proud to be part of the Viridian team, and want them to be proud of me too."
This year all entrants were given a specially designed organic cotton triathlon T-shirt and all finishers received a new medal unveiled for the 2021 event made from sustainable wood on an organic cotton lanyard.
The triathlon was in support of local charity Friends of St Cross, which supports the St Cross Hospital and community and mental health services in Rugby.