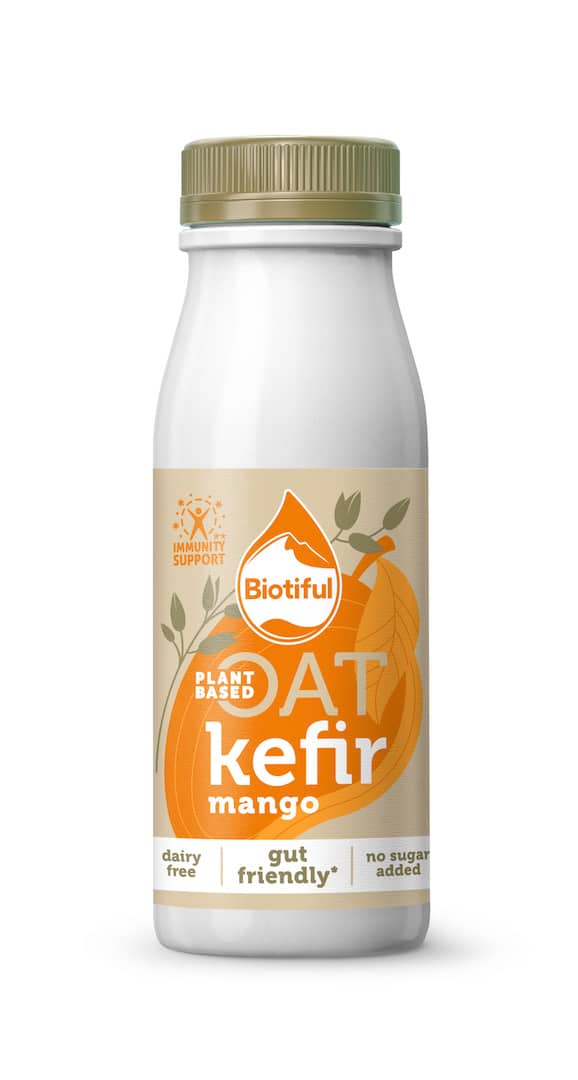 Biotiful has taken its first step into the plant-based sector with the launch of what it claims is the 'world's first' line of Plant Based Oat Kefir drinks.
The Biotiful dairy-free drinks are made using the brand's 'ancient fermentation process' and are available in Original, Mango and Strawberry.
Each 250ml bottle contains billions of live cultures as well as vitamins B12 and B2 to help support immunity. Made in the UK, they contain no sugar added or artificial ingredients.
"We are thrilled to be bringing our expertise to the new category of the highest consumer relevance, adding depth to our strategic product portfolio with a dairy free alternative," comments brand founder Natasha Bowes. "Kefir is traditionally a cultured milk drink, but for the first time ever we are offering this authentic product made with the trusted and sustainable oat base. We know that consumers are actively seeking delicious plant-based products and want added benefits, especially gut health and immunity support, and we are best placed to lead the market in this highly relevant space."
Set to be the brand's biggest launch to date, Biotiful will be supporting the products with an ATL campaign including sampling across the UK and a broadcast ad campaign that will reach ten million consumers through October and November.