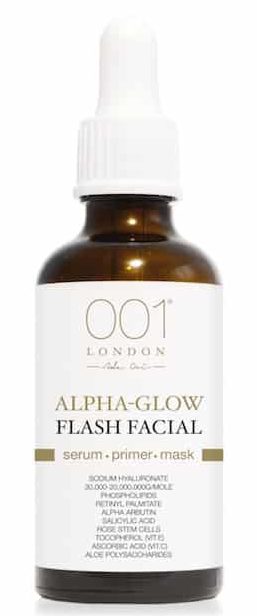 British skincare brand 001 London has revealed its latest product, a 'super serum' called Alpha-Glow Flash Facial, designed to rejuvenate ageing skin.
The three-in-one serum, primer and mask contains nine ingredients that combined mimic the effects of a power facial, says the brand. The formula aims to tackle four concerns stemming from the natural skin ageing process: loss of moisture; collagen depletion; melanin irregularities; and inflammation.
Using ingredients including hyaluronic acid, phospholipids, vitamins A (retinyl palmitate), C and E, salicylic acid, alpha arbutin, rose stem cells and aloe polysaccharides, the serum is designed to tighten and lift, refine pores and texture, reduce the appearance of dark spots and fill fine lines and wrinkles.
The actives also work to hydrate and moisturize, repair and reconstruct collagen and elastic, inhibit melanin production, brighten skin tone and protection against the effects of stress, pollution and free radicals.
"Four years in the making, we have realized our ambition to create the next-generation serum; one that tackles the core of natural skin ageing, directly targeting our daily concerns in just one bottle," explains 001 London founder Ada Ooi. "Nine incredibly effective ingredients work both individually and in fusion, creating an even greater effect, resulting in incredible skin tone, texture and glow."