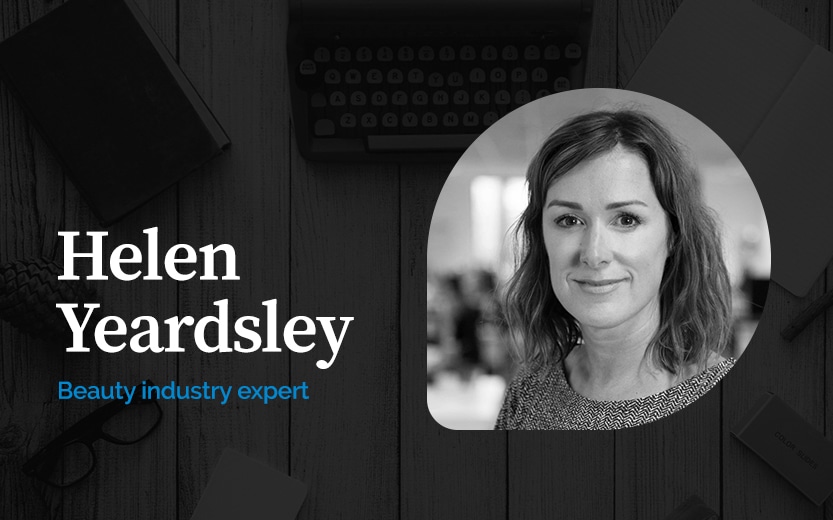 Helen Yeardsley, beauty industry expert, casts her eye over the campaigns making waves in the natural beauty space and examines the trends being driven by Generation D
This year will undoubtedly be hailed the year of the woman, with the worldwide #MeToo and #TimesUp movements leaving women more empowered than ever to speak up, demand equality, and support each other. What's also clear in the wake of #MeToo is that traditional perceptions of masculinity no longer resonate with today's changing society.
Driven by Generation D – 'digital natives' who do not remember a world without internet – 'genderless' is perhaps where this redefinition of stereotypes is most apparent. Genderless fragrances and skincare products have become the most significant men's grooming trend this year, and Vismay Sharma, managing director, L'Oréal UK, confirms that male-targeted counters in department stores will probably be a reality soon.
Another welcomed trait of Generation D is ethical awareness and demand for brands offering vegan-friendly, cruelty-free, natural, organic, paraben- and sulphate-free products. But it's not just the teens leading the charge; ethical consumerism is a key growing trend across all consumer groups. Evidence of ethical values is even more crucial for newcomers to the beauty sector; new brand Kat Von D Beauty, for example, has built a strong and loyal following through shared vegan- and animal-friendly values.
Ethical considerations remain closely connected to perceptions of natural and organic, but can you tell how ethical a brand is? The answer for most of us (well, 73% according to Mintel) is no. Amid calls for a new universal ethical rating, it was announced that green champion Weleda had become one of the first two brands globally to gain the new Union for Ethical Biotrade (UEBT) certification.
Clean beauty is a way of describing this shift in consciousness … it is becoming an increasingly popular way of describing this truly holistic approach to beauty
This label acts as a clear marker of 'sourcing with respect' and provides a recognized standard for sustainable sourcing and the use of raw materials. A worthy and impressive initiative, however the lengthy accreditation process for UEBT means it's unlikely to provide the support needed to help consumers navigate the ethical blackwater at least in the short term.
Thankfully, it's not just brands in the natural and organic space which are upping their commitment to cruelty-free practices. Primark beauty recently gained the Leaping Bunny Cruelty Free International certification for its own PS cosmetics range, making it easier for fashion shoppers on the high street to make ethical choices.
Brands must make it as easy as possible for their ethical values to be recognized, which is why many are pledging their support to local community initiatives in a bid to gain credibility by association and turn their beliefs into relevant actions.
Using the hashtags #PlasticFreeCoastlines #CleantoPlanet and #CleantoSkin, REN skincare's Clean initiative – in partnership with Surfers Against Sewage – saw the brand stage a US- and UK-wide beach clean-up, with participants rewarded with free marine-themed beauty products. What a great way to demonstrate its commitment to securing healthy, plastic-free beaches for the future, while reminding us of its own environmental commitments such as zero waste by 2021.
From clean beaches to clean beauty, today's beauty consumers understand the link between health, beauty and overall wellbeing like never before, and we are seeing the 'clean' and 'free-from' trends which started in food shifting into the beauty arena to inform healthy beauty decision-making.
'Clean beauty' is a way of describing this shift in consciousness, and while it's not a new concept, it is becoming an increasingly popular way of describing this truly holistic approach to beauty, with consumers choosing products which will help them to relax, de-stress, improve sleep and be more mindful, as well as opting for formulas stripped of unnecessary or undesirable ingredients. With a global focus on consuming less, they are also looking to reduce the number of products in their daily lives.
We are increasingly reminded that the simplest and most effective solutions can be found in nature
An interesting reaction to our always-on lifestyles is the rise in popularity of practices that focus on an empty mind and sense of peace and quiet, such as yoga and meditation. Silence, too, is growing in popularity as a mindfulness practice, and while this isn't something beauty brands can package and sell directly, influencers' Instagram pages will reveal the many new products they've been introduced to over a morning yoga or meditation class.
It's not just yoga giving beauty editors a natural high: the latest ingredient causing a buzz is CBD. Holland & Barrett has become the first shop to sell cannabis oil on the UK high street, for benefits ranging from pain to appetite – while in skincare, cannabinoids are being used to for a range of skin-improving properties including reducing inflammation and even signs of ageing. But will it catch on?
If we've learnt anything from recent years it's that the beauty consumer is driven primarily by efficacy – if an ingredient works, however weird and wonderful (think umbilical cord skincare, vampire facials, snail gel?!) we're sold. And if it's responsibly sourced, even better. The industrial variety of cannabis, hemp has been a staple in skincare for many years, with best-selling ranges including The Body Shop and Dr Organic. So this natural evolution looks set to break another taboo as CBD oil beauty ranges find their way into the mainstream.
This altogether earthier approach doesn't stop there. Charcoal, lava, clays and sand are all conspicuous among the new ingredients featured in the latest beauty launches.
What's most encouraging for me in today's Generation D, tech-obsessed world is that we are increasingly reminded that the simplest and most effective solutions can be found in nature. And, more importantly, the rise in consumer consciousness means we are all making more of the right choices – not just for ourselves but also for our planet.