Stroud Valley-based personal care brand Soap Folk was among the British businesses to be included in a Spring Showcase held at Downing Street in May, when the famous cul-de-sac was transformed into a street market.
The purpose of the Spring Showcase, hosted by Prime Minister Boris Johnson, was to champion the 'best of British' business.
The event saw Cabinet ministers join the PM to 'support businesses who are seizing global opportunities for growth, jobs and investment'.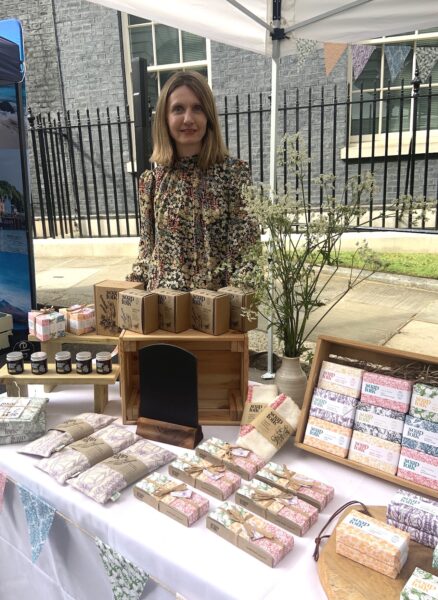 Among the stallholders invited to take part was Soap Folk. Brand founder Fiona McBryde (pictured left) said of the event: "It was a surreal experience, particularly chatting to the Prime Minister, but it was great to have an opportunity to show off our small business to a wider audience and to be able to fly the creative flag for the Stroud Valleys as well as UK small businesses."
The PM commented: "Putting the best of British business on the global market is a vital part of growing our economy – with exports bringing £640.3 billion last year alone. Every corner of the UK is filled with exceptionally talented businesses, and I'm delighted that … we have been able to showcase some of the best of what this country has to offer."
Other participants included IGS Vertical Farming from Scotland and the Welsh family-run business Blaenafon Cheddar Company, while Karen Betts, chair of the Food & Drink Federation, was among the guests.